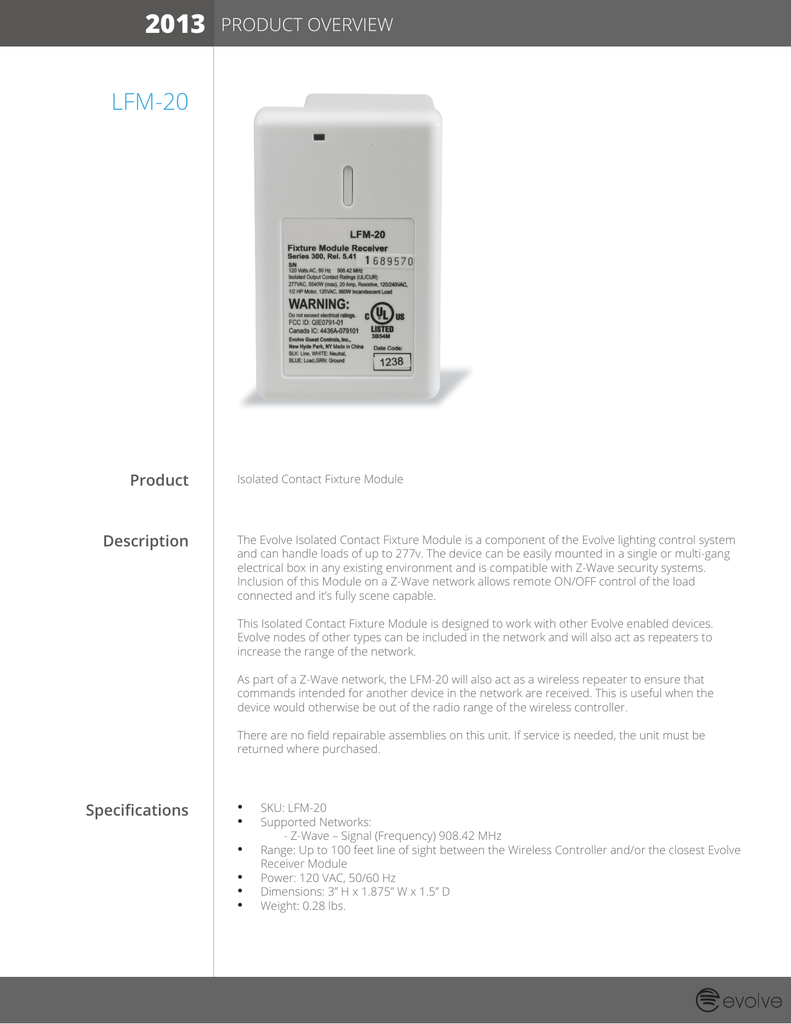 2013
PRODUCT OVERVIEW
LFM-20
Product
Description
Isolated Contact Fixture Module
The Evolve Isolated Contact Fixture Module is a component of the Evolve lighting control system
and can handle loads of up to 277v. The device can be easily mounted in a single or multi-gang
electrical box in any existing environment and is compatible with Z-Wave security systems.
Inclusion of this Module on a Z-Wave network allows remote ON/OFF control of the load
connected and it's fully scene capable.
This Isolated Contact Fixture Module is designed to work with other Evolve enabled devices.
Evolve nodes of other types can be included in the network and will also act as repeaters to
increase the range of the network.
As part of a Z-Wave network, the LFM-20 will also act as a wireless repeater to ensure that
commands intended for another device in the network are received. This is useful when the
device would otherwise be out of the radio range of the wireless controller.
There are no field repairable assemblies on this unit. If service is needed, the unit must be
returned where purchased.
Specifications
•
•
•
•
•
•
SKU: LFM-20
Supported Networks:
- Z-Wave – Signal (Frequency) 908.42 MHz
Range: Up to 100 feet line of sight between the Wireless Controller and/or the closest Evolve
Receiver Module
Power: 120 VAC, 50/60 Hz
Dimensions: 3" H x 1.875" W x 1.5" D
Weight: 0.28 lbs.
2013
Wiring
PRODUCT OVERVIEW
The LFM-20 is wired as follows:
•
•
•
•
Black – represents the line input, 120VAC
White – represents the neutral. The LFM-20 and the load must share the same neutral.
Blue 1 (either blue wire) – 24V – 277V input for load switching
Blue 2 (either blue wire) – 24V – 277V output for load switching
The switch also has a green wire which serves as the ground. While there is a yellow wire
present, it is not needed and should be cut and capped with either electrical tape or a wire nut.
24 to 277V
Neutral
White
Blue
LOAD
120VAC
Black
20 Amps
Maximum
Blue
Line
Status LED
Yellow
Push button to add
node to network
Green
Ground
In the case of a 3-way or 4-way circuit, traveler wires are not used when building an Evolve
network. Instead, an LFM-20 may be used in conjunction with an LTM-5 to create a wireless,
"virtual" 3-way. See LTM-5 for further details.