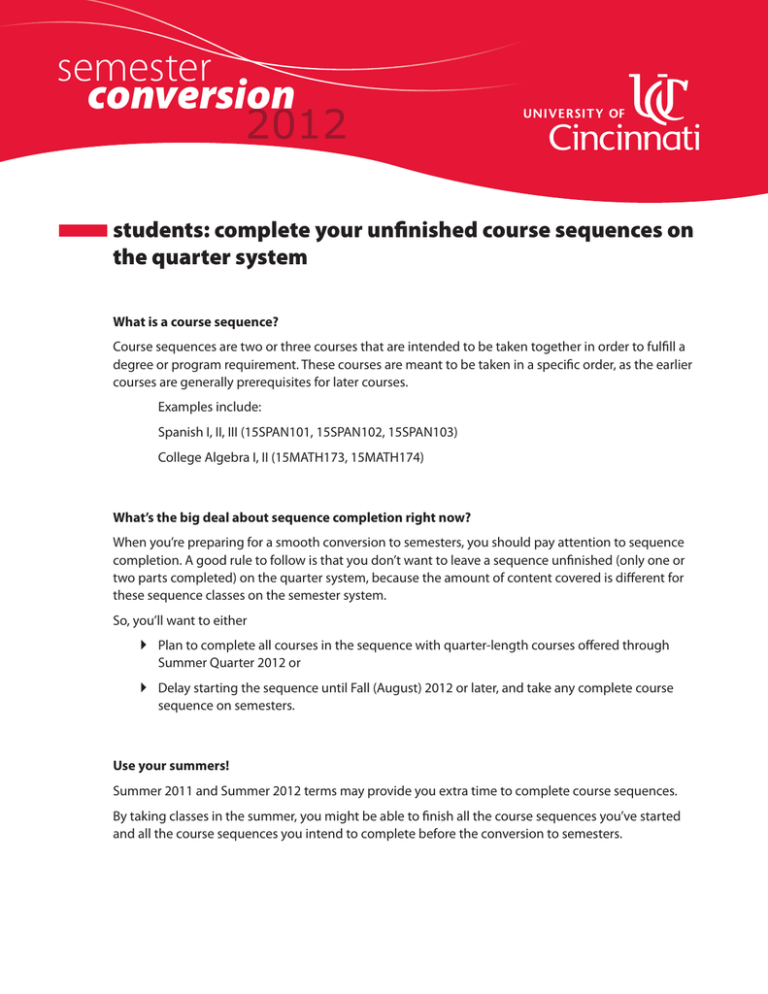 semester
conversion
2012
students: complete your unfinished course sequences on
the quarter system
What is a course sequence?
Course sequences are two or three courses that are intended to be taken together in order to fulfill a
degree or program requirement. These courses are meant to be taken in a specific order, as the earlier
courses are generally prerequisites for later courses.
Examples include:
Spanish I, II, III (15SPAN101, 15SPAN102, 15SPAN103)
College Algebra I, II (15MATH173, 15MATH174)
What's the big deal about sequence completion right now?
When you're preparing for a smooth conversion to semesters, you should pay attention to sequence
completion. A good rule to follow is that you don't want to leave a sequence unfinished (only one or
two parts completed) on the quarter system, because the amount of content covered is different for
these sequence classes on the semester system.
So, you'll want to either
`` Plan to complete all courses in the sequence with quarter-length courses offered through
Summer Quarter 2012 or
`` Delay starting the sequence until Fall (August) 2012 or later, and take any complete course
sequence on semesters.
Use your summers!
Summer 2011 and Summer 2012 terms may provide you extra time to complete course sequences.
By taking classes in the summer, you might be able to finish all the course sequences you've started
and all the course sequences you intend to complete before the conversion to semesters.
Follow these steps to plan your sequence completion:
1. Find out what course sequences are required by your program.
Run your degree audit or obtain your program's required courses checklist from your advisor.
2. Determine which sequence courses you've already taken.
Check your degree audit or your grade report.
3. Decide which course sequences you are able to complete on quarters.
4. Determine which sequences you have not yet started that will be completed on semesters after
Fall 2012.
Your best bet: See your advisor each quarter and
get ready to use your summers—2011 and 2012—to
complete sequence classes.