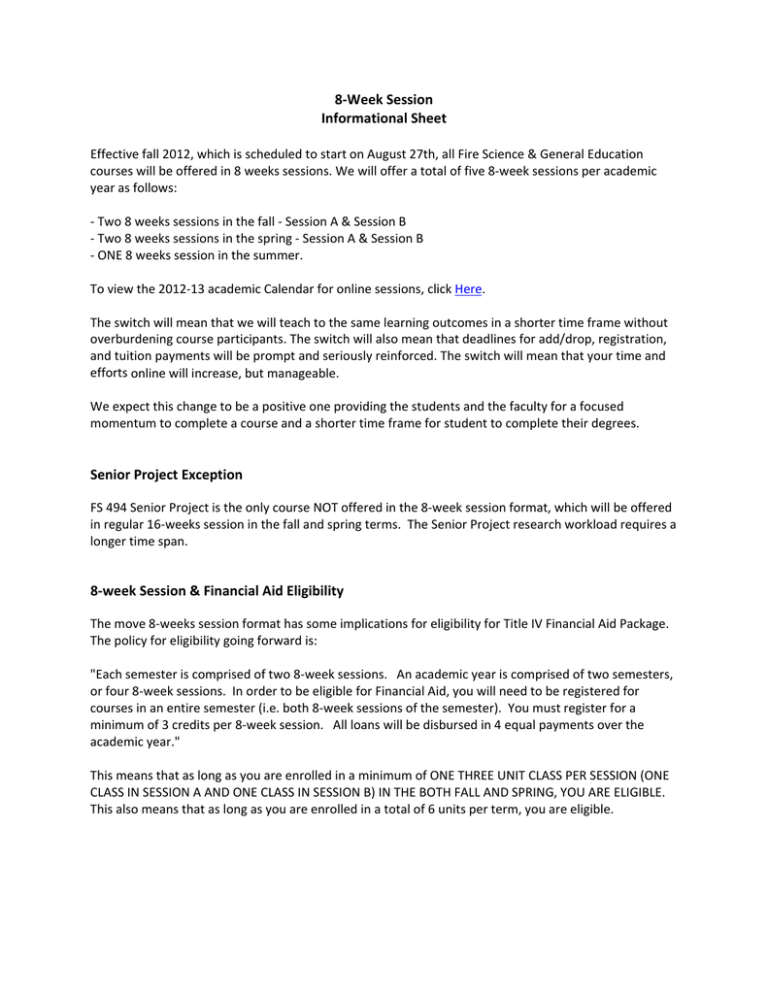 8‐Week Session Informational Sheet Effective fall 2012, which is scheduled to start on August 27th, all Fire Science & General Education courses will be offered in 8 weeks sessions. We will offer a total of five 8‐week sessions per academic year as follows: ‐ Two 8 weeks sessions in the fall ‐ Session A & Session B ‐ Two 8 weeks sessions in the spring ‐ Session A & Session B ‐ ONE 8 weeks session in the summer. To view the 2012‐13 academic Calendar for online sessions, click Here. The switch will mean that we will teach to the same learning outcomes in a shorter time frame without overburdening course participants. The switch will also mean that deadlines for add/drop, registration, and tuition payments will be prompt and seriously reinforced. The switch will mean that your time and efforts online will increase, but manageable. We expect this change to be a positive one providing the students and the faculty for a focused momentum to complete a course and a shorter time frame for student to complete their degrees. Senior Project Exception FS 494 Senior Project is the only course NOT offered in the 8‐week session format, which will be offered in regular 16‐weeks session in the fall and spring terms. The Senior Project research workload requires a longer time span. 8‐week Session & Financial Aid Eligibility The move 8‐weeks session format has some implications for eligibility for Title IV Financial Aid Package. The policy for eligibility going forward is: "Each semester is comprised of two 8‐week sessions. An academic year is comprised of two semesters, or four 8‐week sessions. In order to be eligible for Financial Aid, you will need to be registered for courses in an entire semester (i.e. both 8‐week sessions of the semester). You must register for a minimum of 3 credits per 8‐week session. All loans will be disbursed in 4 equal payments over the academic year." This means that as long as you are enrolled in a minimum of ONE THREE UNIT CLASS PER SESSION (ONE CLASS IN SESSION A AND ONE CLASS IN SESSION B) IN THE BOTH FALL AND SPRING, YOU ARE ELIGIBLE. This also means that as long as you are enrolled in a total of 6 units per term, you are eligible. First week of classes ‐ Must have course Textbook by Day ONE The change to 8‐weeks session means that actual course work will be required during the first week of classes. Course work may include, but not limited to, doings assigned readings, responding to questions in the discussion forum, and introducing yourself by the end of week 1. This change means that YOU MUST PURCHASE THE TEXTBOOKS REQUIRED IN THE COURSE BEFORE THE START OF THE SESSION. I'm sure you don't want to miss out on course assignments, readings, and a good portion of your class grade (15%). To help you be FULLY PREPARED for the first week of classes, we compiled a list of all textbooks required in the 20 courses of your program of study. The list is available online, Click Here to download. Please note that certain textbooks, such as NFPA Handbook, is required in more than one course. Yearly Program Course Schedule To help you further be prepared in advance, now we have the fire science course schedules mapped for the entire academic year, which will remain constant, so that you can plan toward the completion of your degree. The sooner you plan for your courses in advance by registering and buying textbooks promptly, the more room you will have to devote to your studies. To view the Yearly Offerings, click Here. Fall 2012 Registration Fall Classes start on Monday August 27th for Session A and Monday October 22nd for Session B Last day to register for fall classes without late is August 17th at 5.00pm. To enroll for class, please follow these three steps: 
Step 1: Review course the attached Fall offerings and choose the course(s) that corresponds to the sequence of courses suggested in Program of Study 
Step 2: Download a Registration form or register online through the Student Portal New College Attendance Policy: IN LIGHT OF THE MOVE TO 8 WEEKS SESSION, IT IS COLLEGE POLICY THAT DDP STUDENTS MUST ENROLL FOR 3 CLASSES PER ACADEMIC YEAR TO MAINTAIN ACTIVE STATUS AND AVOID HAVING TO RE‐APPLY, PAY A $55 APPLICATION FEES, AND LOSE CATALOGUE RIGHTS. STUDENTS MUST BE ENROLLED IN AT LEAST ONE OF THE SESSIONS IN THE FALL AND THE SPRING TO MAINTAIN ACTIVE STATUS Advisement: After you consult your degree and your position in the Program of Study Course Sequencing and you are still unsure how to proceed, please contact Dr. Younes Mourchid for further advisement. Dr. Mourchid can be contacted by phone at: 408‐498‐5105 or via e‐mail at: [email protected] Program of Study Course Sequencing It is very important for students to follow Program of Study Course Sequencing to ensure success in course work and respect of programmatic pre‐requisite system. The Fire Science and General Education Courses were sequenced in way that follows a thematic method. To view the Program of Study Course Sequencing, click HERE.