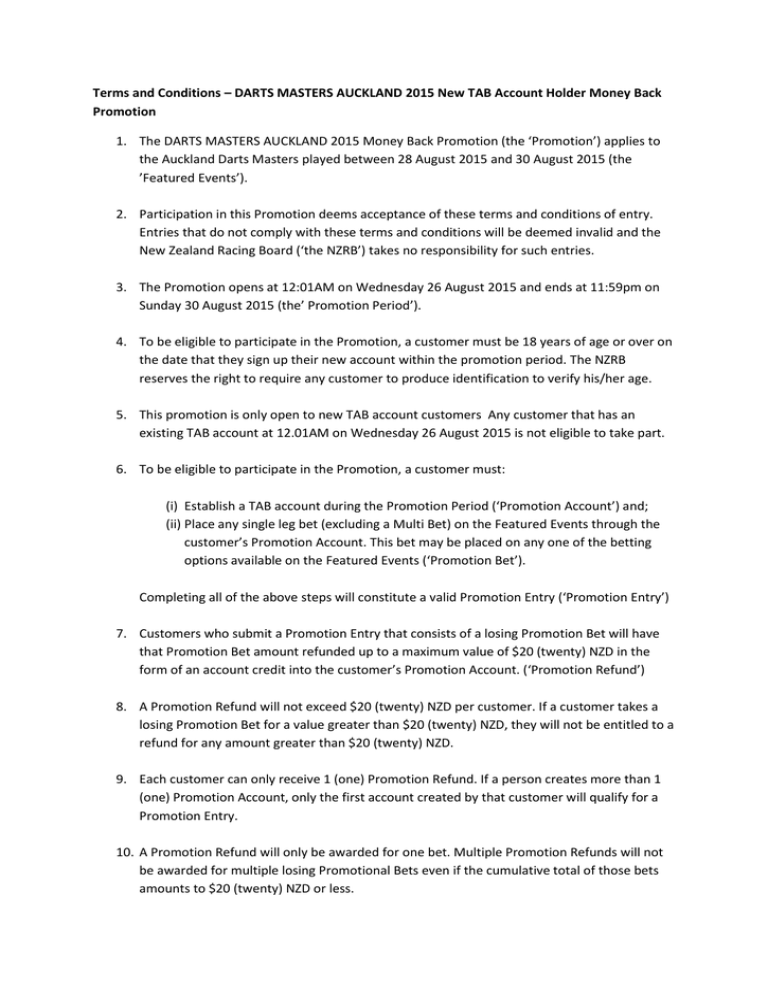 Terms and Conditions – DARTS MASTERS AUCKLAND 2015 New TAB Account Holder Money Back
Promotion
1. The DARTS MASTERS AUCKLAND 2015 Money Back Promotion (the 'Promotion') applies to
the Auckland Darts Masters played between 28 August 2015 and 30 August 2015 (the
'Featured Events').
2. Participation in this Promotion deems acceptance of these terms and conditions of entry.
Entries that do not comply with these terms and conditions will be deemed invalid and the
New Zealand Racing Board ('the NZRB') takes no responsibility for such entries.
3. The Promotion opens at 12:01AM on Wednesday 26 August 2015 and ends at 11:59pm on
Sunday 30 August 2015 (the' Promotion Period').
4. To be eligible to participate in the Promotion, a customer must be 18 years of age or over on
the date that they sign up their new account within the promotion period. The NZRB
reserves the right to require any customer to produce identification to verify his/her age.
5. This promotion is only open to new TAB account customers Any customer that has an
existing TAB account at 12.01AM on Wednesday 26 August 2015 is not eligible to take part.
6. To be eligible to participate in the Promotion, a customer must:
(i) Establish a TAB account during the Promotion Period ('Promotion Account') and;
(ii) Place any single leg bet (excluding a Multi Bet) on the Featured Events through the
customer's Promotion Account. This bet may be placed on any one of the betting
options available on the Featured Events ('Promotion Bet').
Completing all of the above steps will constitute a valid Promotion Entry ('Promotion Entry')
7. Customers who submit a Promotion Entry that consists of a losing Promotion Bet will have
that Promotion Bet amount refunded up to a maximum value of $20 (twenty) NZD in the
form of an account credit into the customer's Promotion Account. ('Promotion Refund')
8. A Promotion Refund will not exceed $20 (twenty) NZD per customer. If a customer takes a
losing Promotion Bet for a value greater than $20 (twenty) NZD, they will not be entitled to a
refund for any amount greater than $20 (twenty) NZD.
9. Each customer can only receive 1 (one) Promotion Refund. If a person creates more than 1
(one) Promotion Account, only the first account created by that customer will qualify for a
Promotion Entry.
10. A Promotion Refund will only be awarded for one bet. Multiple Promotion Refunds will not
be awarded for multiple losing Promotional Bets even if the cumulative total of those bets
amounts to $20 (twenty) NZD or less.
11. If a person takes multiple Promotion Bets for less than $20 (twenty) NZD, the Promotion
Refund will only apply to the highest value Promotion Bet that is taken and which is below
the $20 (twenty) NZD threshold.
12. Any bets taken as a part of a Multi bet will not qualify as an eligible Promotion Bet.
13. The Promotion Refund is not transferable or otherwise able to be exchanged or modified.
14. The following persons are not eligible to enter the Promotion:
a. Existing TAB account customers, that hold a TAB account as at 12:01am on Friday 7
August 2015;
b. Board members, employees, agents (and agent's employees) and contractors of the
NZRB and the Immediate Family of such persons. "Immediate Family" of a person
being the parents, siblings, children and spouse or partner (whether legal or de
facto) of that person;
c. Any "excluded customer", being a person who NZRB excludes in accordance with its
problem gambling and harm minimisation statutory obligations; and
d. Any customer involved in TAB accounts established for a syndicate, commercial or
group use.
15. The NZRB reserves the right, at any time, to verify the validity of Promotion Account holders
and to disqualify any customer from the participating in the Promotion who submits an
entry that is not in accordance with these terms and conditions, or who tampers with the
eligibility process, or attempts to act in a fraudulent and dishonest manner.
16. If the Promotion cannot be run as planned for reasons beyond the control of the NZRB, the
NZRB reserves the right in its sole discretion to cancel, terminate, modify or suspend this
Promotion.
17. The NZRB takes no responsibility for any inability to enter, complete, continue or conclude
the Promotion due to equipment or technical malfunction, Acts of God or otherwise.
18. Except for any liability that cannot be excluded by law, the NZRB and its employees are not
liable for any direct, indirect, special or consequential loss or damage whatsoever suffered
or personal injury suffered or sustained in connection with:
(i) Participation in this Promotion; or
(ii) The administration of this Promotion; or
(iii) The use of the Promotion Refund.
19. Failure by NZRB to enforce any of its rights under these terms and conditions at any stage
does not constitute a waiver of those rights.
20. The personal information provided by each customer in entering this Promotion will be held
by the NZRB in accordance with the provisions of the Privacy Act 1993.
21. The NZRB will not disclose the personal information provided by customers to any person,
organisation or other third party except as provided for under the NZRB General Terms and
Conditions, Betting Rules or as may otherwise be required by law. Customers may request
access to their information or may request that their information be removed from the
database, or corrected, by contacting the NZRB.