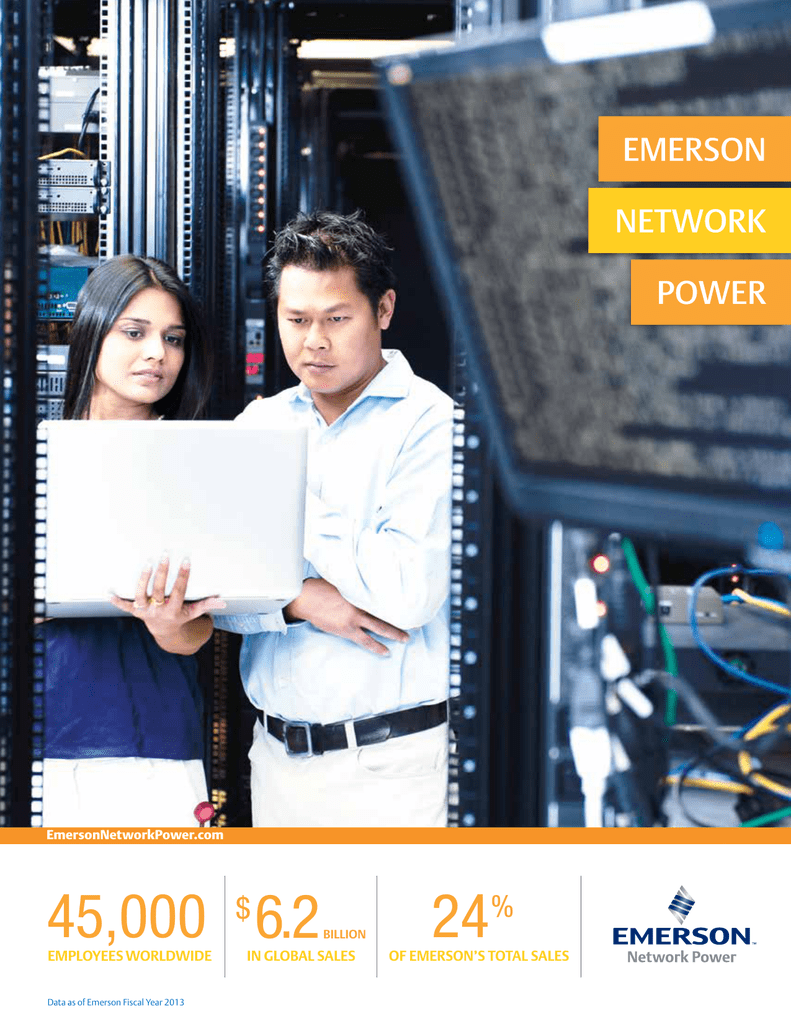 EmersonNetworkPower.com
45,000 6.2
$
employees worldwide
Data as of Emerson Fiscal Year 2013
billion
in global sales
24
%
OF emerson's total SALES
Emerson Network Power provides integrated infrastructure solutions that help
ensure availability and maximize efficiency for data centers, communications
networks, and industrial facilities around the world. We use a unique combination
of industry expertise, technology, and global resources to make the future of our
customers' business possible.
Our ability to protect and optimize critical infrastructure – regardless of whether the content is voice, data, or multimedia –
comes from our proven innovations in hardware, software, and services across a wide range of industries. These highly
reliable technology and service offerings, complemented by global resources that ensure close proximity with our
customers wherever they are, support a full spectrum of enterprise-wide solutions for today's vital business needs.
2013 Sales by Geography
Industries Served
When critical applications are on the line, constant uptime
isn't just one of the goals — it's the core of the business.
Our technologies protect and optimize network
infrastructures in the broader data center, communications
and industrial markets. Some of the industries served include:
• Education
• Financial Services
• Government
• Healthcare
• Manufacturing
• Oil and Gas
• Telecommunications
• Utilities
The Trellis™ Platform
Europe
17%
35%
6%
39%
Asia
Latin America
3%
United States
& Canada
Middle East
& Africa
With Emerson's Trellis™ data center infrastructure management platform, you can:
Proactively manage
energy usage
Predict infrastructure
failures before they occur
Reduce the total cost of
ownership (TCO) of data centers
Core Offerings
Emerson Network Power
Emerson Network Power delivers its innovative
solutions through Centers of Expertise, distinct
areas of hardware, software, and services that
are backed by a global network of more than
2,000 certified professionals who provide local
service and support. Our areas of expertise are:
• AC Power/UPS
• Connectivity
• DC Power
Facebook.com/
EmersonNetworkPower
@EmersonNetPwr
• Industrial Power
• Infrastructure Management
and Monitoring
• Outside Plant
• Power Switching and Controls
• Racks and Integrated Solutions
• Services
• Thermal Management
YouTube.com/
EmersonNetworkPower
Linkedin.com/company/
Emerson-Network-Power
1050 Dearborn Drive
Columbus, Ohio 43085
United States
Web: EmersonNetworkPower.com
Tel: +1 614 888 0246
Emerson; Emerson. Consider It Solved; and all other Emerson
business, product, and brand names and their related
designs and logotypes are trademarks, service marks,
and/or trade names of Emerson Electric Co., its
subsidiaries, affiliates, investments, or joint ventures.
© Emerson Electric Co. 2014. All Rights Reserved.