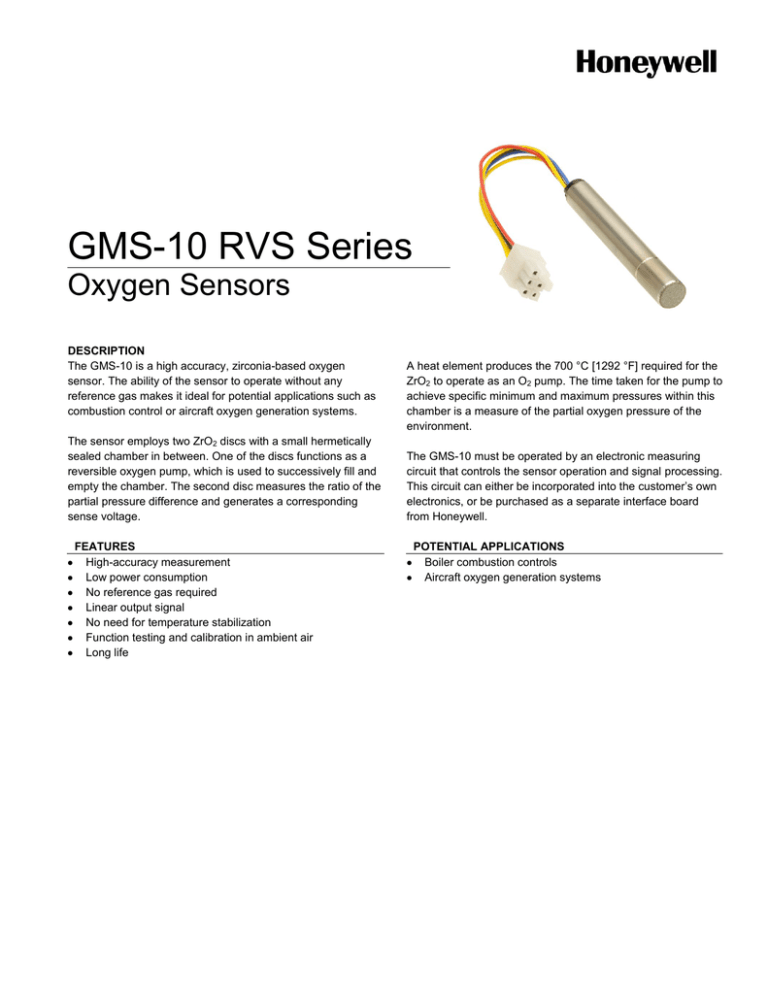 GMS-10 RVS Series
Oxygen Sensors
DESCRIPTION
The GMS-10 is a high accuracy, zirconia-based oxygen
sensor. The ability of the sensor to operate without any
reference gas makes it ideal for potential applications such as
combustion control or aircraft oxygen generation systems.
The sensor employs two ZrO2 discs with a small hermetically
sealed chamber in between. One of the discs functions as a
reversible oxygen pump, which is used to successively fill and
empty the chamber. The second disc measures the ratio of the
partial pressure difference and generates a corresponding
sense voltage.
FEATURES
High-accuracy measurement
Low power consumption
No reference gas required
Linear output signal
No need for temperature stabilization
Function testing and calibration in ambient air
Long life
A heat element produces the 700 °C [1292 °F] required for the
ZrO2 to operate as an O2 pump. The time taken for the pump to
achieve specific minimum and maximum pressures within this
chamber is a measure of the partial oxygen pressure of the
environment.
The GMS-10 must be operated by an electronic measuring
circuit that controls the sensor operation and signal processing.
This circuit can either be incorporated into the customer's own
electronics, or be purchased as a separate interface board
from Honeywell.
POTENTIAL APPLICATIONS
Boiler combustion controls
Aircraft oxygen generation systems
GMS-10 RVS Series
Table 1. Technical Specifications
Characteristic
Sensor voltage levels (recommended)
Pump current (recommended)
Heater supply
Heater supply (stand by)
Pump resistance at 700 C [1292 F]:
dc
ac
Oxygen pressure range
Operational temperature
Stand by temperature
Sensitivity
Accuracy
Response time
Warm up time
Warm up time (from stand by)
Permissible gas temperature
Gas flow rate
Repetitive permissible acceleration
Incidental permissible acceleration
2
www.honeywell.com/sensing
Parameter
45-64-85 mV
40 uA
4.0 V (1.7 A)
2.0 V
1 kOhm, typ.
1 kHz 120 Ohm, typ.
2 mbar to 3 bar
700 C [1292 F]
500 C [932 F], typ.
1.05 ms/mbar
<5 mbar
<15 s
<100 s
<20 s
-100 C/250 C [-148 F/482 F]
0 m/s to 10 m/s
5g
30 g
Oxygen Sensors
Figure 1. Dimensions (For reference only: mm/in.)
Figure 2. Wiring Diagram
Pin
Color
3, 5
yellow
1
red
2
black
4
blue
Order Guide
Catalog Listing
GMS-10
Description
heater
pump
common
sense
Description
Oxygen sensor, probe style
Honeywell Sensing and Control
3
WARNING
WARNING
PERSONAL INJURY
MISUSE OF DOCUMENTATION
DO NOT USE these products as safety or emergency stop
The information presented in this product sheet is for
devices or in any other application where failure of the
reference only. Do not use this document as a product
product could result in personal injury.
installation guide.
Failure to comply with these instructions could result in
Complete installation, operation, and maintenance
death or serious injury.
information is provided in the instructions supplied with
each product.
Failure to comply with these instructions could result in
WARRANTY/REMEDY
Honeywell warrants goods of its manufacture as being free of
death or serious injury.
defective materials and faulty workmanship. Honeywell's
standard product warranty applies unless agreed to otherwise
SALES AND SERVICE
by Honeywell in writing; please refer to your order
Honeywell serves its customers through a worldwide network
acknowledgement or consult your local sales office for specific
of sales offices, representatives and distributors. For
warranty details. If warranted goods are returned to Honeywell
application assistance, current specifications, pricing or name
during the period of coverage, Honeywell will repair or replace,
of the nearest Authorized Distributor, contact your local sales
at its option, without charge those items it finds defective. The
office or:
foregoing is buyer's sole remedy and is in lieu of all other
warranties, expressed or implied, including those of
E-mail: info.sc@honeywell.com
merchantability and fitness for a particular purpose. In no
event shall Honeywell be liable for consequential, special,
or indirect damages.
Internet: www.honeywell.com/sensing
Phone and Fax:
While we provide application assistance personally, through
Asia Pacific
+65 6445-3033 Fax
our literature and the Honeywell web site, it is up to the
customer to determine the suitability of the product in the
+65 6355-2828
Europe
+44 (0) 1698 481481
+44 (0) 1698 481676 Fax
application.
Latin America +1-305-805-8188
Specifications may change without notice. The information we
supply is believed to be accurate and reliable as of this
printing. However, we assume no responsibility for its use.
+1-305-883-8257 Fax
USA/Canada +1-800-537-6945
+1-815-235-6847
+1-815-235-6545 Fax
Sensing and Control
Honeywell
1985 Douglas Drive North
Golden Valley, MN 55422
www.honeywell.com/sensing
100458-3-EN IL50 GLO Printed in USA
July 2011
Copyright © 2011 Honeywell International Inc. All rights reserved.