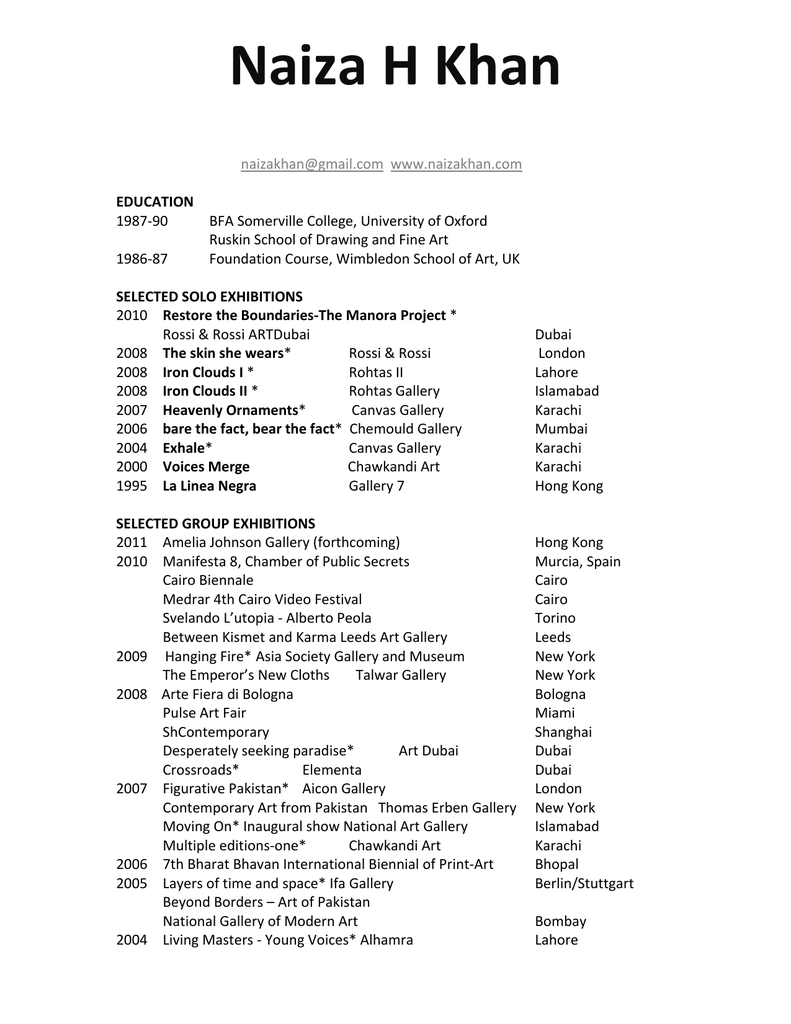 Naiza H Khan
[email protected] www.naizakhan.com
EDUCATION
1987-90
BFA Somerville College, University of Oxford
Ruskin School of Drawing and Fine Art
1986-87
Foundation Course, Wimbledon School of Art, UK
SELECTED SOLO EXHIBITIONS
2010 Restore the Boundaries-The Manora Project *
Rossi & Rossi ARTDubai
2008 The skin she wears*
Rossi & Rossi
2008 Iron Clouds I *
Rohtas II
2008 Iron Clouds II *
Rohtas Gallery
2007 Heavenly Ornaments*
Canvas Gallery
2006 bare the fact, bear the fact* Chemould Gallery
2004 Exhale*
Canvas Gallery
2000 Voices Merge
Chawkandi Art
1995 La Linea Negra
Gallery 7
SELECTED GROUP EXHIBITIONS
2011 Amelia Johnson Gallery (forthcoming)
2010 Manifesta 8, Chamber of Public Secrets
Cairo Biennale
Medrar 4th Cairo Video Festival
Svelando L'utopia - Alberto Peola
Between Kismet and Karma Leeds Art Gallery
2009 Hanging Fire* Asia Society Gallery and Museum
The Emperor's New Cloths
Talwar Gallery
2008 Arte Fiera di Bologna
Pulse Art Fair
ShContemporary
Desperately seeking paradise*
Art Dubai
Crossroads*
Elementa
2007 Figurative Pakistan* Aicon Gallery
Contemporary Art from Pakistan Thomas Erben Gallery
Moving On* Inaugural show National Art Gallery
Multiple editions-one*
Chawkandi Art
2006 7th Bharat Bhavan International Biennial of Print-Art
2005 Layers of time and space* Ifa Gallery
Beyond Borders – Art of Pakistan
National Gallery of Modern Art
2004 Living Masters - Young Voices* Alhamra
Dubai
London
Lahore
Islamabad
Karachi
Mumbai
Karachi
Karachi
Hong Kong
Hong Kong
Murcia, Spain
Cairo
Cairo
Torino
Leeds
New York
New York
Bologna
Miami
Shanghai
Dubai
Dubai
London
New York
Islamabad
Karachi
Bhopal
Berlin/Stuttgart
Bombay
Lahore
2003
2002
2001
2000
Cover Girl: the Female Body and Islam in Contemporary Art
Ise Cultural Foundation
New York
Anima e corpo*
43rd Premio Suzzara
Suzzara Italy
Threads, dreams and desires: ArtSouthAsia*
Harris Museum
Preston UK
Gasworks Studios Artist's Residency
London
The Eye Still Seeks* Ivan Doughty Gallery, UNSW
Sydney
Vasl International Artists' Workshop
Gadani, Pakistan
Another Vision* Fifty years of painting and sculpture in Pakistan
Brunei Gallery
London
* Catalogued shows
AWARDS
2011 Pakistan Lecture Series awarded by American Institute of
American Studies (AIPS)
2009 Women of Strength Award TVone
2006 7th Bharat Bhavan International Biennial of Print
2003 Prize, 43rd Premio Suzzara
2003 National Excellence Award, 8th National Exb. Visual Arts
2002 Unilever 1st Lux Award: Visual Artist of the year
USA
Pakistan
India
Itlay
Pakistan
Pakistan
PUBLISHED ARTICLES AND ESSAYS
2010 The Rising Tide: Catalogue essay alongside the exhibition.
Published by Mohatta Palace Museum
2009 Henna Hands: Mazaar, Bazaar: Design and Visual Culture in Pakistan.
Published by Oxford University Press, Karachi with the Price Claus Fund.
2009 Through the Lens of the Political: Asian Art Archive HK. Perspectives Sept. issue
Power to the Artist: Pakistan Report. Art Asia Pacific 10 year Almanac 2009
2008 Edmonton Print Biennale catalogue
2008 New Media Art – Interview with Faisal Anwar. Newsline
2006 In conversation with Johan Pijnappel. Online Vasl Website
2006 'Ground Realities' – the Vasl Workshop, Pakistan Triangle Network Book
2005 'Catalysts of Change' – Imran Qureshi / Ayesha Khalid. Herald
2003 Lines of Desire –Review of Anwar Saeed's work. News
2002 'Tufseel' – review of Anwar Saeed's work. Herald
CURATORIAL PROJECTS
2010 'The Rising Tide: New Directions in Art from Pakistan 1990-2010'
Mohatta Palace Museum, Karachi
2007 'Drawing the Line' part of the inaugural exhibition at National Art Gallery,
Islamabad
2005 Co-curator 'Voices' Pakistan Development Forum, Islamabad
Naiza is former co-ordinator and founding member of the Vasl Artists' Collective.
From 1991 - 2008, she has been part of the Fine Art Faculty at the Indus Valley School of
Art and Architecture, Karachi.