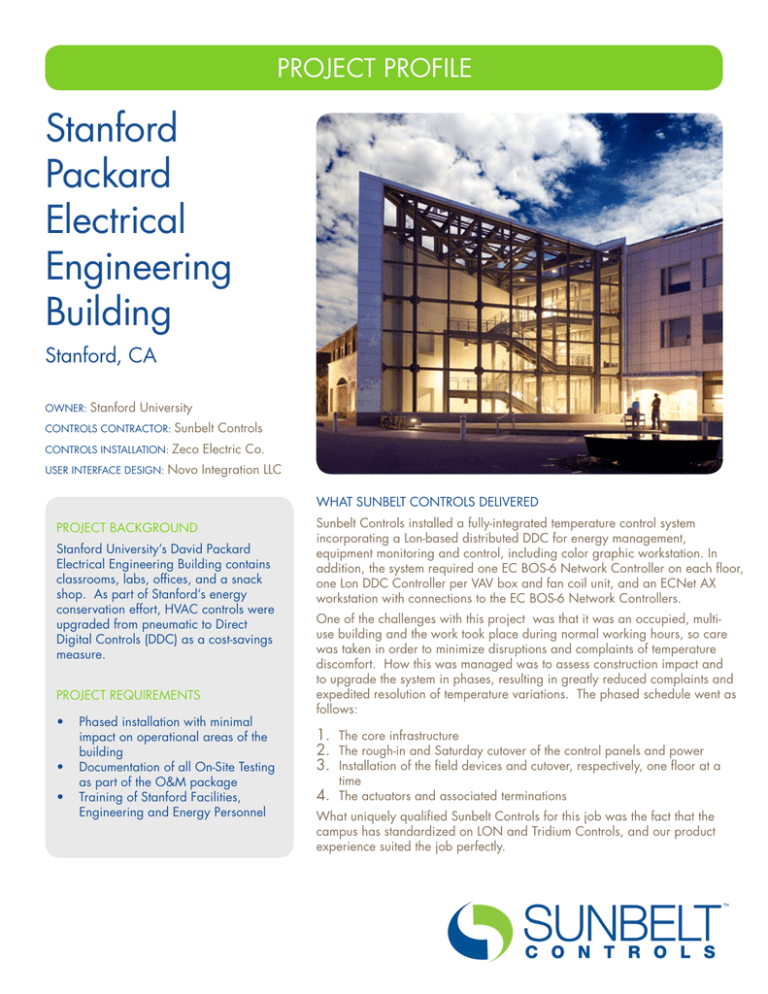 PROJECT PROFILE
Stanford
Packard
Electrical
Engineering
Building
Stanford, CA
OWNER:
Stanford University
CONTROLS CONTRACTOR:
Sunbelt Controls
CONTROLS INSTALLATION:
Zeco Electric Co.
USER INTERFACE DESIGN:
Novo Integration LLC
WHAT SUNBELT CONTROLS DELIVERED
PROJECT BACKGROUND
Stanford University's David Packard
Electrical Engineering Building contains
classrooms, labs, offices, and a snack
shop. As part of Stanford's energy
conservation effort, HVAC controls were
upgraded from pneumatic to Direct
Digital Controls (DDC) as a cost-savings
measure.
PROJECT REQUIREMENTS
• Phased installation with minimal
impact on operational areas of the
building
• Documentation of all On-Site Testing
as part of the O&M package
• Training of Stanford Facilities,
Engineering and Energy Personnel
Sunbelt Controls installed a fully-integrated temperature control system
incorporating a Lon-based distributed DDC for energy management,
equipment monitoring and control, including color graphic workstation. In
addition, the system required one EC BOS-6 Network Controller on each floor,
one Lon DDC Controller per VAV box and fan coil unit, and an ECNet AX
workstation with connections to the EC BOS-6 Network Controllers.
One of the challenges with this project was that it was an occupied, multiuse building and the work took place during normal working hours, so care
was taken in order to minimize disruptions and complaints of temperature
discomfort. How this was managed was to assess construction impact and
to upgrade the system in phases, resulting in greatly reduced complaints and
expedited resolution of temperature variations. The phased schedule went as
follows:
1. The core infrastructure
2. The rough-in and Saturday cutover of the control panels and power
3. Installation of the field devices and cutover, respectively, one floor at a
time
4. The actuators and associated terminations
What uniquely qualified Sunbelt Controls for this job was the fact that the
campus has standardized on LON and Tridium Controls, and our product
experience suited the job perfectly.