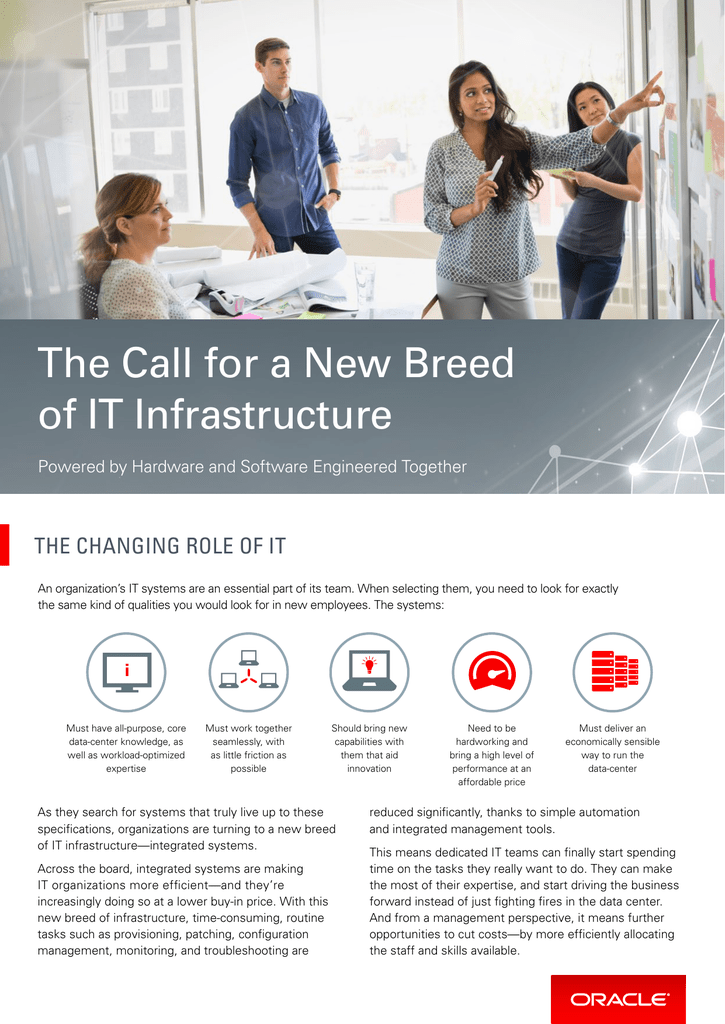 The Call for a New Breed
of IT Infrastructure
Powered by Hardware and Software Engineered Together
THE CHANGING ROLE OF IT
An organization's IT systems are an essential part of its team. When selecting them, you need to look for exactly
the same kind of qualities you would look for in new employees. The systems:
i
Must have all-purpose, core
data-center knowledge, as
well as workload-optimized
expertise
Must work together
seamlessly, with
as little friction as
possible
Should bring new
capabilities with
them that aid
innovation
As they search for systems that truly live up to these
specifications, organizations are turning to a new breed
of IT infrastructure—integrated systems.
Across the board, integrated systems are making
IT organizations more efficient—and they're
increasingly doing so at a lower buy-in price. With this
new breed of infrastructure, time-consuming, routine
tasks such as provisioning, patching, configuration
management, monitoring, and troubleshooting are
Need to be
hardworking and
bring a high level of
performance at an
affordable price
Must deliver an
economically sensible
way to run the
data-center
reduced significantly, thanks to simple automation
and integrated management tools.
This means dedicated IT teams can finally start spending
time on the tasks they really want to do. They can make
the most of their expertise, and start driving the business
forward instead of just fighting fires in the data center.
And from a management perspective, it means further
opportunities to cut costs—by more efficiently allocating
the staff and skills available.
THE IMPACT ON INNOVATION
Today, innovation is everything. And with your IT team
released from the daily grind, they can really start helping
you deliver it.
In a world of self-service, instant information and agile
competition, finding new ways to meet customer needs
is critical. To create and roll out successful new products
and services, employees across your enterprise need
the support of a platform that helps them make ideas
realities—fast. Inefficient or insufficient technology is a
real barrier to innovation, and can shut down great ideas
before they are fully explored.
But it's not just product and service innovation that're
increasingly essential to business success; having the
resources you need to develop innovative new internal
processes is also crucial to gaining competitive advantage.
By reducing the time and energy you're forced to spend
on custom-building and maintaining your IT environment,
integrated systems can help you redesign internal
processes too—giving IT teams the space they need to
develop the kind of game-changing ideas that will really
drive your business forward.
Integrated systems can offer organizations
a greatly reduced time to market.
THE IMPORTANCE OF INTEGRATED SYSTEMS
Integrated systems make IT processes so much simpler.
They give organizations the performance, availability,
agility, scalability, and customizability they need to
innovate with confidence—safe in the knowledge that
their IT environment can comfortably support their
new initiatives.
By using integrated systems to aid innovation, businesses
can ultimately:
With integrated systems, everyone can put their ideas
into action as quickly as possible. This doesn't just help
organizations be first to market with new products; it also
helps reduce costs, resolve customer issues, improve
experiences, and adapt to market changes very quickly;
it also helps reduce costs, resolve customer issues,
improve experiences.
++ Reach customers with new products and services
before competitors do
++ Improve the efficiency of existing processes and
adopt new ones without hassle
++ Test innovation scenarios and eliminate issues
early on in the development process
++ Capitalize on emerging opportunities faster
The result is a more flexible business, more empowered
employees, and more ways to stay ahead of the
competition.
Organizations can expect to save a significant
amount of time for innovation each week
as a result of using integrated systems.
CUSTOMER SPOTLIGHT
Tier1
Tier1 is a leading provider of business consulting solutions and
24/7 managed services for Oracle Applications. With an easy-todeploy engineered system that provides the flexibility needed
for cloud computing, Tier1 was able to:
++ Deploy ready-to-run virtual machines in minutes
++ Go from power-on to production in an hour
++ Significantly accelerate data processing
++ Simplify management of the entire cloud life cycle
THE ORACLE DIFFERENCE
As the pioneer of integrated systems, Oracle understands
organizations' growing hunger for extreme speed and
seamless scalability at an affordable price, and utilizes a wealth
of experience to preintegrate its solutions for success.
No other vendor offers the breadth of portfolio, trusted
track record, or extreme price/performance that Oracle
does—helping customers cut costs, simplify deployments
and streamline ongoing management.
Oracle does the integration so you don't have to, implementing
and maintaining the entire technology stack, and seamlessly
connecting all components of a sophisticated, modern
data center. And we offer all of this value at price points
that the competition can't match.
With Oracle engineered systems, you can take control
of inefficient, poorly optimized, or sprawling data centers
and transform them for less—cutting costs, freeing up
resources, and enabling people across the enterprise
to innovate with confidence.
Learn more
Visit our website www.oracle.com/engineered-systems or download our comprehensive
engineered systems e-guide today to find out what Oracle's engineered systems could help
your organization achieve. You can call on 1-800-633-0738, or chat with one of our engineered
systems experts live through your browser.
Copyright © 2015, Oracle and/or its affiliates. All rights reserved. Oracle and Java are registered trademarks of Oracle
and/or its affiliates. Other names may be trademarks of their respective owners.