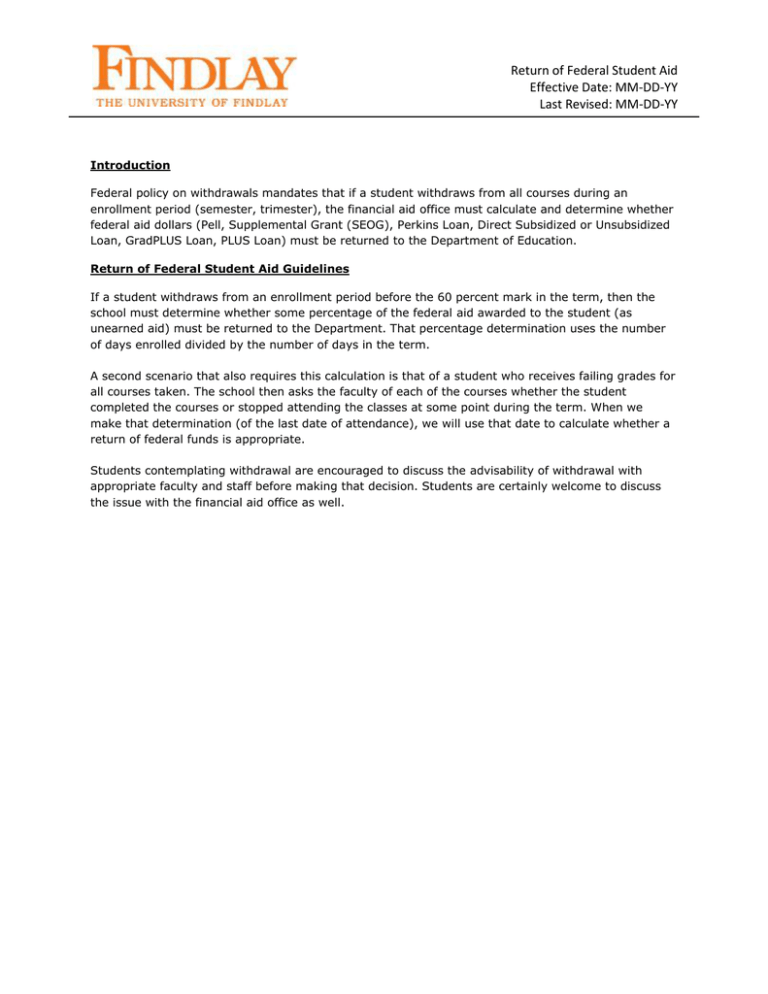 Return of Federal Student Aid
Effective Date: MM-DD-YY
Last Revised: MM-DD-YY
Introduction
Federal policy on withdrawals mandates that if a student withdraws from all courses during an
enrollment period (semester, trimester), the financial aid office must calculate and determine whether
federal aid dollars (Pell, Supplemental Grant (SEOG), Perkins Loan, Direct Subsidized or Unsubsidized
Loan, GradPLUS Loan, PLUS Loan) must be returned to the Department of Education.
Return of Federal Student Aid Guidelines
If a student withdraws from an enrollment period before the 60 percent mark in the term, then the
school must determine whether some percentage of the federal aid awarded to the student (as
unearned aid) must be returned to the Department. That percentage determination uses the number
of days enrolled divided by the number of days in the term.
A second scenario that also requires this calculation is that of a student who receives failing grades for
all courses taken. The school then asks the faculty of each of the courses whether the student
completed the courses or stopped attending the classes at some point during the term. When we
make that determination (of the last date of attendance), we will use that date to calculate whether a
return of federal funds is appropriate.
Students contemplating withdrawal are encouraged to discuss the advisability of withdrawal with
appropriate faculty and staff before making that decision. Students are certainly welcome to discuss
the issue with the financial aid office as well.