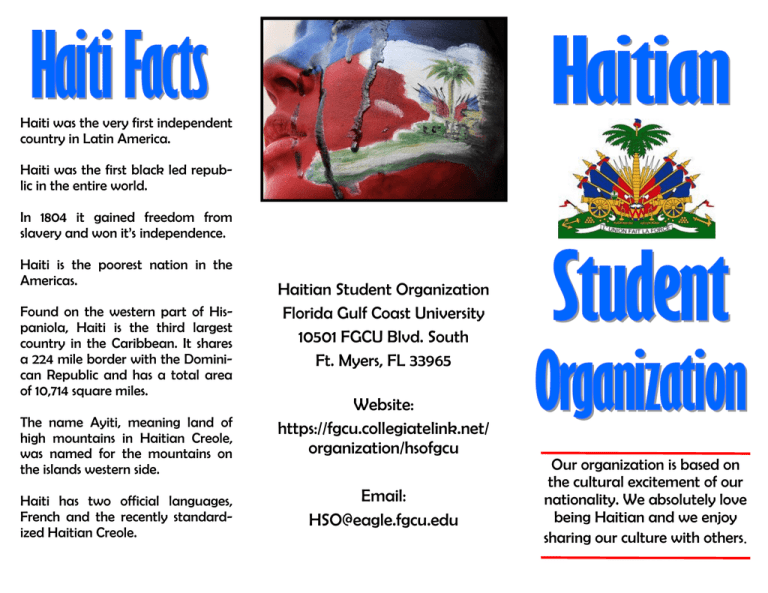 Haiti was the very first independent
country in Latin America.
Haiti was the first black led republic in the entire world.
In 1804 it gained freedom from
slavery and won it's independence.
Haiti is the poorest nation in the
Americas.
Found on the western part of Hispaniola, Haiti is the third largest
country in the Caribbean. It shares
a 224 mile border with the Dominican Republic and has a total area
of 10,714 square miles.
The name Ayiti, meaning land of
high mountains in Haitian Creole,
was named for the mountains on
the islands western side.
Haiti has two official languages,
French and the recently standardized Haitian Creole.
Haitian Student Organization
Florida Gulf Coast University
10501 FGCU Blvd. South
Ft. Myers, FL 33965
Website:
https://fgcu.collegiatelink.net/
organization/hsofgcu
Email:
HSO@eagle.fgcu.edu
Our organization is based on
the cultural excitement of our
nationality. We absolutely love
being Haitian and we enjoy
sharing our culture with others.
L' UNION FAIT LA FORCE
The Haitian Student Organization was established Fall 2009 on the FGCU Campus .
Our purpose is to bring an awareness of
our culture to
the
University
and to provide a
common ground
to those of Haitian heritage on
campus who are
not aware that
there is a cultural based club for the Haitians.
Our organization enjoys celebrating the
beauty of our country and the perseverance of our people, especially during these
trying times after
the 7.0 earthquake that hit
Haiti's capital on
January
12th,
2010. There is still
a long to go to remake Haiti and in the
mean time we will cater to our Haitian
community in the states.
Thank you for your interest in the Haitian Student Organization. Our organization has an
open arms policy that encourages new ideas.
One of the main purposes for
this organization is to serve as
mediators for those who wish to
understand different cultures,
specifically the Haitian culture.
As students, we are taught to
think in different ways to maximize our progress and to anticipate greater outcomes.
We must all work towards a better "something"
in order to receive a greater "anything". I encourage you to join our organization. Fresh new
faces are needed along with fresh new ideas. I
and the entire Executive Board welcome your
full enthusiasm and we promise to provide our
full dedication.
Byenveni tout moun (Welcome Everyone)
Best Wishes,
Myrlande "M.C Charelus, President
Theatre Major
The Haitian Student Organization at FGCU is connected to the United
Haitian Student of Florida (UHSF)
which is the governing body for all colligate ran Haitian organizations across
the state of Florida.
Our goal for this organization on
the FGCU campus is to implement the
ideology of working together with any
organization that will not only profit the
Haitian community but also the surrounding areas
around
Southwest Florida. Our
hopes are to inform and encourage the youth of
our community to expand their horizons
and be involved.
Florida Gulf Coast University is a
wonderful facility that allows their culturally driven students to explore the
endless opportunities of civic engagement in our community, and HSO
would love for you to join us in our endeavors towards humanity.