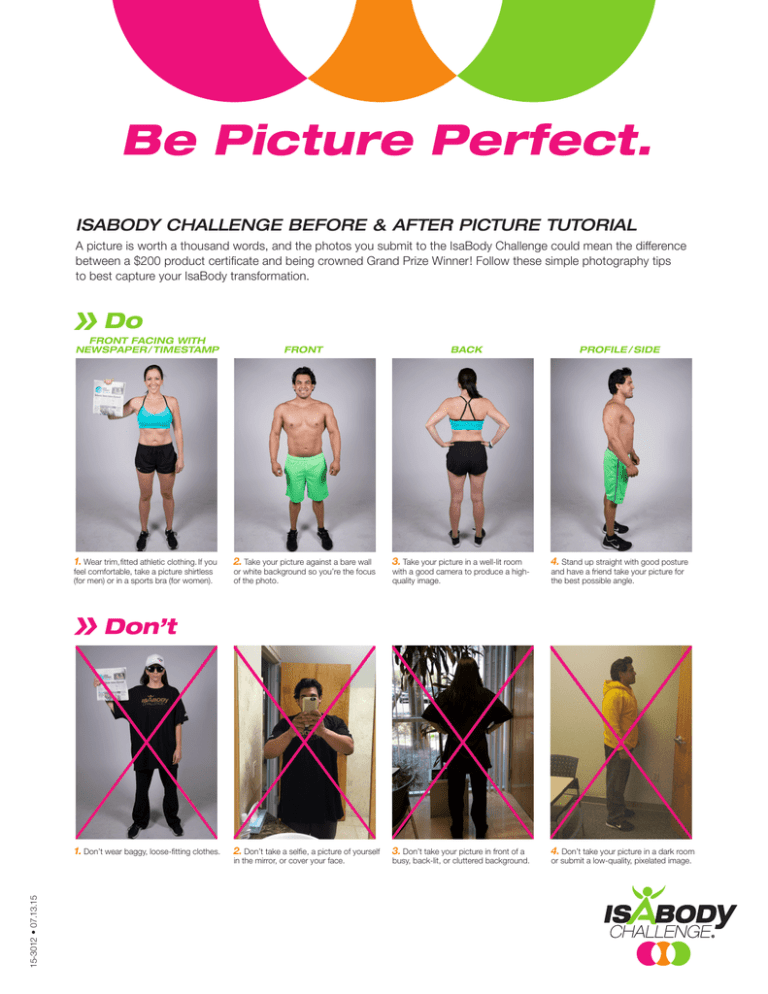 Be Picture Perfect.
ISABODY CHALLENGE BEFORE & AFTER PICTURE TUTORIAL
A picture is worth a thousand words, and the photos you submit to the IsaBody Challenge could mean the difference
between a $200 product certificate and being crowned Grand Prize Winner! Follow these simple photography tips
to best capture your IsaBody transformation.
Do
FRONT FACING WITH
NEWSPAPER / TIMESTAMP
FRONT
1. Wear trim, fitted athletic clothing. If you
2. Take your picture against a bare wall
3. Take your picture in a well-lit room
4. Stand up straight with good posture
2. Don't take a selfie, a picture of yourself
3. Don't take your picture in front of a
4. Don't take your picture in a dark room
feel comfortable, take a picture shirtless
(for men) or in a sports bra (for women).
or white background so you're the focus
of the photo.
BACK
with a good camera to produce a highquality image.
PROFILE / SIDE
and have a friend take your picture for
the best possible angle.
Don't
15-3012 • 07.13.15
1. Don't wear baggy, loose-fitting clothes.
in the mirror, or cover your face.
busy, back-lit, or cluttered background.
or submit a low-quality, pixelated image.