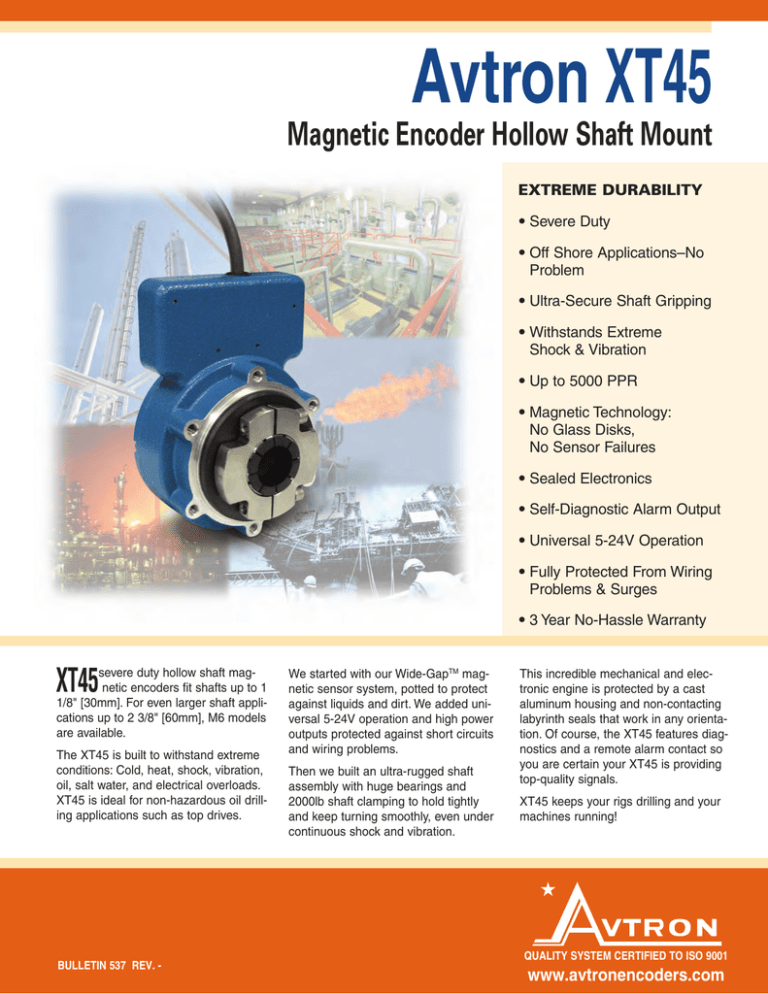 Avtron XT45
Magnetic Encoder Hollow Shaft Mount
EXTREME DURABILITY
•Severe Duty
•Off Shore Applications–No
Problem
•Ultra-Secure Shaft Gripping
•Withstands Extreme
Shock & Vibration
•Up to 5000 PPR
•Magnetic Technology:
No Glass Disks,
No Sensor Failures
•Sealed Electronics
•Self-Diagnostic Alarm Output
•Universal 5-24V Operation
•Fully Protected From Wiring
Problems & Surges
•3 Year No-Hassle Warranty
XT45
severe duty hollow shaft magnetic encoders fit shafts up to 1
1/8" [30mm]. For even larger shaft applications up to 2 3/8" [60mm], M6 models
are available.
The XT45 is built to withstand extreme
conditions: Cold, heat, shock, vibration,
oil, salt water, and electrical overloads.
XT45 is ideal for non-hazardous oil drilling applications such as top drives.
BULLETIN 537 REV. -
We started with our Wide-GapTM magnetic sensor system, potted to protect
against liquids and dirt. We added universal 5-24V operation and high power
outputs protected against short circuits
and wiring problems.
Then we built an ultra-rugged shaft
assembly with huge bearings and
2000lb shaft clamping to hold tightly
and keep turning smoothly, even under
continuous shock and vibration.
This incredible mechanical and electronic engine is protected by a cast
aluminum housing and non-contacting
labyrinth seals that work in any orientation. Of course, the XT45 features diagnostics and a remote alarm contact so
you are certain your XT45 is providing
top-quality signals.
XT45 keeps your rigs drilling and your
machines running!
QUALITY SYSTEM CERTIFIED TO ISO 9001
www.avtronencoders.com
XT45 Magnetic, Hollow Shaft Encoder 3/4"-1 1/8" [19-30mm]
MORE XT45 ADVANTAGES
OUTLINE DRAWING
All dimensions are in inches.
• Replaces BEI HS35, Dynapar EN42 & EN44
• Ideal for top drives and drilling applications
• Shrugs off dirt, oil, and water contamination
• Insulated from motor shaft currents
• Extreme clamping force to eliminate slipping
• Corrosion-resistant coating on all metal surfaces;
stainless shaft
• Three Mounting Options: End of Shaft Clamp, Thru Shaft Clamp, and Rear Center Bolt.
• Fits shafts 0.750" – 1.125" [19-30mm]
XT45 SPECIFICATIONS
Operating Power: Volts: 5 - 24 VDC; Current: 100mA, no load
– –
–
Output Format: A Quad B with Marker (A,A, B,B, Z,Z )
Frequency Range: 0 to 165,000 KHz
Max. Instantaneous Current Output: 3000 mA<
PPR: 8 - 5000
Speed: 5000 RPM Mmx. std., for higher speeds, consult factory
Check out our web site for more
detailed specifications, drawings,
and installation instructions.
www.avtronencoders.com
SELECTION GUIDE
Electronics: Fully encapsulated, IP67<<
Temperature: -40°C to 100°C
Vibration: 20 G's (any orientation)
Shock: 300 G's
Chemical: Polyurethane enamel paint protects against salt
spray, mild acids, and bases.
< Output Option 8, See manual for details.
<< Connector options may reduce IP rating.
Pending
XT45 PART NUMBERS AND AVAILABLE OPTIONS INCLUDING AV5 SENSORS
Model
XT45
Bore Size
Clamping
Collar Mount
U.S.
D- 3/4"
E- 7/8"
F- 1"
G- 1 1/8"
Clamping
Collar Mount
Metric
L- 20mm
M- 25mm
N- 30mm
End of Shaft:
Center Bolt
Mount*
J- 30mm*
(no stub)
K- fits GE B20
Left Output
PPR
AF-60
AG-100
AH-120
AA-128
AL-240
AN-256
AE-360
AQ-500
AR-512
AS-600
AV-900
Right Output+
Line Driver Connector Options
PPR
XX-None
AJ-960
AW-1000
AY-1024
AZ-1200
A3-2000
A4-2048
A5-2500
AD-4096
A8-4800
A9-5000
8- 5-24V in,
5-15 out
hi-power
W-18" flex cable
Y- 10 pin MS with plug
on 12" cable
N-Condulet with leads
Tether
Channels
X-None
A-All
G-Torque arm
Modifications
000- None
001- Omit Rear
Shaft Cover
9xx- Specify cable
length xx=feet (use
w/ Option "W")
* 30mm x 25mm stub shaft
required for mounting
+ Dual output available 4Q2010
Wide-Gap™ is a trademark of Avtron.
All dimensions are in inches [millimeters].
Specifications and features are subject to change without notice.