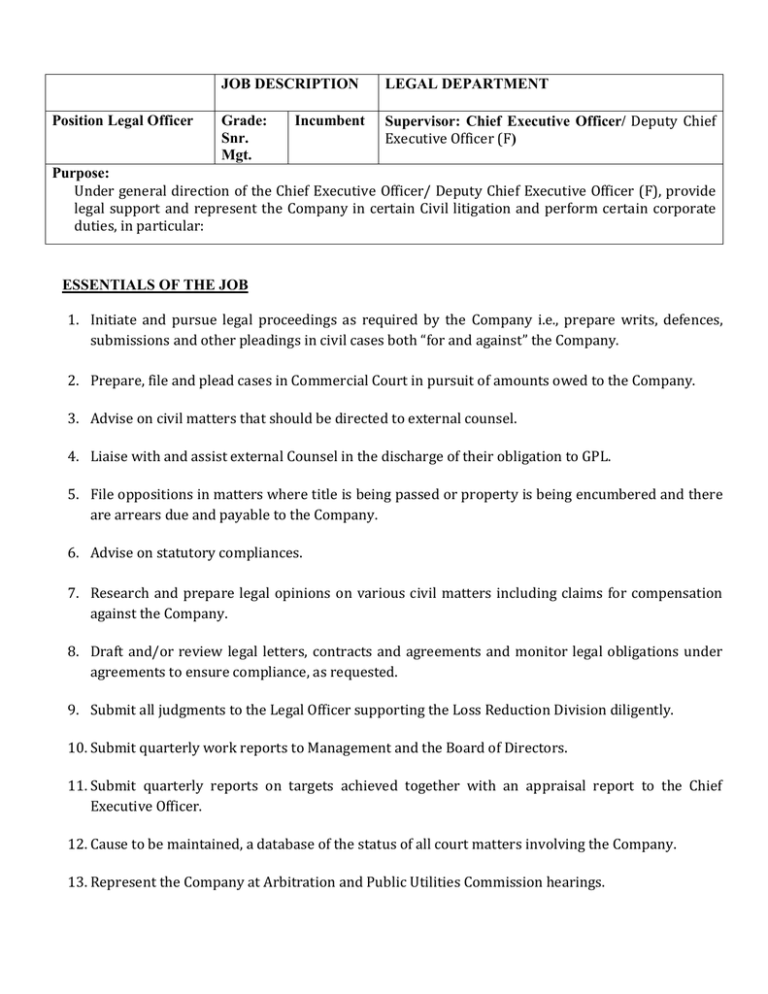 Position Legal Officer
JOB DESCRIPTION
LEGAL DEPARTMENT
Grade:
Snr.
Mgt.
Supervisor: Chief Executive Officer/ Deputy Chief
Executive Officer (F)
Incumbent
Purpose:
Under general direction of the Chief Executive Officer/ Deputy Chief Executive Officer (F), provide
legal support and represent the Company in certain Civil litigation and perform certain corporate
duties, in particular:
ESSENTIALS OF THE JOB
1. Initiate and pursue legal proceedings as required by the Company i.e., prepare writs, defences,
submissions and other pleadings in civil cases both "for and against" the Company.
2. Prepare, file and plead cases in Commercial Court in pursuit of amounts owed to the Company.
3. Advise on civil matters that should be directed to external counsel.
4. Liaise with and assist external Counsel in the discharge of their obligation to GPL.
5. File oppositions in matters where title is being passed or property is being encumbered and there
are arrears due and payable to the Company.
6. Advise on statutory compliances.
7. Research and prepare legal opinions on various civil matters including claims for compensation
against the Company.
8. Draft and/or review legal letters, contracts and agreements and monitor legal obligations under
agreements to ensure compliance, as requested.
9. Submit all judgments to the Legal Officer supporting the Loss Reduction Division diligently.
10. Submit quarterly work reports to Management and the Board of Directors.
11. Submit quarterly reports on targets achieved together with an appraisal report to the Chief
Executive Officer.
12. Cause to be maintained, a database of the status of all court matters involving the Company.
13. Represent the Company at Arbitration and Public Utilities Commission hearings.
14. Assist in the formulation, implementation and/or amendment of Company policies.
15. Draft, amend, review and/or recommend modifications to the electricity sector or related laws
and regulations governing the Company.
16. Perform duties as Secretary to Management Committee, Management Tender Board and all SubCommittees of Management Committee.
17. Provide sound legal advice to the Company and make recommendations to Management as
necessary.
18. Attend special committee meetings and offer advice as required.
The above shall relate exclusively to:
1.
2.
3.
4.
5.
6.
Commercial Services matters including reviewing Inactive Accounts,
T & D matters
Procurement/Contract matters
Civil Actions
Human Resources/employment matters
PUC matters
JOB QUALIFICATION(S) AND EXPERIENCE:
An Attorney-at-Law with at least five (5) years of experience in handling legal matters as a practicing
Attorney-at-Law or in a corporate environment.
KNOWLEDGE, SKILLS & ABILITIES:









Technical understanding of the Company.'s business and operations and attention to details.
Excellent interpersonal communication at all levels (verbal and written).
Problem solving and analytical skills.
Ability to multi-task and meet deadlines.
Ability to cope with high levels of responsibility and with confidential matters.
Ability to work well within the team.
A high level of professionalism which is required on the job at all times.
Computer Literacy.
Be conversant with the OCCUPATIONAL SAFETY & HEALTH ACT CHAPTER NO. 32 OF
1997, GUYANA ELECTRICITY SECTOR REFORM ACT (ESRA) CHAPTER 57:01 OF 1999 of the
laws of Guyana AS AMENDED, THE COMPANY'S LICENSE AND ITS STANDARD TERMS AND
CONDITIONS, GUYANA ENERGY AGENCY ACT, PUBLIC UTILITIES COMMISSION ACT,
ENVIRONMENTAL PROTECTION AGENCY ACT NO. 11 OF 1996 and other Laws and/or
Regulations governing or regulating the operations/performance of the Company.

Must be conversant with the City/Municipal By-Laws.
Applications along with CV must be forwarded to the Divisional Director- Human Resources,
Guyana Power & light Incorporated, 257/259 Middle Street, Georgetown not later than
December 05, 2014.