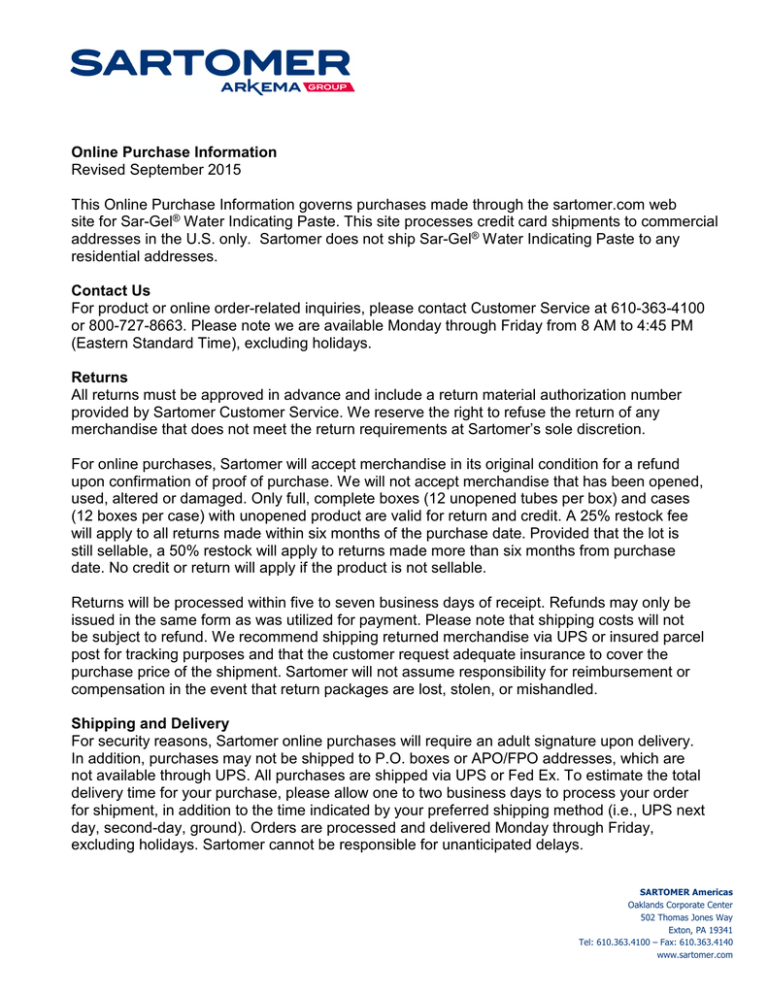 Online Purchase Information
Revised September 2015
This Online Purchase Information governs purchases made through the sartomer.com web
site for Sar-Gel® Water Indicating Paste. This site processes credit card shipments to commercial
addresses in the U.S. only. Sartomer does not ship Sar-Gel® Water Indicating Paste to any
residential addresses.
Contact Us
For product or online order-related inquiries, please contact Customer Service at 610-363-4100
or 800-727-8663. Please note we are available Monday through Friday from 8 AM to 4:45 PM
(Eastern Standard Time), excluding holidays.
Returns
All returns must be approved in advance and include a return material authorization number
provided by Sartomer Customer Service. We reserve the right to refuse the return of any
merchandise that does not meet the return requirements at Sartomer's sole discretion.
For online purchases, Sartomer will accept merchandise in its original condition for a refund
upon confirmation of proof of purchase. We will not accept merchandise that has been opened,
used, altered or damaged. Only full, complete boxes (12 unopened tubes per box) and cases
(12 boxes per case) with unopened product are valid for return and credit. A 25% restock fee
will apply to all returns made within six months of the purchase date. Provided that the lot is
still sellable, a 50% restock will apply to returns made more than six months from purchase
date. No credit or return will apply if the product is not sellable.
Returns will be processed within five to seven business days of receipt. Refunds may only be
issued in the same form as was utilized for payment. Please note that shipping costs will not
be subject to refund. We recommend shipping returned merchandise via UPS or insured parcel
post for tracking purposes and that the customer request adequate insurance to cover the
purchase price of the shipment. Sartomer will not assume responsibility for reimbursement or
compensation in the event that return packages are lost, stolen, or mishandled.
Shipping and Delivery
For security reasons, Sartomer online purchases will require an adult signature upon delivery.
In addition, purchases may not be shipped to P.O. boxes or APO/FPO addresses, which are
not available through UPS. All purchases are shipped via UPS or Fed Ex. To estimate the total
delivery time for your purchase, please allow one to two business days to process your order
for shipment, in addition to the time indicated by your preferred shipping method (i.e., UPS next
day, second-day, ground). Orders are processed and delivered Monday through Friday,
excluding holidays. Sartomer cannot be responsible for unanticipated delays.
SARTOMER Americas
Oaklands Corporate Center
502 Thomas Jones Way
Exton, PA 19341
Tel: 610.363.4100 – Fax: 610.363.4140
www.sartomer.com
Tracking
To ensure the security of your delivery, we do not provide tracking numbers, but maintain a
tracking number for each delivery. If you are not completely satisfied or if there is a
discrepancy with your order, please retain all documentation and packaging and contact us
immediately by calling 610-363-4100 or 800-727-8663.
Changes/Cancellations
If you wish to cancel or modify your order, please call us as soon as possible at 610-363-4100
or 800-727-8663. We will make every effort to accommodate your request. However, once an
order has been submitted we cannot guarantee the purchase can be cancelled or modified.
Once you have received your online order, please refer to our return instructions included with
your shipment.
Product Availability
The sole product available for purchase online directly from Sartomer is Sar-Gel® Water
Indicating Paste. Product is subject to availability; and we reserve the right to limit the quantity
of products we supply; supply only part of an order or to divide up orders. We will inform you if
we are unable to fill your order.
Pricing
Prices displayed on the Sartomer web site are quoted in U.S. dollars. While we try to ensure
that all prices on our web site are accurate, errors may occur. If we discover an error in the
price of the merchandise you have ordered, we will give you the option of reconfirming your
order at the correct price or cancelling it. If we are unable to contact you, we will treat the order
as cancelled. Title to products you order on this web site and risk of loss or damage to
products, passes to you upon delivery, provided that we have received payment in full for the
products.
Payment
Sartomer accepts the following forms of payment for online purchases:
• Visa
• Mastercard
• American Express
The transaction will be charged at the time of order placement. Orders will be processed within
three to five business days of receipt.
Terms and Conditions of Sale
On-line sales of Sar-Gel® Water Indicating Paste are governed by the Standard Terms and
Conditions of Sale of Arkema Inc., which are published on our web site. Arkema Inc. rejects any
and all other contradictory or additional terms or conditions.
Errors and Inaccuracies
Our goal is to provide complete, accurate, and up-to-date information on our web site.
Unfortunately, it is not possible to ensure that any web site is completely free of human or
technological errors. This web site may contain typographical mistakes, inaccuracies, or
omissions, some of which may relate to pricing and availability, and product information.
We reserve the right to correct any errors, inaccuracies or omissions, including after an
order has been submitted and to change or update information at any time without prior
notice.