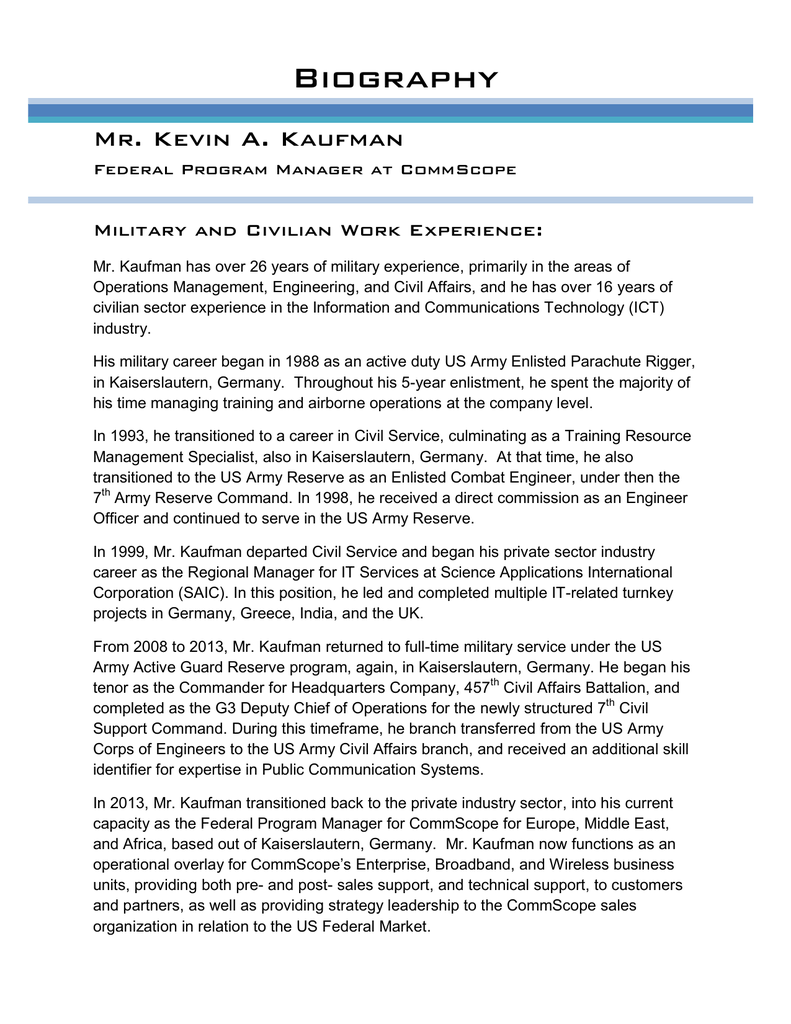 Biography
Mr. Kevin A. Kaufman
Federal Program Manager at CommScope
Military and Civilian Work Experience:
Mr. Kaufman has over 26 years of military experience, primarily in the areas of
Operations Management, Engineering, and Civil Affairs, and he has over 16 years of
civilian sector experience in the Information and Communications Technology (ICT)
industry.
His military career began in 1988 as an active duty US Army Enlisted Parachute Rigger,
in Kaiserslautern, Germany. Throughout his 5-year enlistment, he spent the majority of
his time managing training and airborne operations at the company level.
In 1993, he transitioned to a career in Civil Service, culminating as a Training Resource
Management Specialist, also in Kaiserslautern, Germany. At that time, he also
transitioned to the US Army Reserve as an Enlisted Combat Engineer, under then the
7th Army Reserve Command. In 1998, he received a direct commission as an Engineer
Officer and continued to serve in the US Army Reserve.
In 1999, Mr. Kaufman departed Civil Service and began his private sector industry
career as the Regional Manager for IT Services at Science Applications International
Corporation (SAIC). In this position, he led and completed multiple IT-related turnkey
projects in Germany, Greece, India, and the UK.
From 2008 to 2013, Mr. Kaufman returned to full-time military service under the US
Army Active Guard Reserve program, again, in Kaiserslautern, Germany. He began his
tenor as the Commander for Headquarters Company, 457th Civil Affairs Battalion, and
completed as the G3 Deputy Chief of Operations for the newly structured 7th Civil
Support Command. During this timeframe, he branch transferred from the US Army
Corps of Engineers to the US Army Civil Affairs branch, and received an additional skill
identifier for expertise in Public Communication Systems.
In 2013, Mr. Kaufman transitioned back to the private industry sector, into his current
capacity as the Federal Program Manager for CommScope for Europe, Middle East,
and Africa, based out of Kaiserslautern, Germany. Mr. Kaufman now functions as an
operational overlay for CommScope's Enterprise, Broadband, and Wireless business
units, providing both pre- and post- sales support, and technical support, to customers
and partners, as well as providing strategy leadership to the CommScope sales
organization in relation to the US Federal Market.
Biography: Kevin Kaufman, Federal Program Manager, EMEA
Education:
Mr. Kaufman holds a Bachelor of Arts degree in Computer Science from the University
of Maryland, and a Master of Science degree in Management Information Systems from
Bowie State University. He is also currently pursuing a Doctorate of Business
Administration degree, with a specialization in leadership, at Walden University.
Certifications:
Mr. Kaufman has earned the SANS Institute Global Cyber Security Essentials
Certification (GSEC) and the IT Infrastructure Library (ITIL) Foundation certification.
He is currently preparing for the Program Management Institute (PMI), Project
Management Professional (PMP) certification, and the BICSI Registered
Communications Distribution Designer (RCDD) certification.
Hometown:
Mr. Kaufman is originally from Sandusky, Ohio, but his current home of record is Lake
Wales, Florida.
Having spent the last 26 years rooted in Kaiserslautern, Germany, you could say his
has practically gone native.
Family:
Mr. Kaufman is currently married and has three children.
Hobbies:
Mr. Kaufman's hobbies include riding motorcycles and hunting, when he finds the time
within the work-life balance to do so.