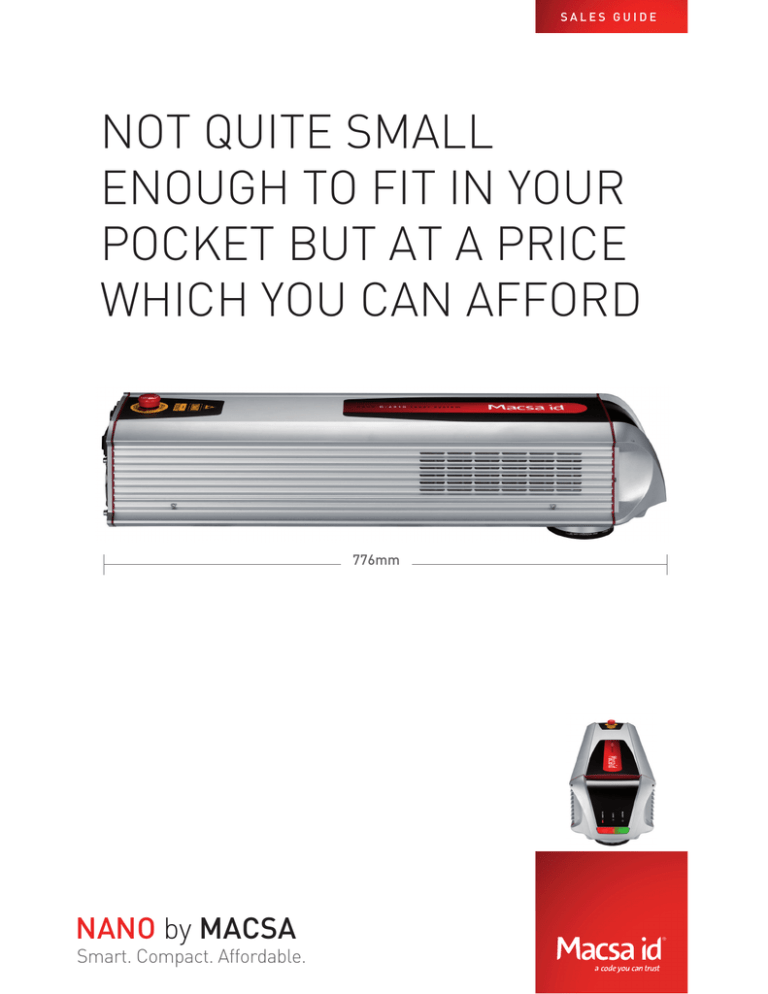 SALES GUIDE
NOT QUITE SMALL
ENOUGH TO FIT IN YOUR
POCKET BUT AT A PRICE
WHICH YOU CAN AFFORD
776mm
NANO by MACSA
Smart. Compact. Affordable.
NANO LASERS
SMART, COMPACT
AND AFFORDABLE
YAG LASERS
NANO YAG lasers from Macsa are
compact and affordable low cost
laser coders. They are used by
industrial manufacturers to mark
their products. They work
effectively with a range of plastic
and metal substrates.
These lasers have been developed
with Macsa's 20 years'
development experience and in
partnership with Macsa's
suppliers. This has resulted in
lasers which are smaller and
more affordable than competitive
products.
NANO lasers are also cost competitive with traditional
marking technologies.
NANO lasers are easy to install and integrate. They are
small and compact and can be fitted in limited space.
They are fully network enabled and equipped with an
on-board computer making an external PC unnecessary.
NANO lasers are easy to use: they use Marca software to
code precisely and consistently. This is not possible with
traditional technologies.
NANO lasers may be integrated with iLASERBOX
workstations. Such lasers are fully-automated plug and
play class I laser marking systems.
USED IN INDUSTRIAL
MARKETS
FOR MARKING AND ENGRAVING
A RANGE OF PLASTICS AND METALS
NANO MARKET
INDUSTRIES
General industry
Aerospace
Automotive
Electronics
Medical devices
Security
Jewelry
Telecommunications
Promotional giftware
MACSA
A CODE YOU CAN TRUST
Macsa is a leading global supplier
of coding and marking laser
equipment and label printer
applicators. It supplies customers,
including multi-nationals and
OEMs, in packaged goods and
industrial markets world-wide.
Macsa's laser product range includes CO2, YAG and fiber
lasers.
• The CO2 range includes the iCON laser coder: a cost
effective alternative to continuous inkjet printers; and
• The YAG and fiber ranges include the NANO industrial
lasers: attractive, all-in-one alternatives to more
expensive systems.
Macsa's products are easy to install and easy to use.
Marca software enables users of Macsa's lasers to develop
messages, communicate across networks and operate
their lasers. They may be controlled using a touch screen
controller. The iLASERBOX laser marking workstation
provides a safe operating environment for small
semi-manual YAG and fiber applications.
Macsa's label applicator range includes the mLABEL series
of modular label and label printer applicators and the
iLABEL laser print and apply labelling system.