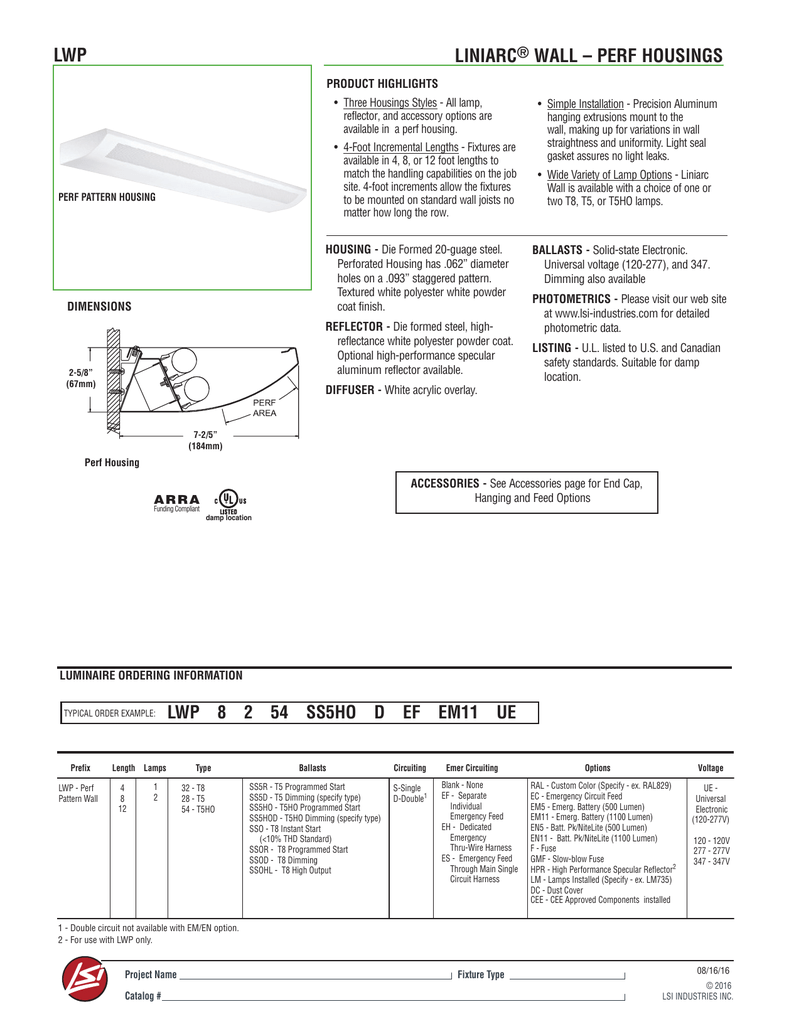 LINIARC® WALL – PERF HOUSINGS
LWP
PRODUCT HIGHLIGHTS
• S
imple Installation - Precision Aluminum
hanging extrusions mount to the
wall, making up for variations in wall
straightness and uniformity. Light seal
gasket assures no light leaks.
• Wide Variety of Lamp Options - Liniarc
Wall is available with a choice of one or
two T8, T5, or T5HO lamps.
PERF PATTERN HOUSING
HOUSING - Die Formed 20-guage steel.
Perforated Housing has .062" diameter
holes on a .093" staggered pattern.
Textured white polyester white powder
coat finish.
DIMENSIONS
REFLECTOR - Die formed steel, highreflectance white polyester powder coat.
Optional high-performance specular
aluminum reflector available.
2-5/8"
(67mm)
DIFFUSER - White acrylic overlay.
BALLASTS - Solid-state Electronic.
Universal voltage (120-277), and 347.
Dimming also available
PHOTOMETRICS - Please visit our web site
at www.lsi-industries.com for detailed
photometric data.
LISTING - U.L. listed to U.S. and Canadian
safety standards. Suitable for damp
location.
7-2/5"
(184mm)
Perf Housing
ACCESSORIES - See Accessories page for End Cap,
Hanging and Feed Options
ARRA
Funding Compliant
damp location
LUMINAIRE ORDERING INFORMATION
TYPICAL ORDER EXAMPLE:
Prefix
LWP - Perf
Pattern Wall
LWP
Length Lamps
4
8
12
1
2
8
Type
32 - T8
28 - T5
54 - T5HO
2
54
SS5HO D EF EM11 UE
Ballasts
SS5R - T5 Programmed Start
SS5D - T5 Dimming (specify type)
SS5HO - T5HO Programmed Start
SS5HOD - T5HO Dimming (specify type)
SSO - T8 Instant Start
(<10% THD Standard)
SSOR - T8 Programmed Start
SSOD - T8 Dimming
SSOHL - T8 High Output
Circuiting
S-Single
D-Double1
Emer Circuiting
Blank - None
EF - Separate
Individual
Emergency Feed
EH - Dedicated
Emergency
Thru-Wire Harness
ES - Emergency Feed
Through Main Single
Circuit Harness
Options
Voltage
RAL - Custom Color (Specify - ex. RAL829)
EC - Emergency Circuit Feed
EM5 - Emerg. Battery (500 Lumen)
EM11 - Emerg. Battery (1100 Lumen)
EN5 - Batt. Pk/NiteLite (500 Lumen)
EN11 - Batt. Pk/NiteLite (1100 Lumen)
F - Fuse
GMF - Slow-blow Fuse
HPR - High Performance Specular Reflector2
LM - Lamps Installed (Specify - ex. LM735)
DC - Dust Cover
CEE - CEE Approved Components installed
UE Universal
Electronic
(120-277V)
120 - 120V
277 - 277V
347 - 347V
1 - Double circuit not available with EM/EN option.
2 - For use with LWP only.
Project Name
Catalog #
Fixture Type
08/16/16
© 2016
LSI INDUSTRIES INC.