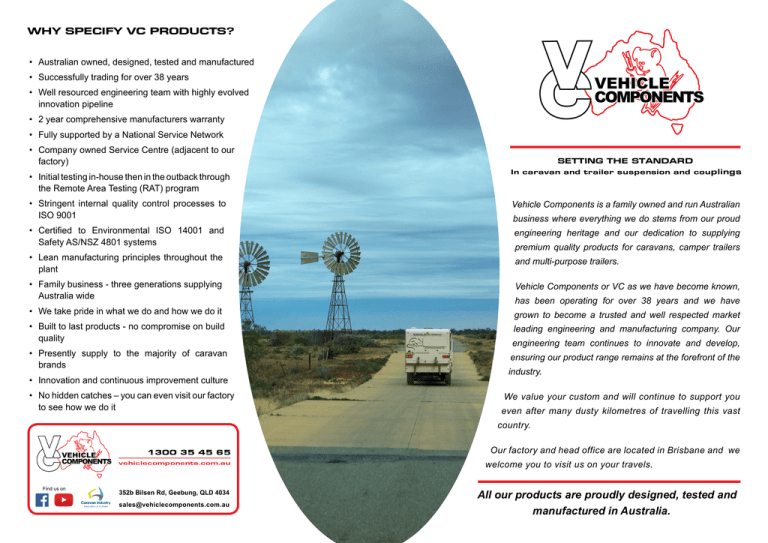 WHY SPECIFY VC PRODUCTS?
• Australian owned, designed, tested and manufactured
• Successfully trading for over 38 years
• Well resourced engineering team with highly evolved innovation pipeline
• 2 year comprehensive manufacturers warranty
• Fully supported by a National Service Network
• Company owned Service Centre (adjacent to our
factory)
SETTING THE STANDARD
• Initial testing in-house then in the outback through
the Remote Area Testing (RAT) program
In caravan and trailer suspension and couplings
• Stringent internal quality control processes to
ISO 9001
Vehicle Components is a family owned and run Australian
• Certified to Environmental ISO 14001 and
Safety AS/NSZ 4801 systems
engineering heritage and our dedication to supplying
• Lean manufacturing principles throughout the
plant
business where everything we do stems from our proud
premium quality products for caravans, camper trailers
and multi-purpose trailers.
• Family business - three generations supplying Australia wide
Vehicle Components or VC as we have become known,
• We take pride in what we do and how we do it
grown to become a trusted and well respected market
• Built to last products - no compromise on build
quality
• Presently supply to the majority of caravan
brands
• Innovation and continuous improvement culture
• No hidden catches – you can even visit our factory
to see how we do it
has been operating for over 38 years and we have
leading engineering and manufacturing company. Our
engineering team continues to innovate and develop,
ensuring our product range remains at the forefront of the
industry.
We value your custom and will continue to support you
even after many dusty kilometres of travelling this vast
country.
Our factory and head office are located in Brisbane and we
welcome you to visit us on your travels.
Find us on
352b Bilsen Rd, Geebung, QLD 4034
sales@vehiclecomponents.com.au
All our products are proudly designed, tested and
manufactured in Australia.
PRODUCT RANGE
NATIONAL SERVICE NETWORK
• HITCHMASTER® - All-Terrain Drop-On Couplings
Vehicle Components has an authorised national service network ensuring you are covered
from Devonport to Darwin and everywhere in between.
• CRUISEMASTER - Independent Suspension Systems
®
• RIDEMASTER® - Leaf Suspensions
• LIFTMASTER® - Stands and Jockey Wheels
• SHOCKMASTER® - Superior Damping Systems
So no matter where you are - there will always be a qualified and reputable service agent
close by!
Visit our website www.vehiclecomponents.com.au/service-agents to find your nearest
service agent.
PRODUCT TESTING
• Computer based stress analysis (FEA - Finite Element Analysis)
• Static strength testing to ADR requirements and often to our own more stringent
standards
VC SERVICE CENTRE
• In field testing programmes
Vehicle Components is authorised to undertake suspension upgrades and retrofits which
must be carried out by a repairer who has Type Approval by QLD Department of Transport
and Main Roads (TMR).
• Extended Remote Area Testing (RAT Run) product evaluation program
In addition we can perform all your scheduled servicing and pre - trip inspections including:
• Proving ground development
CERTIFICATION
• Wheel alignments
• Bearing checks / replacement
• Shock absorber replacement / upgrade
• Coupling fitment
• Fitment of Electronic Stability Devices to caravans (ESC / DSC)
• Vehicle suspension upgrades (Air springs)
• Brake adjustment and service
• Customer Support
2 YEARS MANUFACTURERS WARRANTY
PROUDLY DESIGNED, TESTED AND MANUFACTURED IN AUSTRALIA.