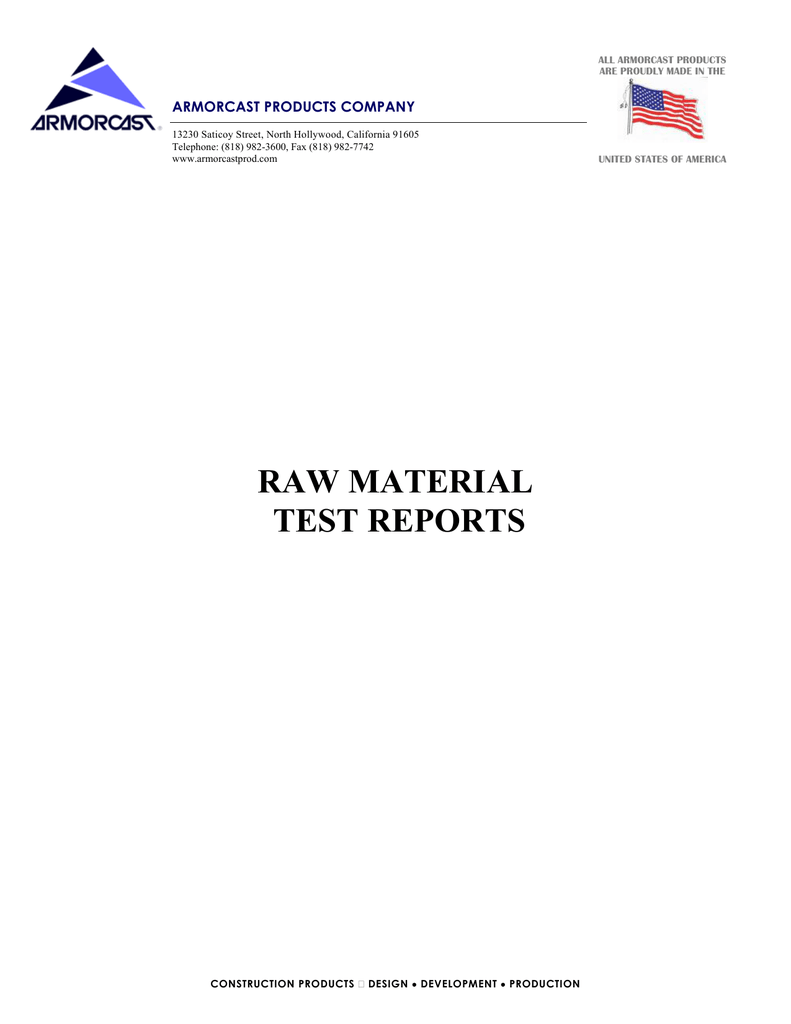 ALL ARMORCAST PRODUCTS
ARE PROUDLY MADE IN THE
ARMORCAST PRODUCTS COMPANY
13230 Saticoy Street, North Hollywood, California 91605
Telephone: (818) 982-3600, Fax (818) 982-7742
www.armorcastprod.com
RAW MATERIAL
TEST REPORTS
CONSTRUCTION PRODUCTS
DESIGN • DEVELOPMENT • PRODUCTION
UNITED STATES OF AMERICA
COMPRESSIVE STRENGTH ASTM D695
TENSILE STRENGTH ASTM D638
Reichhold Inc.
2400 Ellis Road
Durham, NC 27703
Armorcast / Supplied Warning Detectable Panel /Tile
Requested by:
P. Dayton
Copy to:
Physical Testing Lab; P. Dayton; R. Carman
Date:
07/31/2009
Sample
Name
Polylite 31830-00 ID: With Gel Coat (Reinforced)
Samples were taken from Aromrcast Dectable Warning
Panel, Yellow Color (FCN 33538)
Physical Testing No.
1
Test Methods
ASTM D 570-98
Standard Test Method for Water Absorption of Plastics
Property
Water Absorption
2 hrs @ 100°C
Water Absorption
24 hrs @ 23ºC
Testing Cost:
Units
Results
% gain
0.3508
% gain
0.3079
Test hours at $150.00 per hour = 4
Total cost at no charge to customer = $ 600.00
IMPORTANT NOTICE: This report summarizes the results of certain tests conducted as a value-added service of Reichhold. The results reported herein
are a function of controlled laboratory conditions and could differ from the results customers might achieve under actual production conditions. Variations in
customer production processes including changes to the formula, manufacturing procedures, or raw materials, as well as variations in manufacturing
conditions such as temperature and humidity could affect the customer's process and ultimately impact the performance characteristics of customers'
finished products. That is why the information and recommendations provided herein are merely general information designed to provide additional
information so that the customer can determine whether Reichhold products are suitable for their applications. The information and recommendations
contained herein are not intended to substitute for the customer's own testing of such materials.
Our products are intended for sale to industrial and commercial customers. We require customers to inspect and test our products before use and to satisfy
themselves as to contents and suitability for the specific applications. We warrant that our products will meet our standard written specifications. Nothing
herein shall constitute any warranty, either express or implied, including any warranty of merchantability or fitness for particular purpose. The
exclusive remedy for all proven claims limited to replacement of our materials and in no event shall we be liable for special, incidental, or consequential
damages.
© Reichhold Inc. All rights reserved. Neither this report nor any information contained herein may be reproduced either in whole or part in any medium
without the express prior written permission of Reichhold Inc.