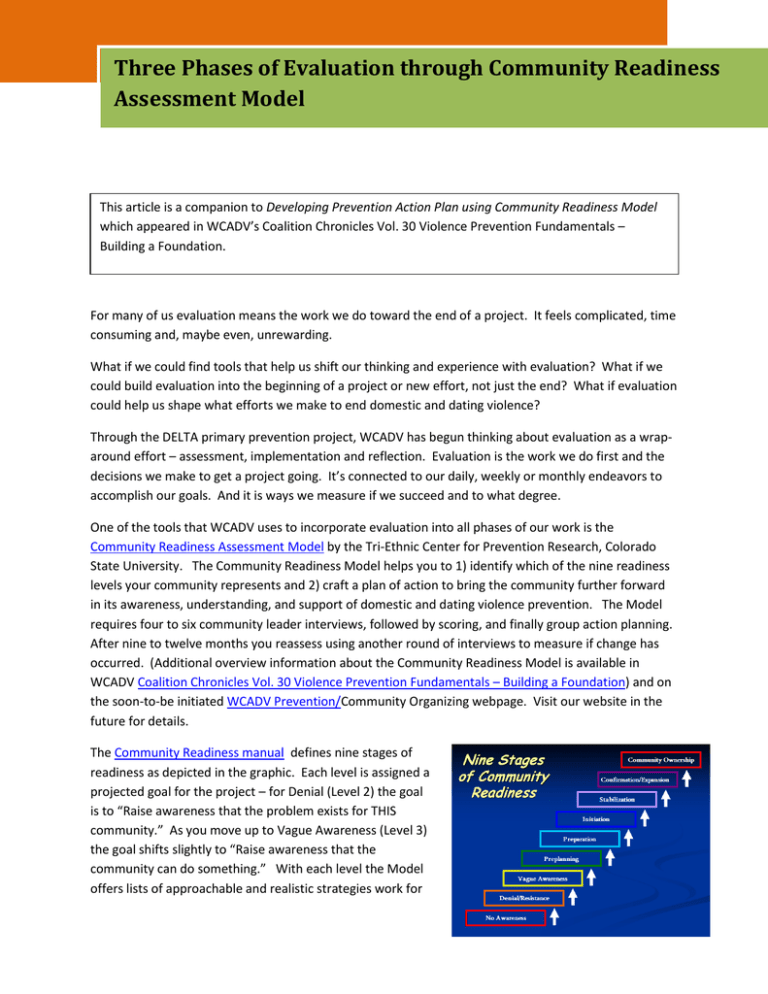 Three Phases of Evaluation through Community Readiness
Assessment Model
This article is a companion to Developing Prevention Action Plan using Community Readiness Model
which appeared in WCADV's Coalition Chronicles Vol. 30 Violence Prevention Fundamentals –
Building a Foundation.
For many of us evaluation means the work we do toward the end of a project. It feels complicated, time
consuming and, maybe even, unrewarding.
What if we could find tools that help us shift our thinking and experience with evaluation? What if we
could build evaluation into the beginning of a project or new effort, not just the end? What if evaluation
could help us shape what efforts we make to end domestic and dating violence?
Through the DELTA primary prevention project, WCADV has begun thinking about evaluation as a wraparound effort – assessment, implementation and reflection. Evaluation is the work we do first and the
decisions we make to get a project going. It's connected to our daily, weekly or monthly endeavors to
accomplish our goals. And it is ways we measure if we succeed and to what degree.
One of the tools that WCADV uses to incorporate evaluation into all phases of our work is the
Community Readiness Assessment Model by the Tri-Ethnic Center for Prevention Research, Colorado
State University. The Community Readiness Model helps you to 1) identify which of the nine readiness
levels your community represents and 2) craft a plan of action to bring the community further forward
in its awareness, understanding, and support of domestic and dating violence prevention. The Model
requires four to six community leader interviews, followed by scoring, and finally group action planning.
After nine to twelve months you reassess using another round of interviews to measure if change has
occurred. (Additional overview information about the Community Readiness Model is available in
WCADV Coalition Chronicles Vol. 30 Violence Prevention Fundamentals – Building a Foundation) and on
the soon-to-be initiated WCADV Prevention/Community Organizing webpage. Visit our website in the
future for details.
The Community Readiness manual defines nine stages of
readiness as depicted in the graphic. Each level is assigned a
projected goal for the project – for Denial (Level 2) the goal
is to "Raise awareness that the problem exists for THIS
community." As you move up to Vague Awareness (Level 3)
the goal shifts slightly to "Raise awareness that the
community can do something." With each level the Model
offers lists of approachable and realistic strategies work for
each level of readiness. Appropriately, at low levels of readiness community organizing strategies come
into play for their focus on individual change which leads to collective change. As you review the list of
strategies for levels like Denial or Vague Awareness you will find activities that are built around
relationship building, uncovering shared self interest, small group dialogue and developing and working
within affinity groups. These strategies involve telling your local stories and personalizing the statistics
and the issues. At these low levels of readiness efforts lead us down a different path than traditional
awareness-raising such as trainings, rallies, marches and dinners. They points us to go smaller, intimate
and focused – individual, community-based and help us achieve the goals assigned to each level.
Around Wisconsin, the Community Readiness Model has been used in multiple ways. A CCR that
wanted to ramp up its action around domestic violence awareness in its community used the Model to
reach out to displaced workers. A sexual assault advocate used the Model to expand her agency's
presence in one of the small cities in their coverage area. And a children's advocate worked with school
personnel to form a response and prevention effort after a high profile harassment incident gripped
their community. These are just a few examples of ways that DV agency staff worked with community
members to measure readiness and craft actionable efforts.
Universally, they discovered that despite our years of hard work, most communities are at low levels of
readiness. Daily, people are bombarded with negative messages and enveloped in social norms that
promote and support domestic violence. Our efforts toward change are up against these overpowering
norms and social structures that keep community readiness low.
The Community Readiness Model also provides us with a simple and doable means of reassessing to
measure change as a result of our efforts. No complicated databases or spreadsheets. The Model does
require time to conduct interviews, generate scores and reflect on their meaning. This is time well spent
as we move our communities thoughtfully, methodically and with deeper community involvement, on to
higher levels of readiness.
Consider using the Community Readiness Model the next time you are contemplating developing a new
program, awareness effort, or reaching out to different aspects of your community. It's an
approachable way to incorporate evaluation with community engagement. It's just perfect for
prevention.
WCADV staff are trained in the Community Readiness Model and are ready to support any
community's effort to conduct and implement a readiness plan. For more information
about the Community Readiness Model developed by the Tri-Ethnic Center for Prevention
Research, visit their website at
http://triethniccenter.colostate.edu/communityReadiness_home.htm. At WCADV feel free
to contact: Susan Ramspacher or Julie Andersen at 608-255-0539.