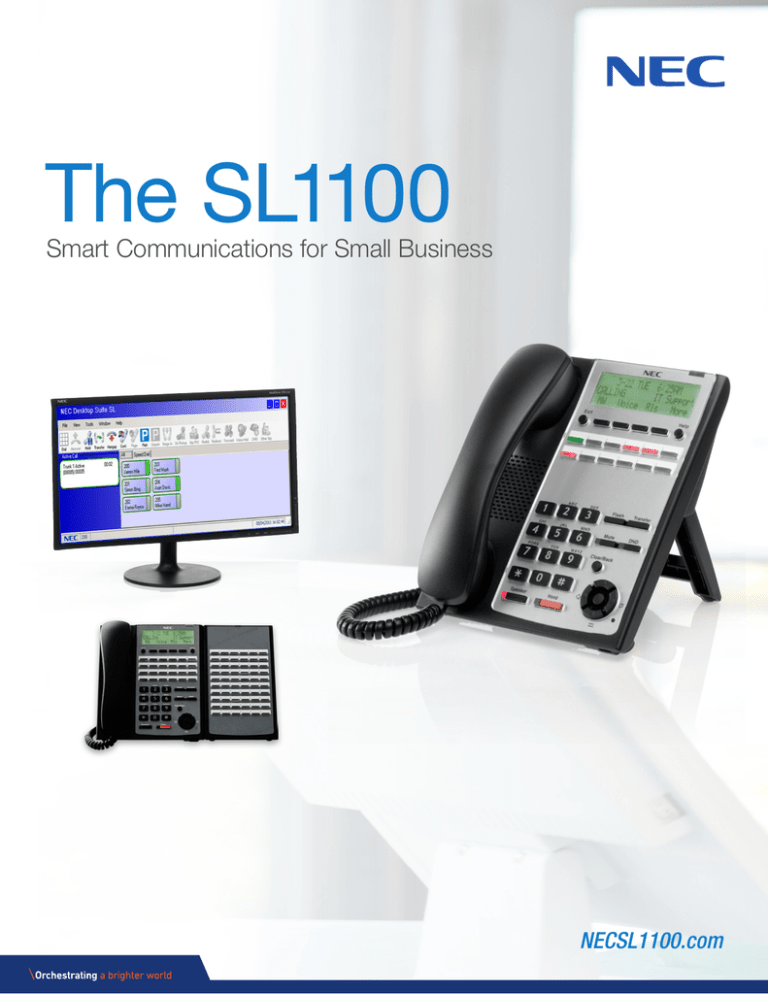 The SL1100
Smart Communications for Small Business
NECSL1100.com
Why choose the SL1100?
In today's highly competitive business environment, effective and reliable
communications are critical to a company's success. Therefore, it is
important that you invest in a unified communications solution that allows
you to take advantage of the latest productivity-enhancing IP applications
that can deliver increased performance throughout your organization –
that solution is NEC's SL1100 Communications System.
Work Smarter – SL Desktop Suite
Intuitive applications to increase efficiency and productivity
NEC's SL Desktop Suite delivers to you an integrated unified
communications (UC) solution that enhances your organization's
productivity and collaboration. This productivity-boosting solution offers
you key functions that deliver excellent business benefits.
This unique platform is the ideal solution for any small business. The
SL1100 makes your team more reachable, responsive and productive.
Manage Communications from Your Desktop PC
Value for Money
The SL Desktop Suite's Desktop Client is an intuitive application providing
• Powerful communications with a small business price tag
• Only pay for what you need, with an entirely scalable solution
• Lower operational costs considerably by making smarter use of your communications
• A range of remote/home office options to help lower brick and mortar costs
full call control from your PC screen. With just a few clicks of your mouse,
you can click-to-dial, manage calls and look up contacts. It also easily
integrates with your Microsoft® Office Outlook® contacts to provide clickto-dial functionality within emails for further time-saving benefits.
Support for Remote and Mobile Workers
The SL Desktop Suite's Softphone is a portable telephony application,
Easy to use
offering you system phone functionality from your laptop, from wherever
• Intuitive features that the whole team can use, without the need for you are; ideal for remote and mobile workers. With the Softphone, your
workers will have the communications tools they need to work efficiently
training
• Desktop phones, wireless handsets and applications include and productively, whether they're in the office or on the road.
shortcuts that speed up working processes
• Time-saving applications empower your team to become more Integration with Third Party CRM Systems
The SL Desktop Suite's CRM integration offers businesses seamless
productive
application access to leverage and manage their information more
Keep them connected
efficiently. When a call is received from a customer in your CRM database,
• Use your mobile phone to stay connected through your office number, from anywhere
this integration provides a pop-up with their information which enables
you to offer them better service. The SL Desktop Suite integrates with
• DECT wireless communications maximizes reachability from anywhere on the premises
Salesforce®, Time Matters®, Tiger Paw®, Gold Mine®, ACT® and browserbased CRM systems.
• Built-in conferencing for business meetings reduces travel costs
• Never miss important messages with enhanced voicemail to keep you Stay connected while on the move
Remain reachable via a single number from anywhere
up to date
With Mobile Extension, you can take your office number with you when
The SL1100 Advantage
you're on the road. It provides you access to system features such as
caller ID, call transfer and voicemail and it really is like being in the office,
• IP Technology
- IP Networking
- IP Trunks (SIP)
- IP Telephones
- IP Softphone
• Mobility Options
- SMB Wireless (ML440)
- Digital DECT Wireless Handsets
- Mobile Extension
- uMobility Wi-Fi Client
• Voicemail
- Email Notification
• Automatic Call Distribution (ACD)
• SL Desktop Suite (Unified Communications)
whether you're traveling or sitting in traffic.
- Desktop Call Control
- Microsoft® Office Outlook® Integration

o Dial Out/End Call, Transfer and Conference from Contact
- Company Directory Access
- Personal Contact Lists
- Softphone
- CRM Integration
• Company specialists can now be empowered to maintain high service • Network Remote Office Locations
• With DECT handsets for wireless voice communications, you can keep - Share Voicemail, Transfer Calls and make Intercom Calls
• Selection of IP and Digital Telephones
standards when out of the office since they remain reachable from any location.
• Salespeople can use Mobile Extension to ensure that even when they're on the road, they never miss a call which could lead to a
lucrative business opportunity.
in-touch with customers and colleagues from any in-building location.
uMobility™ Wi-Fi Client
Automatic Call Distribution (ACD)
Extend the capabilities of your smartphones
Handle incoming calls with ease
The SL1100 uMobility Wi-Fi Client functions as a Standard SIP station on
The SL1100's Automatic Call Distribution (ACD) efficiently routes callers
Blackberry®, iPhone® and Android™ smartphones. The uMobility Wi-Fi Client
based on pre-established criteria. ACD is often found in offices that handle
allows you to:
large volumes of incoming phone calls from callers who have no need to talk
• Answer incoming calls to your office telephone directly from your smartphone.
to a specific person, but who require assistance from any of multiple persons
• Make calls from your smartphone using your office telephone system. Your office caller ID is displayed to the caller - masking your personal cell phone number.
When all agents are busy assisting callers, the outside party can listen to
• Talk on your smartphone utilizing a Wi-Fi hotspot at the office, at home or even at a public hotspot – and not use any of your cellular minutes.
left waiting on hold for an extended period of time, making each interaction
• Easily Hold and Transfer calls to other stations within your office telephone system.
Monitor activity in real-time
• Access your work Voicemail directly from your smartphone.
the real-time activity of the system's ACD, such as Agent State and ACD
at the earliest opportunity.
periodic Announcement messages while waiting for an agent to become free.
Callers can also overflow to another destination so that outside callers are not
between your business and your customers quick and easy.
Contact Center Software
The SL1100's Contact Center software allows up to two Supervisors to monitor
Queue Status, using their PC's. They can also run ACD/Contact Center activity
More than voicemail
reports, such as Agent Call Summary, Abandoned Calls, etc.
Advanced features for enhanced communications
Networking
InMail is more than just a regular voicemail box. Packed with powerful
Extend the reach of your communications
business features, this is a solution to make keeping up to date easier than
With the SL1100's networking capabilities, you can extend the reach of your
ever. It offers Message Notification to your desktop phone, home office or
communications to remote offices and mobile workers and ensure that your
mobile phone to allow you to monitor your mailbox effortlessly from wherever
business can collaborate effectively. You can eliminate duplication and improve
you are. You can even choose to receive email notifications with the message
efficiencies by transparently sharing a single voicemail and intercom system. It
included as an audio attachment.
also enables you to share trunks and transfer calls easily.
No matter what you're up to, you can have the right recorded message
to match. With three personalized greetings, you can select the one most
appropriate depending on your availability or the time of day.
Additionally, the Call Record feature enables you to keep track of important
discussions. Recordings can be emailed to colleagues and stored for quick
reference at a later time.
SL1100 Station Equipment
SL1100 Digital Telephones
Offers 12 or 24 programmable keys with
LEDs, full duplex speakerphone, dual-color call
indicator lamp and an energy-saving sleep mode
– available in black or white
SMB Wireless (ML440) IP DECT Multiline Handsets
Offers true on-site mobility with 4 programmable keys, 3
dedicated soft keys (Hold/Transfer/ Conf.), brilliant color
display with graphical user interface, wideband two-way
speakerphone, caller ID and a silent vibrator mode
SL1100 IP Telephones
Offers 24 programmable keys with LEDs, backlit
keypad and display, full duplex speakerphone,
dual-color call indicator lamp and remote/home
office functionality – available in black or white shown with optional charcoal designation sheet
Digital DECT Handsets
Provides 2 line/24 character backlit display with feature
icons, backlit keypad, 8 programmable keys with LEDs,
headset port and selectable ring tones
SL1100 Designation Sheets
Provides a choice between the standard silver
designation sheet or the optional charcoal one.
DSS Console
Provides 60 programmable keys with LEDs and is ideal
for receptionists
SL1100 Feature List
• Abbreviated Dialing/Speed Dial
• Account Code Forced/
Verified/Unverified
• Account Code Entry
• Alarm
• Alarm Reports
• Alphanumeric Display
• Analog Communications Interface (ACI)
• Ancillary Device Connection
• Answer Hold/Automatic Hold
• Attendant Call Queuing
• Automatic Call Distribution (ACD)
• Automatic Release
• Automatic Route Selection (ARS/F-Route)
• Background Music
• Barge-In
• Battery Backup - System Memory
• Battery Backup - System Power
• Built-in Automated Attendant
• Call Accounting (Communications Analyst)
• Call Arrival (CAR) Keys
• Call Duration Timer
• Call Forwarding
• Call Forwarding with Follow Me
• Call Forwarding, Off-Premise
• Call Forwarding/Do Not Disturb Override
• Call Monitoring
• Call Redirect
• Call Waiting/Camp-On
• Callback
• Caller ID
• Caller ID - Call Back
• Caller ID - Call Return
• Caller ID - Call Waiting
• Caller ID - Checking
• Caller ID - Flexible Ringing
• Caller ID - Shared Logging
• Central Office Calls, Answering
• Central Office Calls, Placing
• Class of Service
• Clock/Calendar Display/Time and Date
• Code Restriction/Toll Restriction
• Code Restriction Override/
Toll Restriction Override
• Code Restriction, Dial Block/
Toll Restriction, Dial Block
• Conference
• Conference, Remote
• Conference, Voice Call/
Privacy Release
• Contact Center Software
• Continued Dialing
• Data Line Security
• Delayed Ringing
• Department Calling
• Department Step Calling
• Dial Pad Confirmation Tone
• Dial Tone Detection
• Dialing Number Preview
• Digital Call Logging (recording)
• Digital Trunk Clocking
• Direct Inward Dialing (DID)
• Direct Inward Line (DIL)
• Direct Inward System Access (DISA)
• Direct Station Selection (DSS) Console
• Directed Call Pickup
• Directory Dialing
• Distinctive Ringing, Tones and Flash Patterns
• Do Not Disturb (DND)
• Door Box
• Drop Key
• Ecologically Sound Power Saving Mode
• E911 Compatibility
• Flash
• Flexible System Numbering
• Flexible Timeouts
• Forced Trunk Disconnect
• Group Call Pickup
• Group Listen
• Handset Mute/Handset Cutoff
• Hands-free and Monitor
• Hands-free Answerback/
Forced Intercom Ringing
• Headset Operation
• Hold
• Hotel/Motel
• Hotel/Motel - Do Not Disturb
• Hotel/Motel - DSS Console Monitoring
• Hotel/Motel - Message Waiting
• Hotel/Motel - Room Status
• Hotel/Motel - Room Status Printout
• Hotel/Motel - Room-to-Room Call Restriction
• Hotel/Motel - Single Digit Dialing
• Hotel/Motel - Toll Restriction (When Checked In)
• Hotel/Motel - Wake Up Call
• Hot Key-Pad
• Hotline
• Howler Tone Service
• Illuminated Dial Pad
• InMail-Automatic Access to VM by Caller ID
• InMail-Cascade Message Notification
• InMail-Email Notification
• InMail-Find-Me Follow-Me
• InMail - Language Setting
• InMail Park and Page
• InMail Upload Download Audio
• Intercom
• Intercom SMDR
• IP Multiline Station (SIP)
• IP Single Line Telephone (SIP)
• IP Trunk - (SIP)
• ISDN Compatibility (PRI)
• Last Number Redial
• Licensing
• Line Preference
• Long Conversation Cutoff
• Loop Keys
• Maintenance
• Meet Me Conference
• Meet Me Paging
• Meet Me Paging Transfer
• Memo Dial
• Message Waiting
• Microphone Cutoff
• Mobile Extension
• Mobile Extension - Callback to Mobile Phone
• Multiple Trunk Types
• Music on Hold
• Name Storing
• Navigation Key
• Night Service
• Off-Hook Signaling
• One-Touch Calling
• Operator
•
•
•
•
•
•
•
•
•
•
•
•
•
•
•
•
•
•
•
•
•
•
•
•
•
•
Paging, External
Paging, External (VRS)
Paging, Internal
Park
PBX Compatibility/Behind PBX PC Programming
Power Failure Transfer
PRI Compatibility
Prime Line Selection
Private Line
Programmable Function Keys
Programming from a Multiline Terminal
Pulse to Tone Conversion
Redial Function
Remote (System) Upgrade
Repeat Redial
Reverse Voice Over
Ring Groups
Ring-down Extension (Hotline), Internal/External
RoHS Compliant
Room Monitor
Save Number Dialed
Secondary Incoming Extension
Secretary Call (Buzzer)
Secretary Call Pickup
Security
•
•
•
•
•
•
•
•
•
•
•
•
•
•
•
•
•
•
•
•
•
•
•
•
Selectable Display Messaging
Selectable Ring Tones
Serial Call
Single Line Telephones
SL Desktop Suite
SL Desktop Suite - CRM Integration
SL Net (Networking)
Softkeys
Station Hunt
Station Message Detail Recording
Station Name Assignment - User Programmable
Station Relocation
T1 Trunking (with ANI/DNIS Compatibility)
Tandem Ringing
Tandem Trunking (Unsupervised Conference)
TAPI Compatibility
Tone Override
Traffic Reports
Transfer
Trunk Group Routing
Trunk Groups
Trunk Queuing/Camp-On
uMobility (Wi-Fi Client)
Unicast/Multicast Paging Mode
Capacities – Quantity of SL1100 Cabinets
Extension
Ports
Note: Some features may
be optional or available at
a future date.
1
2
3
4
160
196
196
196
Combined Maximum
68
84
84
84
Analog Trunks
12
24
36
48
PRI/T1 Channels
24
48
48
48
IP Trunks (SIP/H.323)
32
32
32
32
Combined Maximum
92
112
112
112
Digital Telephones
24
48
72
96
Analog Telephones
20
40
60
80
IP Telephones (SIP-MLT/Std.)
64
64
64
64
DSS Consoles
12
12
12
12
Door Boxes
2
4
6
6
Total Ports
Trunk Ports
• Uniform Call Distribution (UCD)
• User Programming Ability
• Virtual Extensions
• Voice Mail Integration (Analog)
• Voice Mail Message Indication on Line Keys
• Voice Over
• Voice Response System (VRS)
• Voice Response System (VRS) Upload Download Audio
• Voice Response System (VRS) - Call Forwarding - Park and Page
• Volume Controls
• Warning Tone for Long Conversation
Capacities listed are system maximums and may be limited by system configuration.
Some features may be optional or available at a future date. Recording of phone calls is subject to varying state/federal laws. The information herein
is subject to change without notice at the sole discretion of NEC.
RoHS
Compliant
Green
Office
Energy
Saving
Product
For further information please contact your local NEC representative or:
North America (USA & Canada)
NEC Corporation of America
NECSL1100.com
About NEC Corporation of America: Headquartered in Irving, Texas, NEC Corporation of America is a leading technology integrator providing solutions that improve the way people
work and communicate. NEC delivers integrated Solutions for Society that are aligned with our customers' priorities to create new value for people, businesses and society, with a
special focus on safety, security and efficiency. We deliver one of the industry's strongest and most innovative portfolios of communications, analytics, security, biometrics and technology
solutions that unleash customers' productivity potential. Through these solutions, NEC combines its best-in-class solutions and technology, and leverages a robust partner ecosystem
to solve today's most complex business problems. NEC Corporation of America is a wholly-owned subsidiary of NEC Corporation, a global technology leader with a presence in 140
countries and $29.5 billion in revenues. For more information, visit necam.com.
SW11056 | v.09.10.15
© 2015 NEC Corporation. All rights reserved. NEC, NEC logo, and UNIVERGE are trademarks or registered trademarks of NEC Corporation that may be registered in Japan and other
jurisdictions. All trademarks identified with ® or ™ are registered trademarks or trademarks respectively. Models may vary for each country. Please refer to your local NEC representatives
for further details.