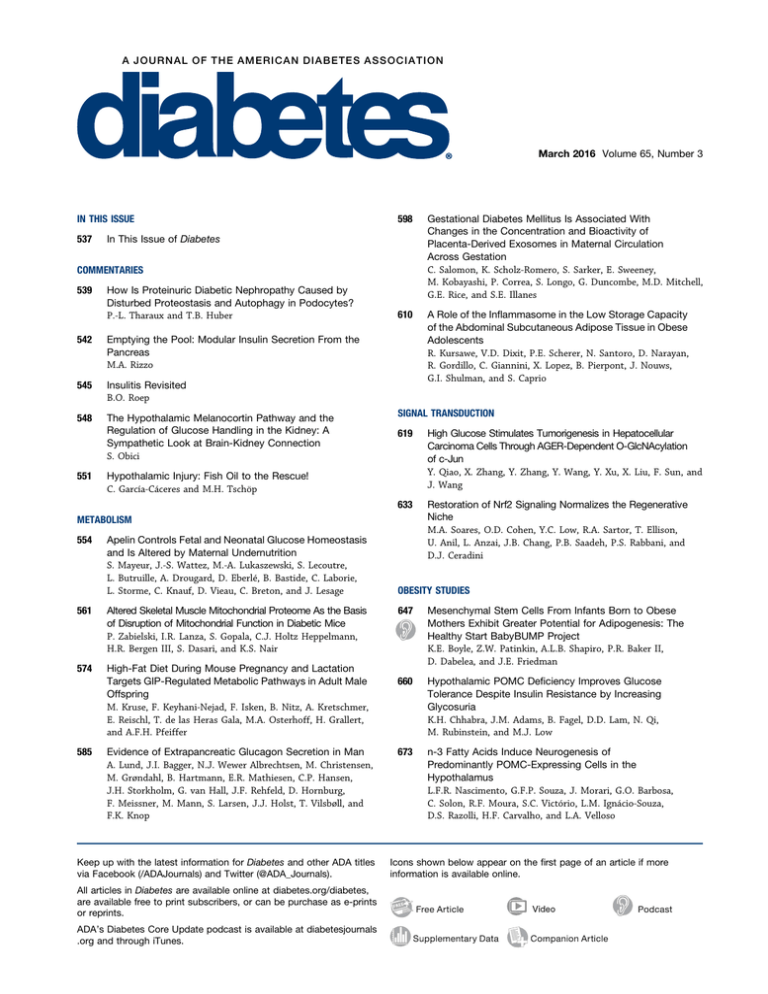 A J OURNAL OF THE AMERICAN D IABETE S A SS OCIATION
March 2016 Volume 65, Number 3
IN THIS ISSUE
537
598
Gestational Diabetes Mellitus Is Associated With
Changes in the Concentration and Bioactivity of
Placenta-Derived Exosomes in Maternal Circulation
Across Gestation
C. Salomon, K. Scholz-Romero, S. Sarker, E. Sweeney,
M. Kobayashi, P. Correa, S. Longo, G. Duncombe, M.D. Mitchell,
G.E. Rice, and S.E. Illanes
610
A Role of the Inflammasome in the Low Storage Capacity
of the Abdominal Subcutaneous Adipose Tissue in Obese
Adolescents
R. Kursawe, V.D. Dixit, P.E. Scherer, N. Santoro, D. Narayan,
R. Gordillo, C. Giannini, X. Lopez, B. Pierpont, J. Nouws,
G.I. Shulman, and S. Caprio
In This Issue of Diabetes
COMMENTARIES
539
How Is Proteinuric Diabetic Nephropathy Caused by
Disturbed Proteostasis and Autophagy in Podocytes?
P.-L. Tharaux and T.B. Huber
542
Emptying the Pool: Modular Insulin Secretion From the
Pancreas
M.A. Rizzo
545
Insulitis Revisited
B.O. Roep
548
The Hypothalamic Melanocortin Pathway and the
Regulation of Glucose Handling in the Kidney: A
Sympathetic Look at Brain-Kidney Connection
S. Obici
551
SIGNAL TRANSDUCTION
619
High Glucose Stimulates Tumorigenesis in Hepatocellular
Carcinoma Cells Through AGER-Dependent O-GlcNAcylation
of c-Jun
Y. Qiao, X. Zhang, Y. Zhang, Y. Wang, Y. Xu, X. Liu, F. Sun, and
J. Wang
633
Restoration of Nrf2 Signaling Normalizes the Regenerative
Niche
M.A. Soares, O.D. Cohen, Y.C. Low, R.A. Sartor, T. Ellison,
U. Anil, L. Anzai, J.B. Chang, P.B. Saadeh, P.S. Rabbani, and
D.J. Ceradini
Hypothalamic Injury: Fish Oil to the Rescue!
C. García-Cáceres and M.H. Tschöp
METABOLISM
554
Apelin Controls Fetal and Neonatal Glucose Homeostasis
and Is Altered by Maternal Undernutrition
S. Mayeur, J.-S. Wattez, M.-A. Lukaszewski, S. Lecoutre,
L. Butruille, A. Drougard, D. Eberlé, B. Bastide, C. Laborie,
L. Storme, C. Knauf, D. Vieau, C. Breton, and J. Lesage
561
Altered Skeletal Muscle Mitochondrial Proteome As the Basis
of Disruption of Mitochondrial Function in Diabetic Mice
P. Zabielski, I.R. Lanza, S. Gopala, C.J. Holtz Heppelmann,
H.R. Bergen III, S. Dasari, and K.S. Nair
574
High-Fat Diet During Mouse Pregnancy and Lactation
Targets GIP-Regulated Metabolic Pathways in Adult Male
Offspring
M. Kruse, F. Keyhani-Nejad, F. Isken, B. Nitz, A. Kretschmer,
E. Reischl, T. de las Heras Gala, M.A. Osterhoff, H. Grallert,
and A.F.H. Pfeiffer
585
Evidence of Extrapancreatic Glucagon Secretion in Man
A. Lund, J.I. Bagger, N.J. Wewer Albrechtsen, M. Christensen,
M. Grøndahl, B. Hartmann, E.R. Mathiesen, C.P. Hansen,
J.H. Storkholm, G. van Hall, J.F. Rehfeld, D. Hornburg,
F. Meissner, M. Mann, S. Larsen, J.J. Holst, T. Vilsbøll, and
F.K. Knop
Keep up with the latest information for Diabetes and other ADA titles
via Facebook (/ADAJournals) and Twitter (@ADA_Journals).
All articles in Diabetes are available online at diabetes.org/diabetes,
are available free to print subscribers, or can be purchase as e-prints
or reprints.
ADA's Diabetes Core Update podcast is available at diabetesjournals
.org and through iTunes.
OBESITY STUDIES
647
Mesenchymal Stem Cells From Infants Born to Obese
Mothers Exhibit Greater Potential for Adipogenesis: The
Healthy Start BabyBUMP Project
K.E. Boyle, Z.W. Patinkin, A.L.B. Shapiro, P.R. Baker II,
D. Dabelea, and J.E. Friedman
660
Hypothalamic POMC Deficiency Improves Glucose
Tolerance Despite Insulin Resistance by Increasing
Glycosuria
K.H. Chhabra, J.M. Adams, B. Fagel, D.D. Lam, N. Qi,
M. Rubinstein, and M.J. Low
673
n-3 Fatty Acids Induce Neurogenesis of
Predominantly POMC-Expressing Cells in the
Hypothalamus
L.F.R. Nascimento, G.F.P. Souza, J. Morari, G.O. Barbosa,
C. Solon, R.F. Moura, S.C. Victório, L.M. Ignácio-Souza,
D.S. Razolli, H.F. Carvalho, and L.A. Velloso
Icons shown below appear on the first page of an article if more
information is available online.
ISLET STUDIES
687
Lack of Prox1 Downregulation Disrupts the Expansion
and Maturation of Postnatal Murine b-Cells
L. Paul, E.M. Walker, Y. Drosos, H.A. Cyphert, G. Neale, R. Stein,
J. South, G. Grosveld, P.L. Herrera, and B. Sosa-Pineda
699
Monitoring C-Peptide Storage and Secretion in Islet
b-Cells In Vitro and In Vivo
S. Zhu, D. Larkin, S. Lu, C. Inouye, L. Haataja, A. Anjum,
R. Kennedy, D. Castle, and P. Arvan
803
IMMUNOLOGY AND TRANSPLANTATION
710
Next-Generation Sequencing Reveals That HLA-DRB3,
-DRB4, and -DRB5 May Be Associated With Islet
Autoantibodies and Risk for Childhood Type 1 Diabetes
L.P. Zhao, S. Alshiekh, M. Zhao, A. Carlsson, H. Elding Larsson,
G. Forsander, S.A. Ivarsson, J. Ludvigsson, I. Kockum, C. Marcus,
M. Persson, U. Samuelsson, E. Örtqvist, C.-W. Pyo, W.C. Nelson,
D.E. Geraghty, and Å. Lernmark, for the Better Diabetes
Diagnosis (BDD) Study Group
719
Insulitis and b-Cell Mass in the Natural History of Type 1
Diabetes
M. Campbell-Thompson, A. Fu, J.S. Kaddis, C. Wasserfall,
D.A. Schatz, A. Pugliese, and M.A. Atkinson
732
Discovery of a Selective Islet Peptidome Presented by the
Highest-Risk HLA-DQ8trans Molecule
M. van Lummel, P.A. van Veelen, A.H. de Ru, J. Pool, T. Nikolic,
S. Laban, A. Joosten, J.W. Drijfhout, I. Gómez-Touriño, S. Arif,
H.J. Aanstoot, M. Peakman, and B.O. Roep
PATHOPHYSIOLOGY
742
Inhibition of Dipeptidyl Peptidase-4 Impairs Ventricular
Function and Promotes Cardiac Fibrosis in High Fat–Fed
Diabetic Mice
E.E. Mulvihill, E.M. Varin, J.R. Ussher, J.E. Campbell,
K.W.A. Bang, T. Abdullah, L.L. Baggio, and D.J. Drucker
Genome-wide Association Studies Identify Genetic Loci
Associated With Albuminuria in Diabetes
A. Teumer, A. Tin, R. Sorice, M. Gorski, N.C. Yeo, A.Y. Chu, M. Li,
Y. Li, V. Mijatovic, Y.-A. Ko, D. Taliun, A. Luciani, M.-H. Chen,
Q. Yang, M.C. Foster, M. Olden, L.T. Hiraki, B.O. Tayo,
C. Fuchsberger, A.K. Dieffenbach, A.R. Shuldiner, A.V. Smith,
A.M. Zappa, A. Lupo, B. Kollerits, B. Ponte, B. Stengel,
B.K. Krämer, B. Paulweber, B.D. Mitchell, C. Hayward, C. Helmer,
C. Meisinger, C. Gieger, C.M. Shaffer, C. Müller, C. Langenberg,
D. Ackermann, D. Siscovick, DCCT/EDIC, E. Boerwinkle,
F. Kronenberg, G.B. Ehret, G. Homuth, G. Waeber, G. Navis,
G. Gambaro, G. Malerba, G. Eiriksdottir, G. Li, H.E. Wichmann,
H. Grallert, H. Wallaschofski, H. Völzke, H. Brenner, H. Kramer,
I.M. Leach, I. Rudan, H.L. Hillege, J.S. Beckmann, J.C. Lambert,
J. Luan, J.H. Zhao, J. Chalmers, J. Coresh, J.C. Denny,
K. Butterbach, L.J. Launer, L. Ferrucci, L. Kedenko, M. Haun,
M. Metzger, M. Woodward, M.J. Hoffman, M. Nauck,
M. Waldenberger, M. Pruijm, M. Bochud, M. Rheinberger,
N. Verweij, N.J. Wareham, N. Endlich, N. Soranzo, O. Polasek,
P. van der Harst, P.P. Pramstaller, P. Vollenweider, P.S. Wild,
R.T. Gansevoort, R. Rettig, R. Biffar, R.J. Carroll, R. Katz,
R.J.F. Loos, S.-J. Hwang, S. Coassin, S. Bergmann, S.E. Rosas,
S. Stracke, T.B. Harris, T. Corre, T. Zeller, T. Illig, T. Aspelund,
T. Tanaka, U. Lendeckel, U. Völker, V. Gudnason, V. Chouraki,
W. Koenig, Z. Kutalik, J.R. O'Connell, A. Parsa, I.M. Heid,
A.D. Paterson, I.H. de Boer, O. Devuyst, J. Lazar, K. Endlich,
K. Susztak, J. Tremblay, P. Hamet, H.J. Jacob, C.A. Böger,
C.S. Fox, C. Pattaro, and A. Köttgen
ERRATUM
818
Erratum. Small Interfering RNA—Mediated Suppression
of Proislet Amyloid Polypeptide Expression Inhibits Islet
Amyloid Formation and Enhances Survival of Human
Islets in Culture. Diabetes 2008;57:3045—3055
L. Marzban, A. Tomas, T.C. Becker, L. Rosenberg, J. Oberholzer,
P.E. Fraser, P.A. Halban, and C.B. Verchere
ISSUES AND EVENTS
COMPLICATIONS
819
755
e-LETTERS – COMMENTS AND RESPONSES
768
Impaired Podocyte Autophagy Exacerbates Proteinuria
in Diabetic Nephropathy
A. Tagawa, M. Yasuda, S. Kume, K. Yamahara, J. Nakazawa,
M. Chin-Kanasaki, H. Araki, S.-i. Araki, D. Koya, K. Asanuma,
E.-H. Kim, M. Haneda, N. Kajiwara, K. Hayashi, H. Ohashi, S. Ugi,
H. Maegawa, and T. Uzu
miR-200b Mediates Endothelial-to-Mesenchymal
Transition in Diabetic Cardiomyopathy
B. Feng, Y. Cao, S. Chen, X. Chu, Y. Chu, and S. Chakrabarti
e11
Comment on Prior et al. Increased Skeletal Muscle
Capillarization Independently Enhances Insulin Sensitivity
in Older Adults After Exercise Training and Detraining.
Diabetes 2015;64:3386–3395
D. Montero
e13
Response to Comment on Prior et al. Increased Skeletal
Muscle Capillarization Independently Enhances Insulin
Sensitivity in Older Adults After Exercise Training and
Detraining. Diabetes 2015;64:3386–3395
S.J. Prior, A.P. Goldberg, H.K. Ortmeyer, E.R. Chin, D. Chen,
J.B. Blumenthal, and A.S. Ryan
e15
Comment on Lee et al. Diabetes 2015;64:2836–2846.
Comment on Roberts et al. Diabetes 2015;64:471–484
O. Kruszelnicka and A. Surdacki
e16
Response to Comment on Lee et al. Diabetes 2015;64:2836–
2846. Comment on Roberts et al. Diabetes 2015;64:471–484
L.D. Roberts, T. Ashmore, A.J. Murray, and J.L. Griffin
e17
Response to Comment on Lee et al. Diabetes 2015;64:2836–
2846. Comment on Roberts et al. Diabetes 2015;64:471–484
W.J. Lee and F. Kim
PHARMACOLOGY AND THERAPEUTICS
780
An Essential Role of NRF2 in Diabetic Wound Healing
M. Long, M. Rojo de la Vega, Q. Wen, M. Bharara, T. Jiang,
R. Zhang, S. Zhou, P.K. Wong, G.T. Wondrak, H. Zheng, and
D.D. Zhang
GENETICS/GENOMES/PROTEOMICS/METABOLOMICS
794
Targeted Deep Sequencing in Multiple-Affected Sibships
of European Ancestry Identifies Rare Deleterious Variants
in PTPN22 That Confer Risk for Type 1 Diabetes
Y. Ge, S. Onengut-Gumuscu, A.R. Quinlan, A.J. Mackey,
J.A. Wright, J.H. Buckner, T. Habib, S.S. Rich, and P. Concannon
Issues and Events
On the cover: Insulitis in a 13-year-old organ donor with type 1 diabetes for 5 years (nPOD 6243). Immune cell phenotypes in insulitic islets were determined
by multi-immunofluoresence. An insulitic islet is shown with a lymphocytic infiltrate consisting of both CD31 T cells (pink) and CD201 B cells (green). a-Cells
are detected with antiglucagon antibodies (yellow). Photograph courtesy of Martha Campbell-Thompson and Ann Fu of the University of Florida. Their article,
"Insulitis and b-Cell Mass in the Natural History of Type 1 Diabetes" (p. 719) and an accompanying article, "Insulitis Revisited" (p. 545), are featured in this issue
of Diabetes.