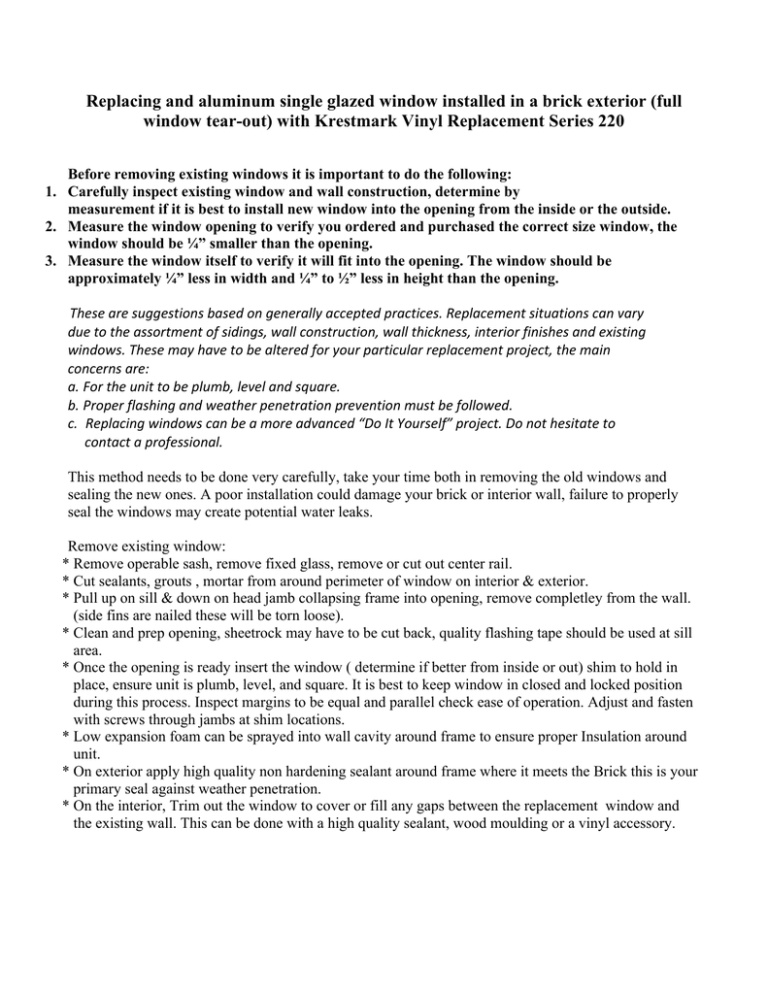 Replacing and aluminum single glazed window installed in a brick exterior (full
window tear-out) with Krestmark Vinyl Replacement Series 220
Before removing existing windows it is important to do the following:
1. Carefully inspect existing window and wall construction, determine by
measurement if it is best to install new window into the opening from the inside or the outside.
2. Measure the window opening to verify you ordered and purchased the correct size window, the
window should be ¼" smaller than the opening.
3. Measure the window itself to verify it will fit into the opening. The window should be
approximately ¼" less in width and ¼" to ½" less in height than the opening.
These are suggestions based on generally accepted practices. Replacement situations can vary due to the assortment of sidings, wall construction, wall thickness, interior finishes and existing windows. These may have to be altered for your particular replacement project, the main concerns are: a. For the unit to be plumb, level and square. b. Proper flashing and weather penetration prevention must be followed. c. Replacing windows can be a more advanced "Do It Yourself" project. Do not hesitate to contact a professional.
This method needs to be done very carefully, take your time both in removing the old windows and
sealing the new ones. A poor installation could damage your brick or interior wall, failure to properly
seal the windows may create potential water leaks.
Remove existing window:
* Remove operable sash, remove fixed glass, remove or cut out center rail.
* Cut sealants, grouts , mortar from around perimeter of window on interior & exterior.
* Pull up on sill & down on head jamb collapsing frame into opening, remove completley from the wall.
(side fins are nailed these will be torn loose).
* Clean and prep opening, sheetrock may have to be cut back, quality flashing tape should be used at sill
area.
* Once the opening is ready insert the window ( determine if better from inside or out) shim to hold in
place, ensure unit is plumb, level, and square. It is best to keep window in closed and locked position
during this process. Inspect margins to be equal and parallel check ease of operation. Adjust and fasten
with screws through jambs at shim locations.
* Low expansion foam can be sprayed into wall cavity around frame to ensure proper Insulation around
unit.
* On exterior apply high quality non hardening sealant around frame where it meets the Brick this is your
primary seal against weather penetration.
* On the interior, Trim out the window to cover or fill any gaps between the replacement window and
the existing wall. This can be done with a high quality sealant, wood moulding or a vinyl accessory.