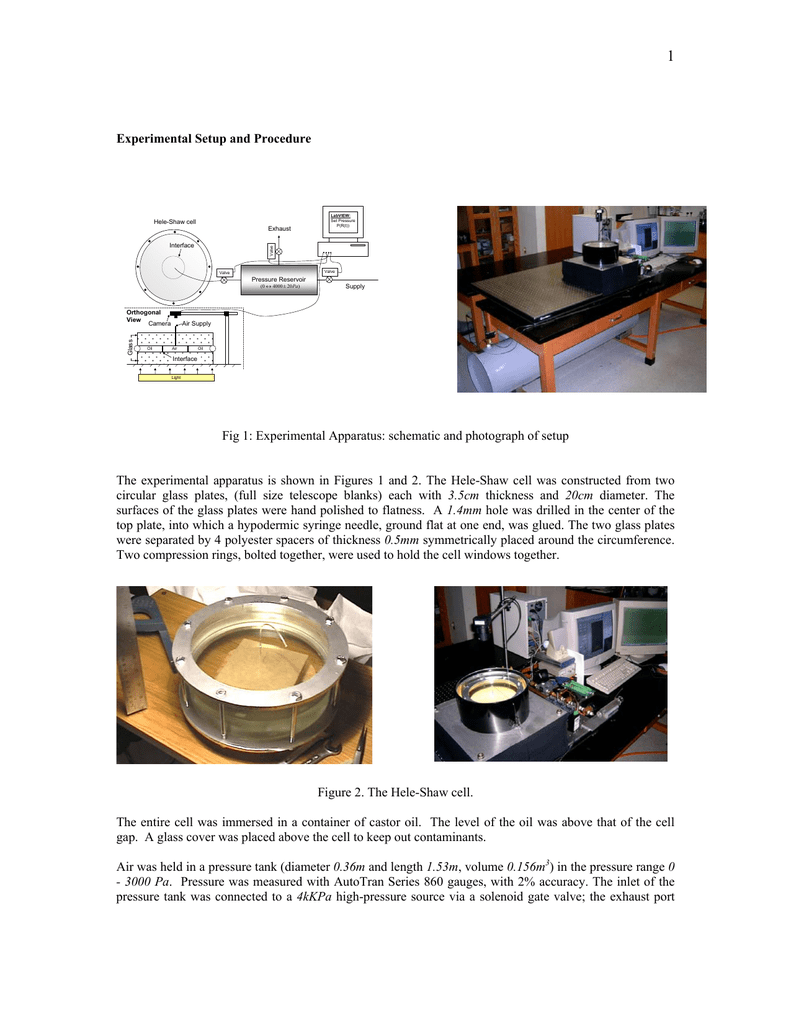 1
Experimental Setup and Procedure
Hele-Shaw cell
Exhaust
Valve
Interface
Valve
Valve
Pressure Reservoir
(0 ↔ 4000 ± 20 Pa )
Glass
Orthogonal
View
Camera
Oil
LabVIEW:
Set Pressure
P(R(t))
Supply
Air Supply
Air
Oil
Interface
Light
Fig 1: Experimental Apparatus: schematic and photograph of setup
The experimental apparatus is shown in Figures 1 and 2. The Hele-Shaw cell was constructed from two
circular glass plates, (full size telescope blanks) each with 3.5cm thickness and 20cm diameter. The
surfaces of the glass plates were hand polished to flatness. A 1.4mm hole was drilled in the center of the
top plate, into which a hypodermic syringe needle, ground flat at one end, was glued. The two glass plates
were separated by 4 polyester spacers of thickness 0.5mm symmetrically placed around the circumference.
Two compression rings, bolted together, were used to hold the cell windows together.
Figure 2. The Hele-Shaw cell.
The entire cell was immersed in a container of castor oil. The level of the oil was above that of the cell
gap. A glass cover was placed above the cell to keep out contaminants.
Air was held in a pressure tank (diameter 0.36m and length 1.53m, volume 0.156m3) in the pressure range 0
- 3000 Pa. Pressure was measured with AutoTran Series 860 gauges, with 2% accuracy. The inlet of the
pressure tank was connected to a 4kKPa high-pressure source via a solenoid gate valve; the exhaust port
2
opened to the room via a solenoid gate valve, and the outlet was connected to the Hele-Shaw cell via
another solenoid gate valve.
The experiment was computer controlled via LabVIEW. Pressure in the tank was measured. If the pressure
was less than the set value, the inlet valve was opened; if it was greater than the set value, the exhaust valve
opened. The minimum time the valves were open was 9ms. The pressure in the tank could be controlled to
better that within 20Pa of the set value.
The initial bubble was created in the cell by a hand-operated syringe; the subsequent pressure was
controlled, as a function of time, by the LabVIEW program.
Illumination was provided by a 40W circular fluorescent light and a ground glass diffuser plate below the
cell. Pictures were taken with a Viewbits CMOS Uroria 3MPix USB camera, using an f/1.8, 6-13mm lens
at 1fps. The resolution of the captured images is ~.1mm.