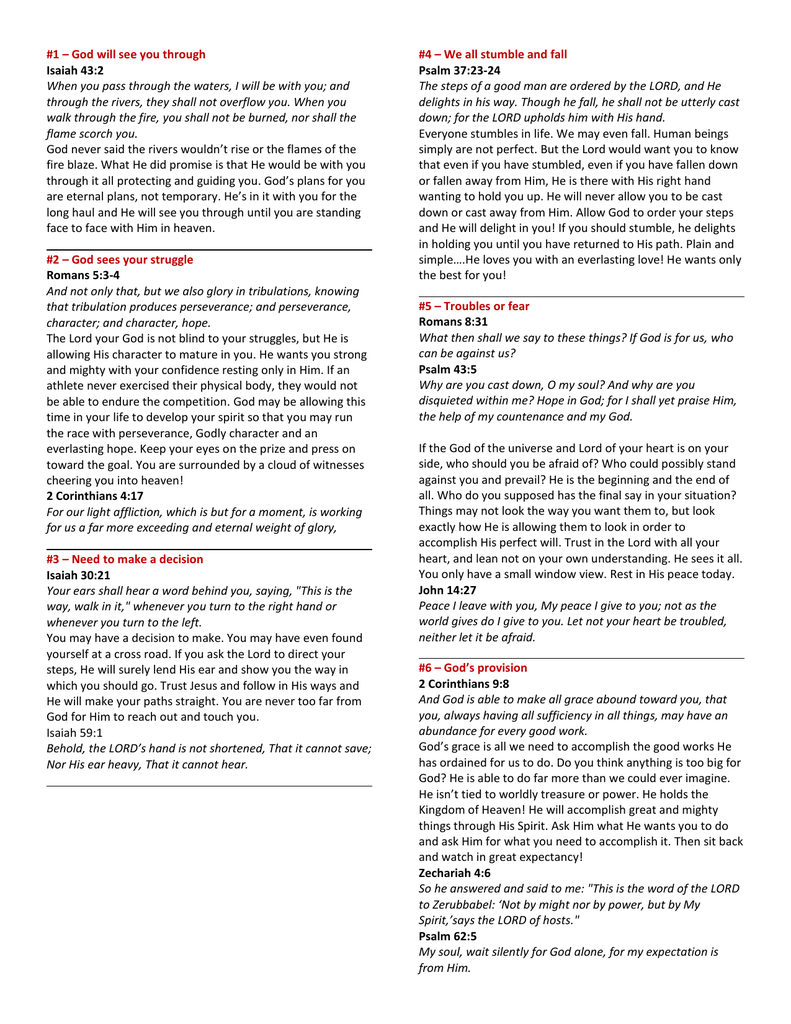 #1 – God will see you through
Isaiah 43:2
When you pass through the waters, I will be with you; and
through the rivers, they shall not overflow you. When you
walk through the fire, you shall not be burned, nor shall the
flame scorch you.
God never said the rivers wouldn't rise or the flames of the
fire blaze. What He did promise is that He would be with you
through it all protecting and guiding you. God's plans for you
are eternal plans, not temporary. He's in it with you for the
long haul and He will see you through until you are standing
face to face with Him in heaven.
#2 – God sees your struggle
Romans 5:3-4
And not only that, but we also glory in tribulations, knowing
that tribulation produces perseverance; and perseverance,
character; and character, hope.
The Lord your God is not blind to your struggles, but He is
allowing His character to mature in you. He wants you strong
and mighty with your confidence resting only in Him. If an
athlete never exercised their physical body, they would not
be able to endure the competition. God may be allowing this
time in your life to develop your spirit so that you may run
the race with perseverance, Godly character and an
everlasting hope. Keep your eyes on the prize and press on
toward the goal. You are surrounded by a cloud of witnesses
cheering you into heaven!
2 Corinthians 4:17
For our light affliction, which is but for a moment, is working
for us a far more exceeding and eternal weight of glory,
#3 – Need to make a decision
Isaiah 30:21
Your ears shall hear a word behind you, saying, "This is the
way, walk in it," whenever you turn to the right hand or
whenever you turn to the left.
You may have a decision to make. You may have even found
yourself at a cross road. If you ask the Lord to direct your
steps, He will surely lend His ear and show you the way in
which you should go. Trust Jesus and follow in His ways and
He will make your paths straight. You are never too far from
God for Him to reach out and touch you.
Isaiah 59:1
Behold, the LORD's hand is not shortened, That it cannot save;
Nor His ear heavy, That it cannot hear.
#4 – We all stumble and fall
Psalm 37:23-24
The steps of a good man are ordered by the LORD, and He
delights in his way. Though he fall, he shall not be utterly cast
down; for the LORD upholds him with His hand.
Everyone stumbles in life. We may even fall. Human beings
simply are not perfect. But the Lord would want you to know
that even if you have stumbled, even if you have fallen down
or fallen away from Him, He is there with His right hand
wanting to hold you up. He will never allow you to be cast
down or cast away from Him. Allow God to order your steps
and He will delight in you! If you should stumble, he delights
in holding you until you have returned to His path. Plain and
simple….He loves you with an everlasting love! He wants only
the best for you!
#5 – Troubles or fear
Romans 8:31
What then shall we say to these things? If God is for us, who
can be against us?
Psalm 43:5
Why are you cast down, O my soul? And why are you
disquieted within me? Hope in God; for I shall yet praise Him,
the help of my countenance and my God.
If the God of the universe and Lord of your heart is on your
side, who should you be afraid of? Who could possibly stand
against you and prevail? He is the beginning and the end of
all. Who do you supposed has the final say in your situation?
Things may not look the way you want them to, but look
exactly how He is allowing them to look in order to
accomplish His perfect will. Trust in the Lord with all your
heart, and lean not on your own understanding. He sees it all.
You only have a small window view. Rest in His peace today.
John 14:27
Peace I leave with you, My peace I give to you; not as the
world gives do I give to you. Let not your heart be troubled,
neither let it be afraid.
#6 – God's provision
2 Corinthians 9:8
And God is able to make all grace abound toward you, that
you, always having all sufficiency in all things, may have an
abundance for every good work.
God's grace is all we need to accomplish the good works He
has ordained for us to do. Do you think anything is too big for
God? He is able to do far more than we could ever imagine.
He isn't tied to worldly treasure or power. He holds the
Kingdom of Heaven! He will accomplish great and mighty
things through His Spirit. Ask Him what He wants you to do
and ask Him for what you need to accomplish it. Then sit back
and watch in great expectancy!
Zechariah 4:6
So he answered and said to me: "This is the word of the LORD
to Zerubbabel: 'Not by might nor by power, but by My
Spirit,'says the LORD of hosts."
Psalm 62:5
My soul, wait silently for God alone, for my expectation is
from Him.
#7 – Believe God
Mark 9:23
Jesus said to him, "If you can believe, all things are possible to
him who believes."
Do you believe God is Who He says He is? Do you believe He
can do what He says He can do? Do you believe that you are a
child of God with every right to come boldly before His
throne and ask for what you need or lay your burdens at His
feet? You can do all things through Christ who strengthens
you! (Phil 4:13). And He is able to do exceedingly more than
you ever imagined! Have faith today and believe.
Deuteronomy 29:9
Therefore keep the words of this covenant, and do them, that
you may prosper in all that you do.
1 John 5:14-15
Now this is the confidence that we have in Him, that if we ask
anything according to His will, He hears us. And if we know
that He hears us, whatever we ask, we know that we have the
petitions that we have asked of Him.
#8 – You are God's temple
1 Corinthians 3:16
Do you not know that you are the temple of God and that the
Spirit of God dwells in you?
The moment you believe Jesus is the Son of the Living God,
born of a virgin, died for your sins and rose again; the
moment you received Him as the Lord and Savior of your life;
your spirit was awakened and inhabited by the Holy Spirit. He
is the third person of the holy trinity, God the Father, God the
Son, God the Holy Spirit. God not only is among you; He
dwells IN you. A place that God inhabits is His temple;
therefore You are a holy dwelling place of the Lord! "You are
a chosen people, a royal priesthood, a holy nation, God's
special possession, that you may declare the praises of him
who called you out of darkness into his wonderful light." (1
Peter 2:9)
John 14:16-17
And I will pray the Father, and He will give you another
Helper, that He may abide with you forever--the Spirit of
truth, whom the world cannot receive, because it neither sees
Him nor knows Him; but you know Him, for He dwells with
you and will be in you.
#9 - Fear
2 Timothy 1:7
For God has not given us a spirit of fear, but of power and of
love and of a sound mind.
Philippians 4:6-7
Be anxious for nothing, but in everything by prayer and
supplication, with thanksgiving, let your requests be made
known to God; and the peace of God, which surpasses all
understanding, will guard your hearts and minds through
Christ Jesus.
God is not the author of fear. That title belongs to an
adversary who only wants to steal, kill, and destroy with the
goal of pulling you away from the Father. Jesus came so that
you would have life and have it to the fullest! (John 10:10) Be
strong and courageous because the Lord your God is with you
always (Deuteronomy 31:6). If you are afraid, call on the Lord
Jesus for His peace and protection. He will guard your heart
and your mind.
Psalm 61:2-4
From the end of the earth I will cry to You, when my heart is
overwhelmed; lead me to the rock that is higher than I. For
You have been a shelter for me, a strong tower from the
enemy. I will abide in Your tabernacle forever; I will trust in
the shelter of Your wings.
#10 - Salvation
John 3:16
For God so loved the world that He gave His only begotten
Son, that whoever believes in Him should not perish but have
everlasting life.
Do you believe today? Do you want to believe? It begins with
a simple prayer:
God, I want to admit to You that I haven't always done things
the way You would like to see me do them. At times I have
done things that I knew to be very wrong. I understand this is
sin to You and I want to say I'm sorry for every time I have
chosen my way, or my own will opposed to Yours. I know
now that those choices have only put more space between
You and me, and that is not my desire. I do believe that Your
Son, Jesus Christ, gave His life on the cross for my sins. Please
forgive me. Jesus, I would like to ask You to fill my heart and
come into my life as my Lord and my Salvation. I am
committing and entrusting my life to You. Please give me the
desire to be what You want me to be, and the desire to do
what You want me to do. Thank You for choosing to die for
my sins, for Your free pardon and forgiveness, for Your gift of
eternal life, and for hearing and answering my prayer. Thank
you for choosing to be my personal Savior. Amen.
"Therefore if any man is in Christ, he is a new creature: old
things are passed away; all things become new." 2
Corinthians 5:17
#11 - Temptation
John 16:33
These things I have spoken to you, that in Me you may have
peace. In the world you will have tribulation; but be of good
cheer, I have overcome the world.
1 Corinthians 10:13
No temptation has overtaken you except such as is common
to man; but God is faithful, who will not allow you to be
tempted beyond what you are able, but with the temptation
will also make the way of escape, that you may be able to
bear it.
There are no temptations in this world that Jesus himself did
not overcome while He walked the earth. The things that
tempt you are an attack on your mind, your body, your soul
and your spirit. Who do you belong to today? If you have
chosen to belong to God, then stand firm and put on your
armor. (Ephes 6:10-18) Remember who you are in Christ and
that He will send an army of angels to help you fight the
battle of temptation. (continued)
(#11 Temptation continued)
Hebrews 2:18
For in that He Himself has suffered, being tempted, He is able
to aid those who are tempted.
Psalm 20:1-2
May the LORD answer you in the day of trouble; may the
name of the God of Jacob defend you; May He send you help
from the sanctuary, and strengthen you out of Zion.
#12 – The Lord's forgiveness
Psalm 103:8-10
The LORD is merciful and gracious, slow to anger, and
abounding in mercy. He will not always strive with us, nor will
He keep His anger forever. He has not dealt with us according
to our sins, nor punished us according to our iniquities.
Do you really think you've blown it this time? Did you know
that nothing can separate you from the love of God? (Romans
8:34-35) God is extremely patient with His children ready and
waiting to extend grace and mercy. Grace is what you don't
deserve, and mercy is His compassion for you. He is waiting
for you to run back into His arms and simply say you are
sorry. He would prepare a feast in your honor, throw a party
and adorn you with kingly robes of heaven. If you do not
believe it is so, read the story Jesus told about the prodigal
(wayward) son in Luke 15:11-32. Why did Jesus tell stories to
show us the character of God? Because he knew we could see
and hear, but not fully understand. (Matt 13:12-13) Jesus was
the perfect teacher!
#13 – Comfort
2 Corinthians 1:3-4
Blessed be the God and Father of our Lord Jesus Christ, the
Father of mercies and God of all comfort, who comforts us in
all our tribulation, that we may be able to comfort those who
are in any trouble, with the comfort with which we ourselves
are comforted by God.
When you need comfort, God is there. When you need a
shelter, God is there. He is there for you in countless little
ways throughout each and every day. Maybe he came to you
in a simple blessing today. Maybe it was something really big
and miraculous. Look for him in your life because He is there
with you always.
Psalm 61:2-4
From the end of the earth I will cry to You, when my heart is
overwhelmed; lead me to the rock that is higher than I. For
You have been a shelter for me, a strong tower from the
enemy. I will abide in Your tabernacle forever; I will trust in
the shelter of Your wings.
#14 – Join the Club!
The Fellowship of the Unashamed
I am part of the fellowship of the unashamed. The dye has
been cast. The decision has been made. I have stepped over
the line, I won't look back, let up, slow down or back away.
My past is redeemed, my present makes sense, my future is
secure. I'm finished and done with low living, sight walking,
small planning, smooth knees, colorless dreams, tamed
visions, mundane talking, cheap giving and dwarfed goals.
I no longer need pre-eminence, prosperity, position,
promotion, plaudits, or popularity. I don't have to be right,
first, tops, recognized, praised or rewarded. I now live by
faith, lean on HIS presence, I walk with patience, live by
prayer, and labor with power.
My face is set, my gait is fast, my goal is Heaven, my road is
narrow, my way is rough, my companions are few, my Guide
is reliable, my mission is clear.. I cannot be bought,
compromised, detoured, lured away, turned back, deluded or
delayed. I will not flinch in the face of sacrifice, hesitate in the
presence of the adversary, negotiate at the table of the
enemy, ponder at the pool of popularity, or meander in the
maze of mediocrity.
I won't give up or let up until I have stayed up, stored up,
prayed up, paid up, and spoken up for the cause of Christ. I
am a disciple of Jesus Christ. I must go 'till He comes, give 'till
I drop, preach 'till all I know is said, and work 'till He stops
me. And when he comes for His own, He will have no
problem recognizing me. My banner is clear: I am part of the
fellowship of the unashamed. (Anonymous writer)
You may use any of these word for word, or write
your own message and send it to me via the email
form on the GIVE page under the HELP section on
my website.
For more ideas to write your own personalized
message, feel free to look under the INSPIRATION
section on my website.