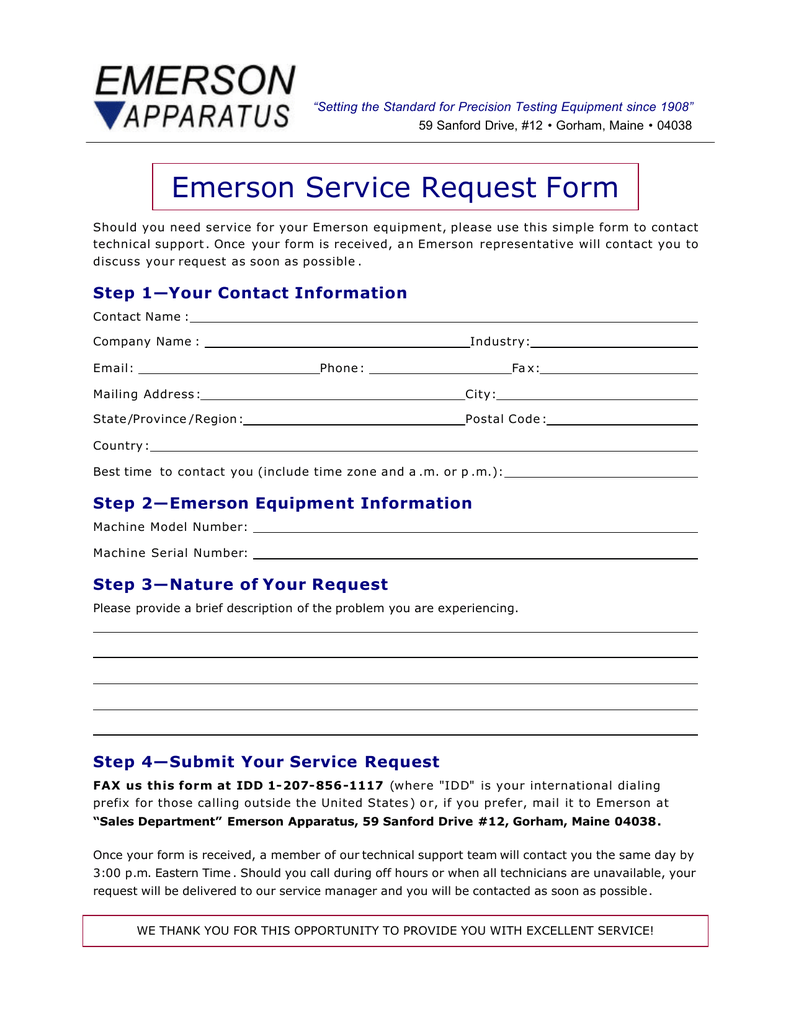 "Setting the Standard for Precision Testing Equipment since 1908"
59 Sanford Drive, #12 • Gorham, Maine • 04038
Emerson Service Request Form
Should you need service for your Emerson equipment, please use this simple form to contact
technical support . Once your form is received, a n Emerson representative will contact you to
discuss your request as soon as possible .
Step 1—Your Contact Information
Contact Name :
Company Name :
Email:
Industry:
Phone :
Fa x:
Mailing Address :
City:
State /Province /Region :
Postal Code :
Country :
Best time to contact you (include time zone and a .m. or p .m.):
Step 2—Emerson Equipment Information
Machine Model Number:
Machine Serial Number:
Step 3—Nature of Your Request
Please provide a brief description of the problem you are experiencing.
Step 4—Submit Your Service Request
FAX us this form at IDD 1- 207- 856 -1117 (where "IDD" is your international dialing
prefix for those calling outside the United States ) o r, if you prefer, mail it to Emerson at
"Sales Department" Emerson Apparatus, 59 Sanford Drive #12, Gorham, Maine 04038.
Once your form is received, a member of our technical support team will contact you the same day by
3:00 p.m. Eastern Time . Should you call during off hours or when all technicians are unavailable, your
request will be delivered to our service manager and you will be contacted as soon as possible.
WE THANK YOU FOR THIS OPPORTUNITY TO PROVIDE YOU WITH EXCELLENT SERVICE!