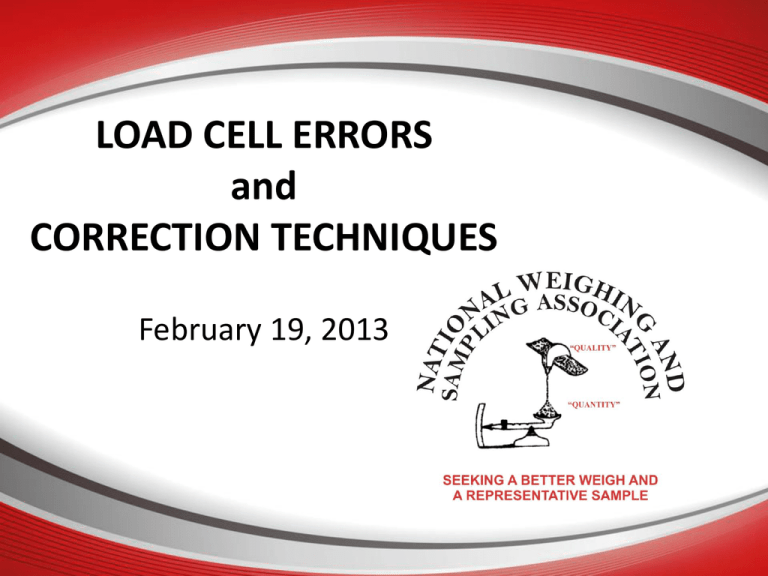 LOAD CELL ERRORS
and
CORRECTION TECHNIQUES
February 19, 2013
FORCE
OUTPUT + ERRORS
COMMON TYPES OF LOAD CELL ERROR
•
•
•
•
•
•
•
REPEATABILITY
NON-LINEARITY
CREEP
HYSTERESIS
CHANGES IN BAROMETRIC PRESSURE
TEMPERATURE EFFECT ON NO-LOAD OUTPUT
TEMPERATURE EFFECT ON OUTPUT
REPEATABILITY (OIML R60) –
THE ABILITY OF A LOAD CELL TO PROVIDE SUCCESSIVE
RESULTS THAT ARE IN AGREEMENT WHEN THE SAME
LOAD IS APPLIED SEVERAL TIMES AND APPLIED IN
THE SAME MANNER ON THE LOAD CELL UNDER
CONSTANT TEST CONDITIONS.
POOR REPEATABILITY
GOOD REPEATABILITY
NON-LINEARITY (OIML R60)
Deviation of the increasing load cell signal
output curve from a straight line.
LOAD CELL NON-LINEARITY
CORRECTION METHODS FOR
NON-LINEARITY
CREEP COMPENSATION
1. Strain Gauge End Loop Geometry
B
A
2. Thickness of Glue Line / Clamping Pressure
3. Software Creep Compensation Algorithm
 Requires repeatable creep and time measurement.
QUESTIONS?