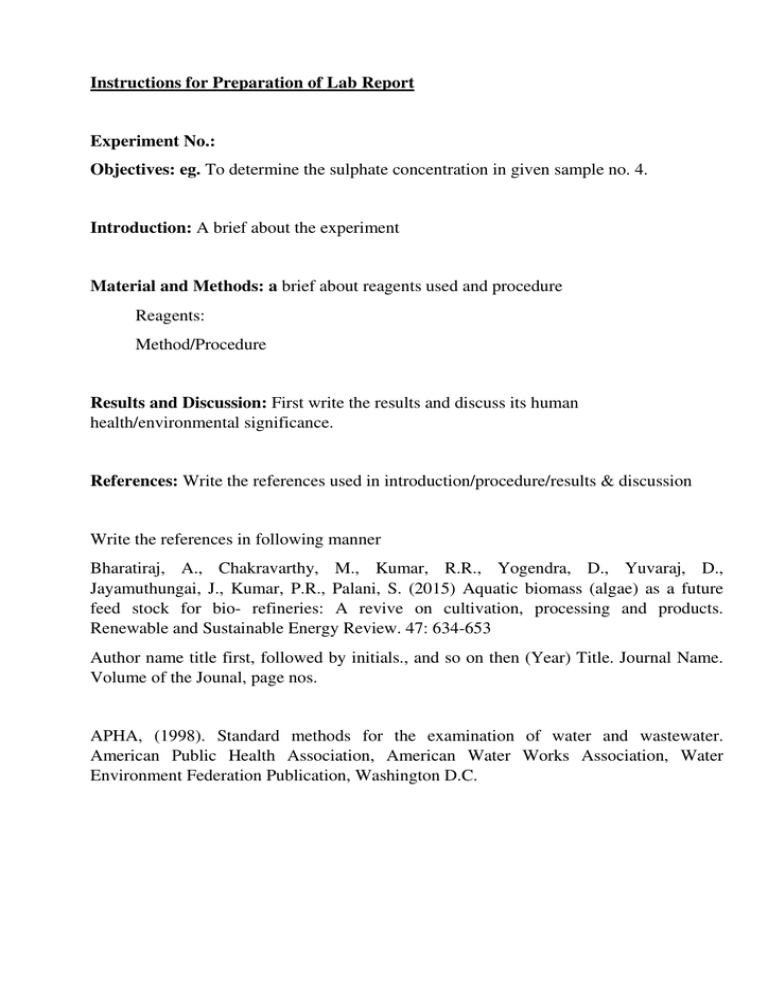 Instructions for Preparation of Lab Report
Experiment No.:
Objectives: eg. To determine the sulphate concentration in given sample no. 4.
Introduction: A brief about the experiment
Material and Methods: a brief about reagents used and procedure
Reagents:
Method/Procedure
Results and Discussion: First write the results and discuss its human
health/environmental significance.
References: Write the references used in introduction/procedure/results & discussion
Write the references in following manner
Bharatiraj, A., Chakravarthy, M., Kumar, R.R., Yogendra, D., Yuvaraj, D.,
Jayamuthungai, J., Kumar, P.R., Palani, S. (2015) Aquatic biomass (algae) as a future
feed stock for bio- refineries: A revive on cultivation, processing and products.
Renewable and Sustainable Energy Review. 47: 634-653
Author name title first, followed by initials., and so on then (Year) Title. Journal Name.
Volume of the Jounal, page nos.
APHA, (1998). Standard methods for the examination of water and wastewater.
American Public Health Association, American Water Works Association, Water
Environment Federation Publication, Washington D.C.
GENERAL INSTRUCTIONS
Part A(Lab Work and Report)
•
Lab attendance is compulsory.
•
Students work individually/ or in groups as instructed.
•
Students are requested to check their respective groups before entering the lab.
•
Students must prepare lab reports before every lab exercise and should bring the same to lab class.
•
Marked observation sheets will be returned to students the next week.
•
A late report will not be accepted after that observation sheet has been returned to the class.
•
The lab report is to be done as an individual effort. Plagiarism (copying another student's lab report
(present or previous year) or copying published literature without citing is a violation of institute
regulations. Marks will be subtracted for duplication in reports.
•
Cite reference in text of lab report and record full reference at end of lab report.
•
Before handing in your report, review report to ensure that all information is included.
•
Use loose practical sheets (available in SCOOPS) kept in a folder, for report preparation
•
You must notify the lab instructor no later than two days after the missed lab.
Part B (GOOD LABORATORY PRACTICES)
•
You must wear a buttoned lab coat. (compulsory)
•
Wear shoes in the lab (compulsory)
•
Be punctual to the lab (students will be marked absent, if first THREE conditions are not met)
•
If carrying lab coat home for washing, carry it separately from all other personal effects, i.e. not in your
back pack.
•
Long hair must be tied back. Keep your hands away from your hair.
•
Wash hands with antibacterial soap before leaving the lab.
•
Do not put your hands on your face or anything in your mouth (eg. pen) while in the microbiology lab.
•
Protect hands with gloves (available in lab) and eyes with glasses when needed.
•
Never mouth pipette. Always use a pro-pipette or pipette bulb.
•
Cover any cuts with a bandage (if necessary, available in the first aid kit).
•
No eating or drinking in the lab.
•
Do not touch lab instruments unnecessarily.
•
Always clean your workplace and glassware after finishing the experiment.
•
Know location of exits, fire extinguisher, eye wash, full body shower, and first aid kit. Cover any cuts
with a bandage (if necessary, available in the first aid kit).
•
Know how to operate equipment before use. DO NOT use equipment unless you know exactly how to
operate the equipment. The demonstrator is always available to assist.
•
All equipment and supplies should be returned to original location.
•
Handle caustic (acids and bases) solutions with care. Never discard an acid or base greater than one molar
down the sink. Discard in labelled glass containers provided. Use lots of water when discarding caustic
solutions (< 1M).
•
Lab entry not allowed when no teaching staff is present.
•
Wash bench area before and after with Disinfectant. This helps prevent contamination of your notebook
and pens. Even if you wash your hands when you leave, your pen or book could be contaminated.
•
First aid kit is present in lab.