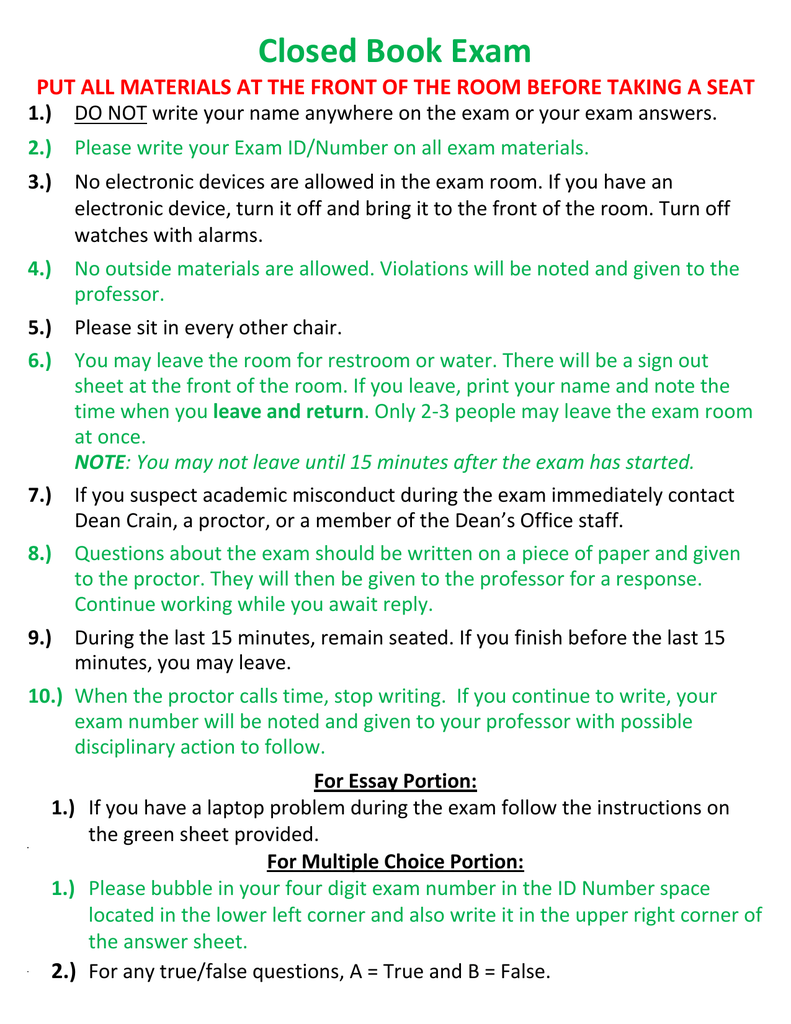 Closed Book Exam
PUT ALL MATERIALS AT THE FRONT OF THE ROOM BEFORE TAKING A SEAT
1.)
DO NOT write your name anywhere on the exam or your exam answers.
2.)
Please write your Exam ID/Number on all exam materials.
3.)
No electronic devices are allowed in the exam room. If you have an
electronic device, turn it off and bring it to the front of the room. Turn off
watches with alarms.
4.)
No outside materials are allowed. Violations will be noted and given to the
professor.
5.)
Please sit in every other chair.
6.)
You may leave the room for restroom or water. There will be a sign out
sheet at the front of the room. If you leave, print your name and note the
time when you leave and return. Only 2-3 people may leave the exam room
at once.
NOTE: You may not leave until 15 minutes after the exam has started.
7.)
If you suspect academic misconduct during the exam immediately contact
Dean Crain, a proctor, or a member of the Dean's Office staff.
8.)
Questions about the exam should be written on a piece of paper and given
to the proctor. They will then be given to the professor for a response.
Continue working while you await reply.
9.)
During the last 15 minutes, remain seated. If you finish before the last 15
minutes, you may leave.
10.) When the proctor calls time, stop writing. If you continue to write, your
exam number will be noted and given to your professor with possible
disciplinary action to follow.
For Essay Portion:
1.) If you have a laptop problem during the exam follow the instructions on
the green sheet provided.
For Multiple Choice Portion:
1.) Please bubble in your four digit exam number in the ID Number space
located in the lower left corner and also write it in the upper right corner of
the answer sheet.
2.) For any true/false questions, A = True and B = False.