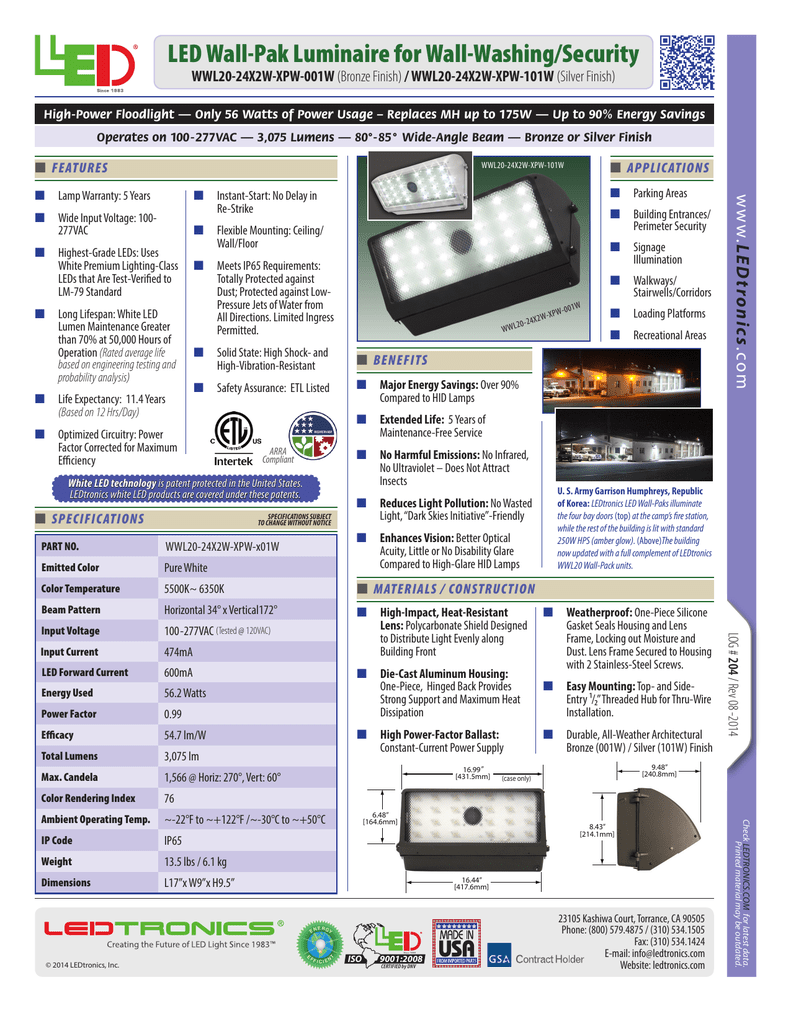 LED Wall-Pak Luminaire for Wall-Washing/Security
WWL20-24X2W-XPW-001W (Bronze Finish) / WWL20-24X2W-XPW-101W (Silver Finish)
High-Power Floodlight — Only 56 Watts of Power Usage – Replaces MH up to 175W — Up to 90% Energy Savings
Operates on 100-277VAC — 3,075 Lumens — 80°-85° Wide-Angle Beam — Bronze or Silver Finish
WWL20-24X2W-XPW-101W
■FEATURES
■■ Parking Areas
■■ Instant-Start: No Delay in
Re-Strike
■■ Wide Input Voltage: 100277VAC
■■ Highest-Grade LEDs: Uses
White Premium Lighting-Class
LEDs that Are Test-Verified to
LM-79 Standard
■■ Long Lifespan: White LED
Lumen Maintenance Greater
than 70% at 50,000 Hours of
Operation (Rated average life
based on engineering testing and
probability analysis)
■■ Life Expectancy: 11.4 Years
(Based on 12 Hrs/Day)
■■ Building Entrances/
Perimeter Security
■■ Flexible Mounting: Ceiling/
Wall/Floor
■■ Signage
Illumination
■■ Meets IP65 Requirements:
Totally Protected against
Dust; Protected against LowPressure Jets of Water from
All Directions. Limited Ingress
Permitted.
■■ Walkways/
Stairwells/Corridors
WW
4X2
L20-2
■■ Solid State: High Shock- and
High-Vibration-Resistant
■BENEFITS
■■ Safety Assurance: ETL Listed
■■ Major Energy Savings: Over 90%
Compared to HID Lamps
■■ Optimized Circuitry: Power
Factor Corrected for Maximum
Efficiency
ARRA
Compliant
SPECIFICATIONS SUBJECT
TO CHANGE WITHOUT NOTICE
■■ No Harmful Emissions: No Infrared,
No Ultraviolet – Does Not Attract
Insects
■■ Reduces Light Pollution: No Wasted
Light, "Dark Skies Initiative"-Friendly
1W
■■ Loading Platforms
■■ Recreational Areas
Emitted Color
Pure White
■■ Enhances Vision: Better Optical
Acuity, Little or No Disability Glare
Compared to High-Glare HID Lamps
Color Temperature
5500K~ 6350K
■MATERIALS / CONSTRUCTION
Beam Pattern
Horizontal 34° x Vertical172°
Input Voltage
100-277VAC (Tested @ 120VAC)
Input Current
474mA
■■ High-Impact, Heat-Resistant
Lens: Polycarbonate Shield Designed
to Distribute Light Evenly along
Building Front
LED Forward Current
600mA
Energy Used
56.2 Watts
Power Factor
0.99
Efficacy
54.7 lm/W
Total Lumens
3,075 lm
Max. Candela
1,566 @ Horiz: 270°, Vert: 60°
Color Rendering Index
76
Ambient Operating Temp.
~-22°F to ~+122°F /~-30°C to ~+50°C
IP Code
IP65
Weight
13.5 lbs / 6.1 kg
Dimensions
L17"x W9"x H9.5"
■■ Die-Cast Aluminum Housing:
One-Piece, Hinged Back Provides
Strong Support and Maximum Heat
Dissipation
■■ High Power-Factor Ballast:
Constant-Current Power Supply
16.99"
[431.5mm]
6.48"
[164.6mm]
■■ Weatherproof: One-Piece Silicone
Gasket Seals Housing and Lens
Frame, Locking out Moisture and
Dust. Lens Frame Secured to Housing
with 2 Stainless-Steel Screws.
■■ Easy Mounting: Top- and SideEntry ¹/₂" Threaded Hub for Thru-Wire
Installation.
■■ Durable, All-Weather Architectural
Bronze (001W) / Silver (101W) Finish
9.48"
[240.8mm]
(case only)
8.43"
[214.1mm]
16.44"
[417.6mm]
ISO
9001:2008
CERTIFIED by DNV
23105 Kashiwa Court, Torrance, CA 90505
Phone: (800) 579.4875 / (310) 534.1505
Fax: (310) 534.1424
E-mail: [email protected]
Website: ledtronics.com
Check LEDTRONICS.COM for latest data.
Printed material may be outdated.
WWL20-24X2W-XPW-x01W
U. S. Army Garrison Humphreys, Republic
of Korea: LEDtronics LED Wall-Paks illuminate
the four bay doors (top) at the camp's fire station,
while the rest of the building is lit with standard
250W HPS (amber glow). (Above)The building
now updated with a full complement of LEDtronics
WWL20 Wall-Pack units.
LOG # 204 / Rev 08-2014
PART NO.
© 2014 LEDtronics, Inc.
W- 0 0
■■ Extended Life: 5 Years of
Maintenance-Free Service
White LED technology is patent protected in the United States.
LEDtronics white LED products are covered under these patents.
■SPECIFICATIONS
W- X P
w w w.LE D t r o n i c s.co m
■■ Lamp Warranty: 5 Years
■APPLICATIONS
Page 2
LED Wall-Pak High-Power Security Luminaire
WWL20-24X2W-XPW-x01W
w w w. L E D t r o n ic s. co m
Ideal for Use with Alternate or Renewable
Energy Resources – Solar & Wind Power
© 2014 LEDtronics, Inc.