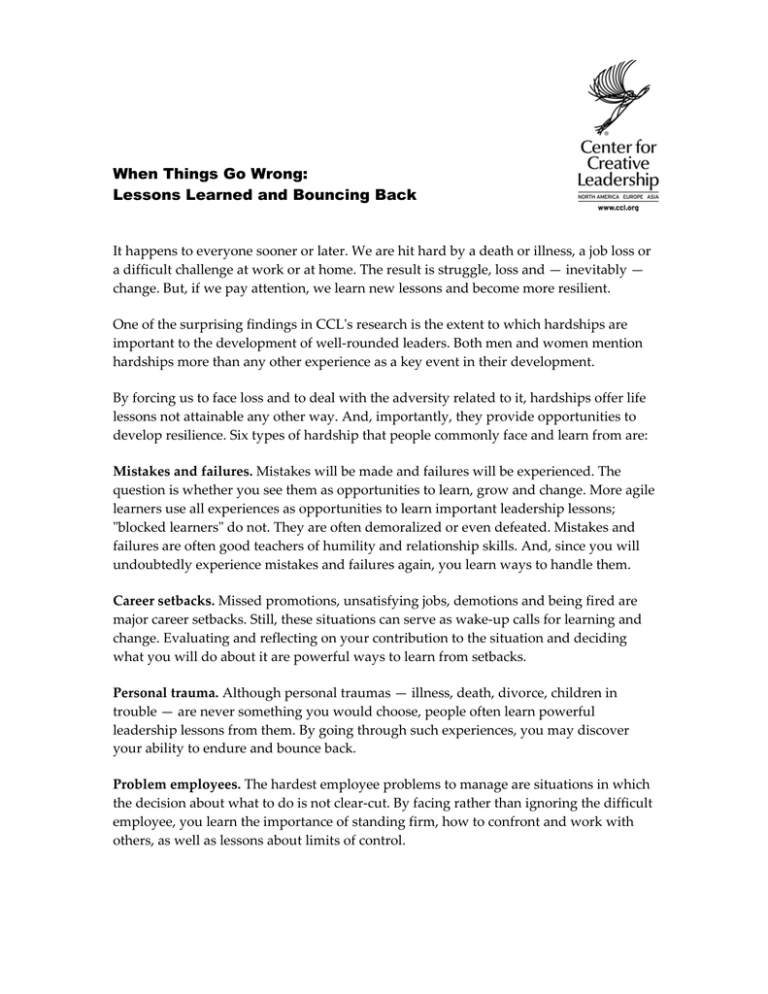 When Things Go Wrong:
Lessons Learned and Bouncing Back
It happens to everyone sooner or later. We are hit hard by a death or illness, a job loss or
a difficult challenge at work or at home. The result is struggle, loss and — inevitably —
change. But, if we pay attention, we learn new lessons and become more resilient.
One of the surprising findings in CCL's research is the extent to which hardships are
important to the development of well-rounded leaders. Both men and women mention
hardships more than any other experience as a key event in their development.
By forcing us to face loss and to deal with the adversity related to it, hardships offer life
lessons not attainable any other way. And, importantly, they provide opportunities to
develop resilience. Six types of hardship that people commonly face and learn from are:
Mistakes and failures. Mistakes will be made and failures will be experienced. The
question is whether you see them as opportunities to learn, grow and change. More agile
learners use all experiences as opportunities to learn important leadership lessons;
"blocked learners" do not. They are often demoralized or even defeated. Mistakes and
failures are often good teachers of humility and relationship skills. And, since you will
undoubtedly experience mistakes and failures again, you learn ways to handle them.
Career setbacks. Missed promotions, unsatisfying jobs, demotions and being fired are
major career setbacks. Still, these situations can serve as wake-up calls for learning and
change. Evaluating and reflecting on your contribution to the situation and deciding
what you will do about it are powerful ways to learn from setbacks.
Personal trauma. Although personal traumas — illness, death, divorce, children in
trouble — are never something you would choose, people often learn powerful
leadership lessons from them. By going through such experiences, you may discover
your ability to endure and bounce back.
Problem employees. The hardest employee problems to manage are situations in which
the decision about what to do is not clear-cut. By facing rather than ignoring the difficult
employee, you learn the importance of standing firm, how to confront and work with
others, as well as lessons about limits of control.
Downsizing. Losing a job through no fault of your own does not lessen the sense of loss.
With support through the process, powerful lessons can be learned, particularly how to
cope with things beyond your control. It can also be a time for evaluating and
reassessing who you are and what you do. Being responsible for a downsizing also
teaches how to handle difficult situations and builds resiliency.
Experience when race mattered. This is a situation or interaction where a manager
either experiences or observes an injustice due to racial prejudice or discrimination. It is
also an issue for individuals who are the first minorities to be hired at the management
or executive level in organizations. These experiences are usually felt deeply and
personally and are tied to lessons of self-identity and connectedness.
This article is adapted from the chapter on "Hardships" by Russ S. Moxley and Mary Lynn
Pulley in The Center for Creative Leadership Handbook of Leadership Development.
This article originally appeared in the August 2004 issue of
Leading Effectively, CCL's free, monthly e-newsletter containing tools and
tips for managers who face the daily challenges of leading others.
Subscribe Now
The Center for Creative Leadership (CCL®) is an internationally recognized
resource for understanding and expanding the leadership capabilities of
individuals and organizations. Its mission is to advance the understanding,
practice, and development of leadership for the benefit of society worldwide.
To learn more about CCL, visit www.ccl.org or call +1 336 545 2810.
Center for Creative Leadership, CCL®, and its logo are registered trademarks owned by the Center for Creative
Leadership. © 2005 Center for Creative Leadership. All rights reserved.