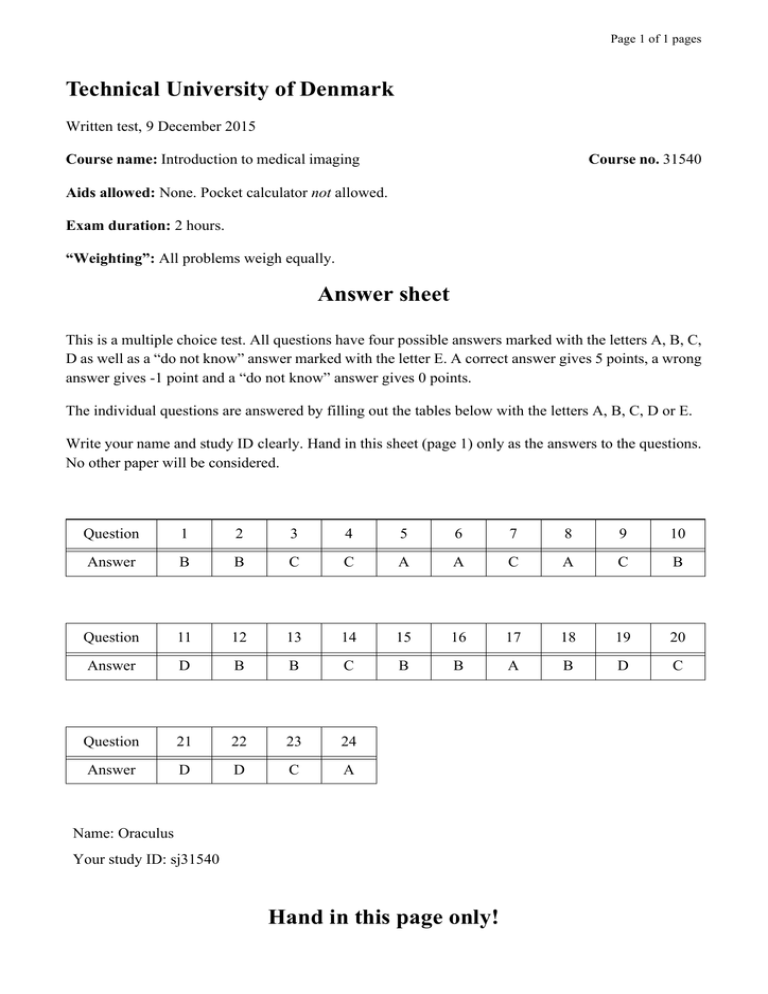 Page 1 of 1 pages
Technical University of Denmark
Written test, 9 December 2015
Course name: Introduction to medical imaging
Course no. 31540
Aids allowed: None. Pocket calculator not allowed.
Exam duration: 2 hours.
"Weighting": All problems weigh equally.
Answer sheet
This is a multiple choice test. All questions have four possible answers marked with the letters A, B, C,
D as well as a "do not know" answer marked with the letter E. A correct answer gives 5 points, a wrong
answer gives -1 point and a "do not know" answer gives 0 points.
The individual questions are answered by filling out the tables below with the letters A, B, C, D or E.
Write your name and study ID clearly. Hand in this sheet (page 1) only as the answers to the questions.
No other paper will be considered.
Question
1
2
3
4
5
6
7
8
9
10
Answer
B
B
C
C
A
A
C
A
C
B
Question
11
12
13
14
15
16
17
18
19
20
Answer
D
B
B
C
B
B
A
B
D
C
Question
21
22
23
24
Answer
D
D
C
A
Name: Oraculus
Your study ID: sj31540
Hand in this page only!