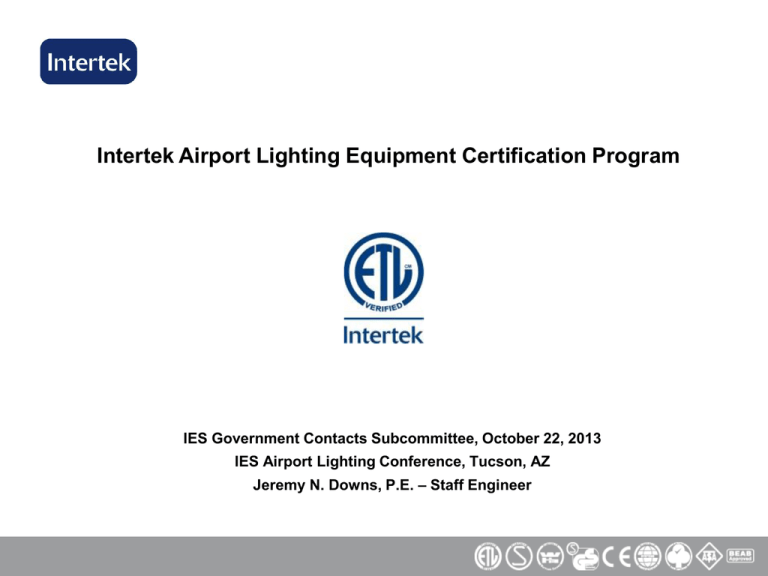 Intertek Airport Lighting Equipment Certification Program
IES Government Contacts Subcommittee, October 22, 2013
IES Airport Lighting Conference, Tucson, AZ
Jeremy N. Downs, P.E. – Staff Engineer
Airport Lighting Equipment Certification
Certification Program covers all equipment specified in the FAA AC
150/5345 series:
 Rotating Beacons
 Obstruction Lights
 Wind Cones
 Isolation Transformers
 Taxiway / Runway Inpavement Lights
 Retroreflective Markers
 Cable Connectors
 Underground Cable
 Runway & Taxiway Signs
 Portable Runway Lights
 Light Bases
 Constant Current Regulators
 Precision Approach Path Indicators (PAPI)
 Runway End Identification Lights (REIL)
FAA AC 150/5345-53D
•
Third Party Certifier Acceptance Criteria
– Section 5
•
Third Party Certifier Application (every 4 years)
– Section 6
–
–
–
–
Background as a certification body
Competency verification (accreditations)
Resumes of related staff
Copy of procedural guide and license agreement
FAA AC 150/5345-53D
GENERAL OUTLINE
•
•
•
•
•
•
•
Manufacturer submits certification request via AL-2 application form
Qualification testing
Documentation submittal and engineering review
Initial manufacturing facility audit
License Agreement
Certificate issued and product listed in 53D Addendum
Certification process covered under ANSI accreditation to ISO Guide
65
Qualification Testing
FAA AC 150/5345-53D, Appendix 2, section 5.C.i
Must be done IAW ISO 17025
At Intertek – covered under A2LA accreditation
Outside of Intertek – covered by audit and witness
• Test Plan Review and Acceptance
• Assignment to Intertek Representative
• Formal Report issued by Manufacturer
Qualification Testing
Per Product Specific FAA
150/5345 Series Advisory
Circulars :










Photometry
Chromaticity
Accelerated Life
Vibration (Sinusoidal, Random)
Mechanical Shock
Corrosion (Salt Fog) /
Accelerated Corrosion
Moisture, Rain Spray,
Immersion, Icing
Dust
Wind Load
Temperature / Humidity Cycling
 EMI / EMC
 Altitude
 Lamp Life Test
 Insulation Resistance
 Thermal Shock
 Operational
 Accelerated Weathering
 Electrical
 Leakage Current
 Dielectric
 Transient Suppression
Qualification Testing
When is testing required?
1. 8 year re-qualifications (4 years for L-890 ALCMS)
2. Product modifications
-requires - AL-2 resubmittal
- associated documentation
- abbreviated testing
3. Specification updates
Semi-annual Inspections
•
AL-7 Audit (follows basic ISO quality assurance
requirements)
•
•
AL-1; AL-1A Contact Sheet
Product Checklist(s)
– Construction review using the applicable ACs
•
Production Testing Requirements
– As required in the applicable ACs
AL-2 Request for Certification
or Revision of Certificate
•
•
•
•
Copy of all Qual Test Reports
List of L-type, class, style, size
List of catalogue number(s)
Application required by ISO
Guide 65
AL-2 Request for Certification (continued)
Required Product Documentation listed in section 6 of AL-2
• Section & part drawings
• Assembly drawings and schematics
• BOM with mfg name/catalogue numbers
• Statement of Warrantee
• Instruction/installation/operating manual
• Product Description sheet (marketing)
• AL-2B Lamp Life form
AL-2B Lamp Life Form
•
Identifies the light source
– Source manufacturer's designation
– End product manufacturer's designation
•
Provides life ratings, or airport lighting
equipment manufacturer's life estimates
in the end product
AL-2B Lamp Life Form (continued)
•
Documents compliance with requirements that
are not verified by qualification testing
•
FAA AC 150/5345-53D Appendix 5
– Determines Lamp Life in particular fixture by testing
– Sources rated for more than 8,750 hours are exempt
•
Product ACs contain minimum rated life
– 46D (runway and taxiway lights)
• 500 or 1,000 hours
– 43G (obstruction lights)
• Xenon – 2 years
• Incandescent – 2,000 hours
• LED – 2 years
– 12F (beacons)
• 4,000 hours
AL-2B Lamp Life Form (continued)
•
LED products still must comply with the
specific product AC and 53D
•
Also must comply with EB67D
– LED junction temperature as determined per
the LED manufacturer's guidance
– Must be consistent with life estimate
– Usually done by product manufacturer
LED supplier's ratings must be submitted with
the AL-2B
AL-2B Lamp Life Form (continued)
•
This information results in the lamp list contained in the FAA AC 150/534553D addendum
•
FAA lamp number can also be found on each product's certificate
Current Program Status
74 Program Participants
84 Licensed Manufacturing Facilities
 86 new and requalification certificates issued since
the spring meeting
 53 revised certificates issued since the spring meeting
New Specifications
•
FAA AC 150/5345-27E (FAA Specification for Wind Cone
Assemblies)
•
FAA AC 150/5345-7F (Specification for L-824 Underground
Electrical Cable for Airport Lighting Circuits)
New Specifications
•
FAA AC 150/5345-27E (FAA Specification for Wind Cone
Assemblies)
Principal Change
Addition of size 1 internally lighted wind cones
Required Action
Size 1 internally lighted wind cones will need to be submitted for testing
New Specifications
•
FAA AC 150/5345-7F (L-824 cable)
Principal Change
ANSI/ICEA specification references were updated
FAA-STD-013 was replaced with ISO 9001
Required Action
None
•
Draft EB86
– 2/24/11
– Guidance on cable selection
– Contained recommendation for -7 update (were not included in 7F)
DRAFT SPECIFICATIONS
•
FAA AC 150/5340-30H (Design and Installation Details for
Airport Visual Aids)
–
–
–
–
–
Updated many 5300-13A references (Airport Design)
Many installation detail clarifications
PAPI frost and dew considerations (FAA CertAlert 02-08)
No direct impact equipment certifications
Deadline for comments was 8/23/13
Questions?