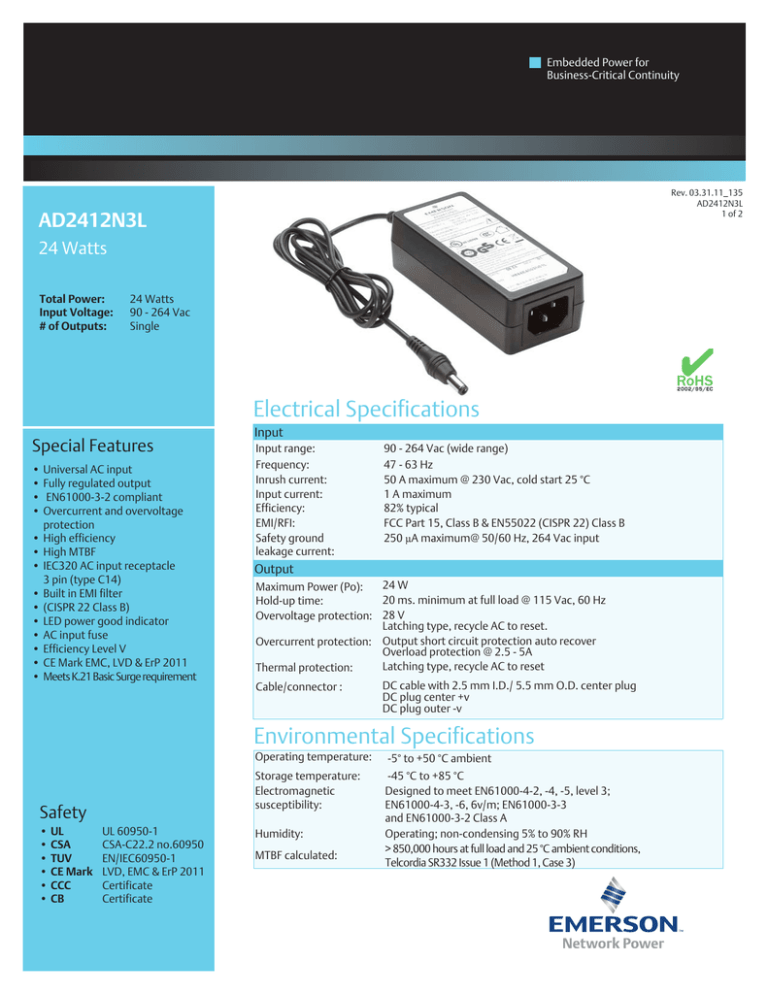 Embedded Power for
Business-Critical Continuity
Rev. 03.31.11_135
AD2412N3L
1 of 2
AD2412N3L
24 Watts
Total Power:
Input Voltage:
# of Outputs:
24 Watts
90 - 264 Vac
Single
Electrical Specifications
Special Features
•Universal AC input
•Fully regulated output
• EN61000-3-2 compliant
•Overcurrent and overvoltage
protection
•High efficiency
•High MTBF
•IEC320 AC input receptacle
3 pin (type C14)
•Built in EMI filter
•(CISPR 22 Class B)
•LED power good indicator
•AC input fuse
•Efficiency Level V
•CE Mark EMC, LVD & ErP 2011
•Meets K.21 Basic Surge requirement
Input
Input ra­nge:
Frequency:
Inrush current:
Input current:
Efficiency:
EMI/RFI:
Safety ground
leakage current:
90 - 264 Vac (wide range)
47 - 63 Hz
50 A maximum @ 230 Vac, cold start 25 °C
1 A maximum
82% typical
FCC Part 15, Class B & EN55022 (CISPR 22) Class B
250 µA maximum@ 50/60 Hz, 264 Vac input
Output
24 W
Maximum Power (Po):
20 ms. minimum at full load @ 115 Vac, 60 Hz
Hold-up time:
Overvoltage protection: 28 V
Latching type, recycle AC to reset.
Overcurrent protection: Output short circuit protection auto recover
Overload protection @ 2.5 - 5A
Latching type, recycle AC to reset
Thermal protection:
Cable/connector :
DC cable with 2.5 mm I.D./ 5.5 mm O.D. center plug
DC plug center +v
DC plug outer -v
Environmental Specifications
Safety
•UL
•CSA
•TUV
•CE Mark
•CCC •CB
UL 60950-1
CSA-C22.2 no.60950
EN/IEC60950-1
LVD, EMC & ErP 2011
Certificate
Certificate
Operating temperature:
-5° to +50 °C ambient
Storage temperature:
Electromagnetic
susceptibility:
-45 °C to +85 °C
Designed to meet EN61000-4-2, -4, -5, level 3;
EN61000-4-3, -6, 6v/m; EN61000-3-3
and EN61000-3-2 Class A
Operating; non-condensing 5% to 90% RH
> 850,000 hours at full load and 25 °C ambient conditions,
Telcordia SR332 Issue 1 (Method 1, Case 3)
Humidity:
MTBF calculated:
Embedded Power for
Business-Critical Continuity
­Americas
Ordering Information
Model
Number
Maximum
Power
Output
Voltage
Minimum
Load
AD2412N3L
24 W
12 Vdc
0.1 A
Maximum
Peak Load1 Regulation2
Load
2A
2.4 A
±5%
Ripple
P/P (PARD)3
< 120 mV
1. Peak current lasting 200ms every 3 seconds.
2. At 25 ºC including initial tolerance, line voltage, load currents and output voltages adjusted to factory
settings.
3. Peak-to-peak with 20MHz bandwidth and 10µF (tantalum capacitor) in parallel with a 0.1µF capacitor at rated line voltage and
load ranges.
4. Power supply will opearate with no load
Mechanical Drawing
Rev. 03.31.11_135
AD2412N3L
2 of 2
5810 Van Allen Way
Carlsbad, CA 92008
USA
Telephone:+1 760 930 4600
Facsimile: +1 760 930 0698
Europe (UK)
Waterfront Business Park
Merry Hill, Dudley
West Midlands, DY5 1LX
United Kingdom
Telephone:+44 (0) 1384 842 211
Facsimile: +44 (0) 1384 843 355
Asia (HK)
1.89"
(48)
4.13"
(105)
47.25"
(1200 )
14/F, Lu Plaza
2 Wing Yip Street
Kwun Tong, Kowloon
Hong Kong
Telephone:+852 2176 3333
Facsimile: +852 2176 3888
For global contact, visit:
www.Emerson.com/EmbeddedPower
techsupport.embeddedpower
@emerson.com
1.30"
(33)
While every precaution has been taken to ensure
accuracy and completeness in this literature, Emerson
Network Power assumes no responsibility, and disclaims
all liability for damages resulting from use of this
information or for any errors or omissions.
AC INLET
MODEL LABEL
Emerson Network Power.
The global leader in enabling
business-critical continuity.
AC Power
Connectivity
DC Power
Embedded Computing
Notes:
Embedded Power
1.Specifications subject to change without notice.
Monitoring
2.All dimensions in inches (mm), tolerance is ± 0.02" (±0.5mm)
3.Warranty: 2 year
4.Weight: 0.61 lb./ 0.28 kg
5.AC input power cord sold separately
6.Specifications at factory settings at 115VAC input,
25 °C unless otherwise stated
7.AC Input Connector: IEC320, C13
Outside Plant
Power Switching & Controls
Precision Cooling
Racks & Integrated Cabinets
Services
Surge Protection
EmersonNetworkPower.com
Emerson Network Power and the Emerson
Network Power logo are trademarks and
service marks of Emerson Electric Co. ©2011 Emerson Electric Co.