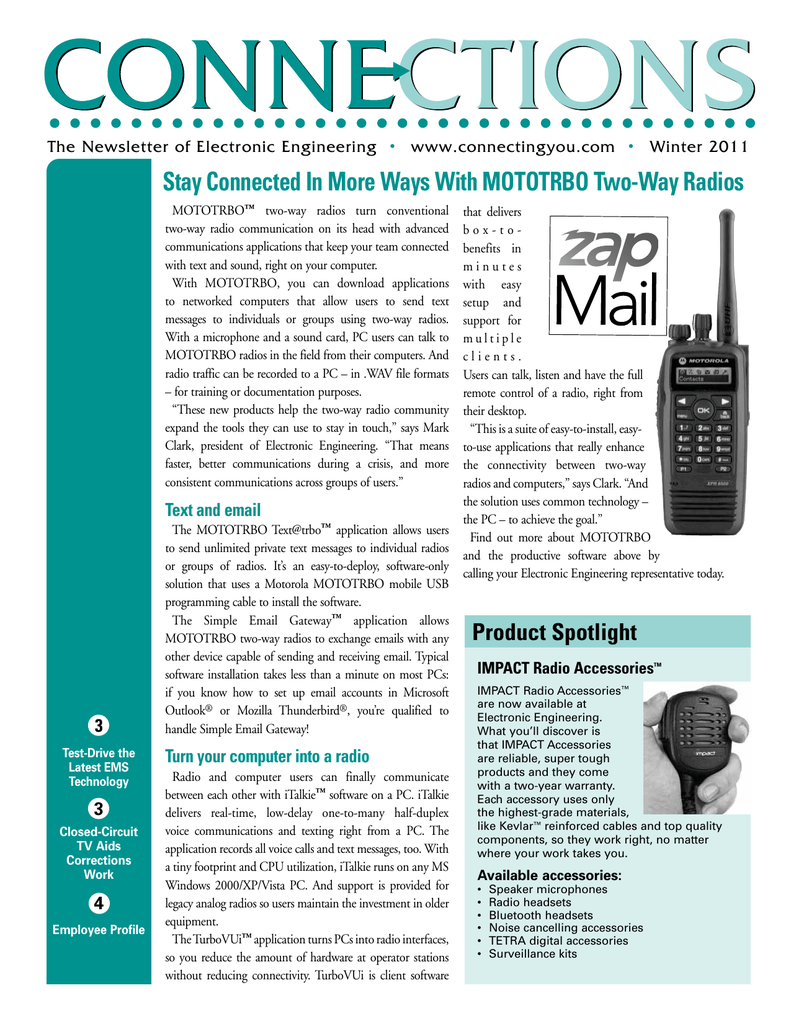 The Newsletter of Electronic Engineering
• www.connectingyou.com • Winter 2011
Stay Connected In More Ways With MOTOTRBO Two-Way Radios
MOTOTRBO™ two-way radios turn conventional
two-way radio communication on its head with advanced
communications applications that keep your team connected
with text and sound, right on your computer.
With MOTOTRBO, you can download applications
to networked computers that allow users to send text
messages to individuals or groups using two-way radios.
With a microphone and a sound card, PC users can talk to
MOTOTRBO radios in the field from their computers. And
radio traffic can be recorded to a PC – in .WAV file formats
– for training or documentation purposes.
"These new products help the two-way radio community
expand the tools they can use to stay in touch," says Mark
Clark, president of Electronic Engineering. "That means
faster, better communications during a crisis, and more
consistent communications across groups of users."
Text and email
3
Test-Drive the
Latest EMS
Technology
3
Closed-Circuit
TV Aids
Corrections
Work
4
Employee Profile
The MOTOTRBO [email protected]™ application allows users
to send unlimited private text messages to individual radios
or groups of radios. It's an easy-to-deploy, software-only
solution that uses a Motorola MOTOTRBO mobile USB
programming cable to install the software.
The Simple Email Gateway™ application allows
MOTOTRBO two-way radios to exchange emails with any
other device capable of sending and receiving email. Typical
software installation takes less than a minute on most PCs:
if you know how to set up email accounts in Microsoft
Outlook® or Mozilla Thunderbird®, you're qualified to
handle Simple Email Gateway!
Turn your computer into a radio
Radio and computer users can finally communicate
between each other with iTalkie™ software on a PC. iTalkie
delivers real-time, low-delay one-to-many half-duplex
voice communications and texting right from a PC. The
application records all voice calls and text messages, too. With
a tiny footprint and CPU utilization, iTalkie runs on any MS
Windows 2000/XP/Vista PC. And support is provided for
legacy analog radios so users maintain the investment in older
equipment.
The TurboVUi™ application turns PCs into radio interfaces,
so you reduce the amount of hardware at operator stations
without reducing connectivity. TurboVUi is client software
that delivers
box-tobenefits in
minutes
with easy
setup and
support for
multiple
clients.
Users can talk, listen and have the full
remote control of a radio, right from
their desktop.
"This is a suite of easy-to-install, easyto-use applications that really enhance
the connectivity between two-way
radios and computers," says Clark. "And
the solution uses common technology –
the PC – to achieve the goal."
Find out more about MOTOTRBO
and the productive software above by
calling your Electronic Engineering representative today.
Product Spotlight
IMPACT Radio Accessories™
IMPACT Radio Accessories™
are now available at
Electronic Engineering.
What you'll discover is
that IMPACT Accessories
are reliable, super tough
products and they come
with a two-year warranty.
Each accessory uses only
the highest-grade materials,
like Kevlar™ reinforced cables and top quality
components, so they work right, no matter
where your work takes you.
Available accessories:
•
•
•
•
•
•
Speaker microphones
Radio headsets
Bluetooth headsets
Noise cancelling accessories
TETRA digital accessories
Surveillance kits
A Letter From
The President
I'm certainly glad to see 2010 in the history
books. I looked back on the last words I wrote
for our 2009 newsletter, and the issues we
were talking about then – all seem to still be
around today.
Today the market is up, and many retirement
accounts have regained much of the value
lost during 2009 and 2010. Yet, the gloom
and pessimism still surround many of the
conversations that I listen to. What appears
to be different? What is not working? For me, it is simply
about attitude. How we feel and how we think.
Do I feel confident? No, and I might not be acting or
making decisions with a high degree of confidence. Are we
timid about courses of action and implementing concrete
plans for the future? Maybe we are waiting for the "other
shoe to drop" in the next cycle of ups and downs in the
economy. What is interesting is that I believe there are
many good opportunities out there, but not wanting to
take any risk, we might let them pass by.
I struggle with the current credit system that we work
under right now. I know that if it was better, we would be
investing and updating technologies, vehicles, replacing
older equipment, and installing new equipment in an
attempt to wring out efficiencies, save energy and fuel. We
are down to bare bones in people, yet hesitant to increase
the work force. Unfortunately access to capital, though at a
historical low rate of interest, is not readily available.
To get businesses going, I think we simply need capital.
Just "show us the money (capital)." Let us update, plan,
and lay foundations for the growth that is struggling to
occur. Get the government regulators off the backs of
the banking institutions, let them again lend money, and
we can get the business rolling. Then we have to make a
commitment, that "no matter what" it all gets paid back.
Period. If the banks are going to take a chance on us, we
need to make good on it, all of it. Once we regain the
entrepreneurial spirit, we will all become confident again
and the economy can recover.
Thanks for listening and we will talk to you next quarter.
Mark Clark
FCC Mandates Radio
Users Licensing Changes
Most current radio users and systems use 25
kHz-wide channels. The Federal Communications
Commission (FCC) has mandated that all licensees
using 25 kHz radio systems migrate to narrowband
12.5 kHz channels by December 31, 2012.
This mandate is designed to allow for twice
as many radio frequencies. Failure to make this
change will result in the loss of your FCC license.
This change will need to be accomplished
sometime over the next two years, waiting until
Dec. 2012 is not in anyone's best interest. Electronic
Engineering will help with license modifications,
reprogramming and migration paths that make
the transition relatively easy.
Virtually all of the radios Electronic Engineering
sold to its customers over the last ten years are
capable of being reprogrammed to accommodate
this 12.5 kHz mandate.
Watch for more information in this newsletter
regarding your options and information on this
federal mandate.
Electronic Engineering Locations
2
Des Moines
(515) 283-1100 Ames (515) 232-5385
Cedar Rapids
(319) 364-1900
Davenport
(563) 322-0981
Fort Dodge
(515) 576-2411
1100 Keosauqua Way
(800) 343-3998
2220 E. Lincoln Way
(800) 343-7718
1900 6th Street S.W.
(800) 762-0795
5107 B Tremont Ave.
(800) 322-0981
2411 5th Avenue S.
(800) 343-3405
Mason City
(641) 423-6818
Mt. Pleasant
(319) 385-7650
Omaha
(402) 346-5123
Sioux City
(712) 258-5234
Waterloo (319) 235-5556 608 S. Delaware
(800) 343-2688
126 N. Main Street
(800) 458-2355
13704 P Street
(800) 315-3579
500 W. 20th Street
(800) 243-3756
750 Ansborough
(800) 365-9702
Test-Drive the Latest EMS Technology
When your office is on four wheels and
you spend eight hours a day patrolling your
community, you need the right equipment
installed the right way.
To make sure our customers can experience
the latest in EMS technology and can test-drive
the equipment in action, we've got a fully loaded
Dodge Charger patrol car. That way you can get
a hands-on experience with the equipment to
see how it would help you on the job.
Additionally, you can get a hands-on look at
the premier installation process we provide at
each of our service centers. Quite simply, our
installers pay such meticulous attention
to detail that you won't be
able to tell the difference
between our installation
and what the vehicle
manufacturer did.
Schedule your
on-site demo
today by calling
(800) 343-3998.
Key equipment in the EMS+One car:
• The Motorola APX7500 radio dual band
Vhf/700-800Mhz is a dual band radio for
interoperability so all agencies are able to
communicate
• The Federal Signal Smart Siren Platinum so
the user can easily control the light and sirens
• The Maximizer – trunk storage solution
• Troy Products command console solutions
• All new LED technology
Closed-Circuit TV Aids Corrections Work
When closed-circuit TV cameras were installed
at H.O.P.E. House, employees at the Coralville
community-based corrections facility were
apprehensive. Sure, they had requested the system to
reduce vandalism to cars in the parking lot, but they
weren't ready for "big brother" to watch them every
minute.
"Initially, our staff had their concerns about being
monitored all the time, but time and time again,
it's come to their aid," says Sam Black, residential
supervisor at H.O.P.E. House.
H.O.P.E. (which stands for honesty, opportunity,
prosperity and employment) is one of 22 communitybased correction facilities in the state of Iowa. It
houses 58 residents who are on a pre-probation or
pre-parole release program involving several months of
behavior modification, privilege-based programming
before being released into the community, either on
probation or parole.
The facility is staffed 24 hours a day, but the staff relies
on Speco cameras, two Clinton DVRs and microphones
to help monitor the actions of residents undergoing
substance
abuse
education, mental
health education,
domestic
v i o l e n c e
treatment
and cognitive
behavioral
treatment.
"We've had
the system for
two and a half
years, and it's been
valuable in clarifying
the agency's responsibility
in several incidents, such as
when a staff member has been
accused of impropriety, theft or
unprofessional conduct," explains Black. "And it's
helped us train our staff, too. We're in an adversarial
relationship with the residents, and they'll try to
Continued on page 4.
3
Electronic Engineering
Employee Profile
Name: Paul Boyken
EE location: Mason City
Job title: Service Technician
Job history: I have been with
Electronic Engineering since August
1994.
My first "real" job: Mowing and
harvesting sod for Central Turf Farms.
It was very hard and dirty work.
Recent
accomplishments:
I recently finished a complete bathroom remodeling in
my home.
The toughest part of my job: Learning and
keeping up with all the new technology advancements in
our field.
Outside interests: I enjoy hunting, reading, watching
movies and spending time with friends and family.
About my family: Wife (Denise) and two step kids,
Dillan (19) and Devan (16) two dogs and one cat.
Something about me not everyone knows: My
family and I raise and sell Labrador puppies every year.
Someone I admire: My father because he taught me a
good work ethic and how to be a good person.
Favorite vacation spot: Anywhere warm, preferably
by the ocean.
4
If I had a different job: I like computers so maybe
something in the I.T. field
Words you live by: If you are going to do something,
do it right.
Closed-circuit TV aids
corrections work (continued)
distract us or otherwise take advantage of a situation to
do something they shouldn't be doing, and the video
evidence helps us see exactly what happened so we can
learn from a situation."
H.O.P.E. House and the Iowa Department of Corrections
worked with Electronic Engineering to create the right
systems for the facility's unique needs.
"Electronic Engineering has been exceptional to work
with," says Black. "Eric Barker has been a great on-theground guy, installing, maintaining and troubleshooting
the system. And Heidi Hromidko has done an exceptional
job with administration and project oversight for us."
Can You Guess the Year?
• CNN begins broadcasting.
• The U.S. Air Force reveals it has a stealth
plane.
• Hewlett-Packard releases its first personal
computer.
Do you know the year? E-mail your answer
to [email protected] Every correct
entry received by February 28th will be placed
in a drawing for a chance to win a $100 gift
certificate from Electronic Engineering.
Last quarter's winner:
Christina Welker, Mt. Pleasant
Christina correctly guessed the year – 1939.
Save Money With Our Private
Line of Two-Way Radio Batteries!
We know how much you depend on your two-way radios to stay in constant
communication with your team. That is why we offer you a quality alternative to
genuine OEM Motorola two-way radio batteries. Our private line will deliver the
durability and workmanship you've come to expect from Motorola batteries, and it
helps you save money.
Stop by and save some cash today, without sacrificing quality.
•
•
•
•
01/11
Value priced as low as $40!
Rated 2nd behind genuine OEM Motorola batteries
Six popular models available
12-month warranty
www.connectingyou.com
Electronic Engineering. Home of The Beeper People, The Cellular Store and Two-Way Connect.