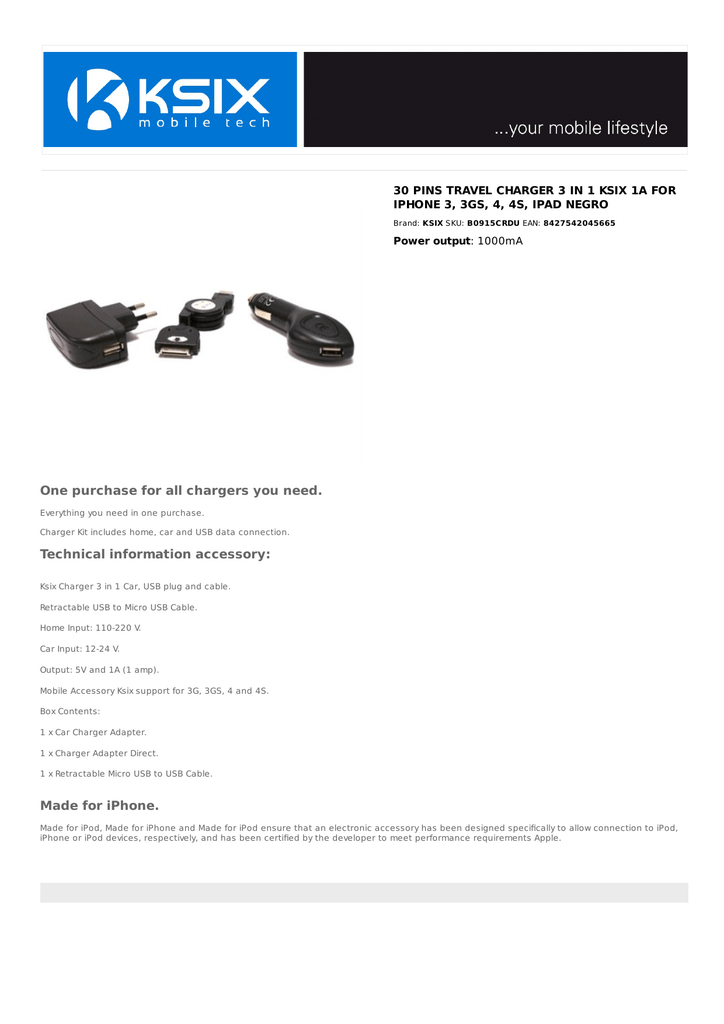 30 PINS TRAVEL CHARGER 3 IN 1 KSIX 1A FOR
IPHONE 3, 3GS, 4, 4S, IPAD NEGRO
Brand: KSIX SKU: B0915CRDU EAN: 8427542045665
Power output: 1000mA
One purchase for all chargers you need.
Everything you need in one purchase.
Charger Kit includes home, car and USB data connection.
Technical information accessory:
Ksix Charger 3 in 1 Car, USB plug and cable.
Retractable USB to Micro USB Cable.
Home Input: 110-220 V.
Car Input: 12-24 V.
Output: 5V and 1A (1 amp).
Mobile Accessory Ksix support for 3G, 3GS, 4 and 4S.
Box Contents:
1 x Car Charger Adapter.
1 x Charger Adapter Direct.
1 x Retractable Micro USB to USB Cable.
Made for iPhone.
Made for iPod, Made for iPhone and Made for iPod ensure that an electronic accessory has been designed specifically to allow connection to iPod,
iPhone or iPod devices, respectively, and has been certified by the developer to meet performance requirements Apple.