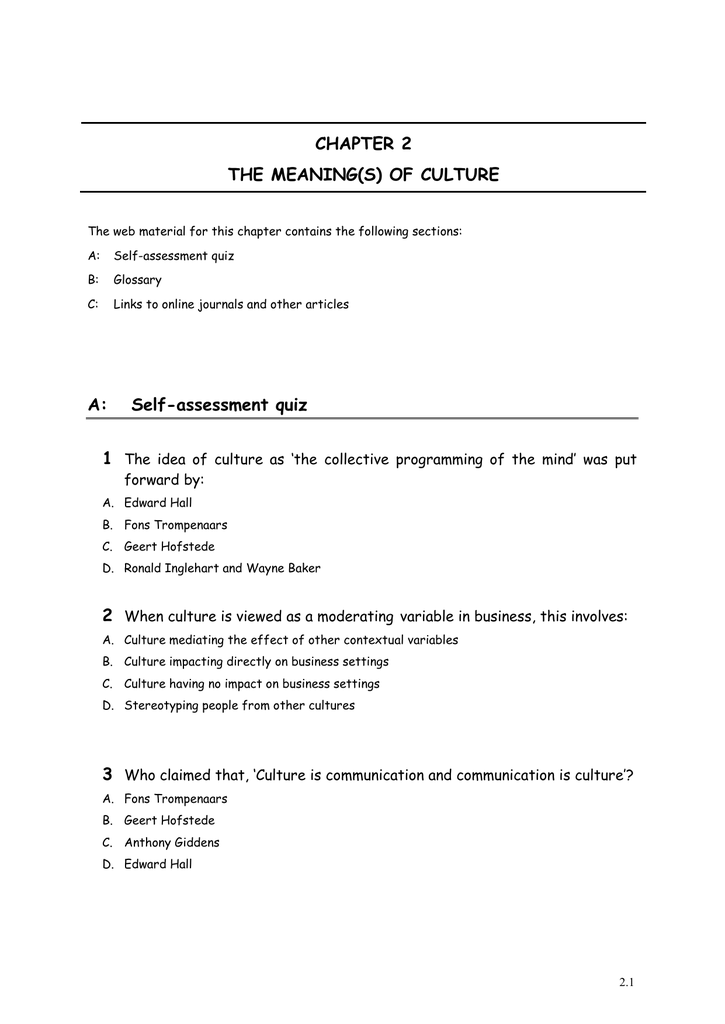 CHAPTER 2
THE MEANING(S) OF CULTURE
The web material for this chapter contains the following sections:
A:
Self-assessment quiz
B:
Glossary
C:
Links to online journals and other articles
A:
Self-assessment quiz
1 The idea of culture as 'the collective programming of the mind' was put
forward by:
A. Edward Hall
B. Fons Trompenaars
C. Geert Hofstede
D. Ronald Inglehart and Wayne Baker
2 When culture is viewed as a moderating variable in business, this involves:
A. Culture mediating the effect of other contextual variables
B. Culture impacting directly on business settings
C. Culture having no impact on business settings
D. Stereotyping people from other cultures
3 Who claimed that, 'Culture is communication and communication is culture'?
A. Fons Trompenaars
B. Geert Hofstede
C. Anthony Giddens
D. Edward Hall
2.1
4 Which of the following is not a positive aspect of the term 'stereotype'?
A. Stereotypes can form a template of how another person might behave.
B. Stereotypes can lead to statistical statements about a group.
C. Stereotypes can be used to predict an individual's behaviour.
D. Stereotypes can be validated through research.
5 Which of the following is an example of a cultural artefact?
A. Masking facial expression
B. Lying to protect a friend
C. The colour of post boxes
D. Belief in gender equality
B. Glossary
Culture – values, knowledge, language and material objects transmitted from one generation
to another within a society or group.
Structuration – the notion that human behaviour takes place within pre-existing social
structures that can constrain action, while the actions of individuals can in turn generate shifts
in structures, leading to social change.
Subcultures – unique patterns of values held by a sub-group within a wider group, such as
a society or work organisation, which are not necessarily inconsistent with the wider group's
dominant values.
Demographics – background variables, such as age, gender, socio-economic group and
culture, which shape a person's identity.
C. Weblinks
Disclaimer
You may access other websites via the hypertext links provided. You use such links and other
websites entirely at your own risk. Such websites are provided by independent third parties and
CIPD accepts no responsibility for the availability, content or use of such websites or
information contained on them.
http://geert-hofstede.com/
This website provides insights into research by Professor Hofstede and his colleagues on
national and organisational culture.
Professor Hofstede quite reasonably is loath to answer questions on his work that can be found
by reading his academic work.