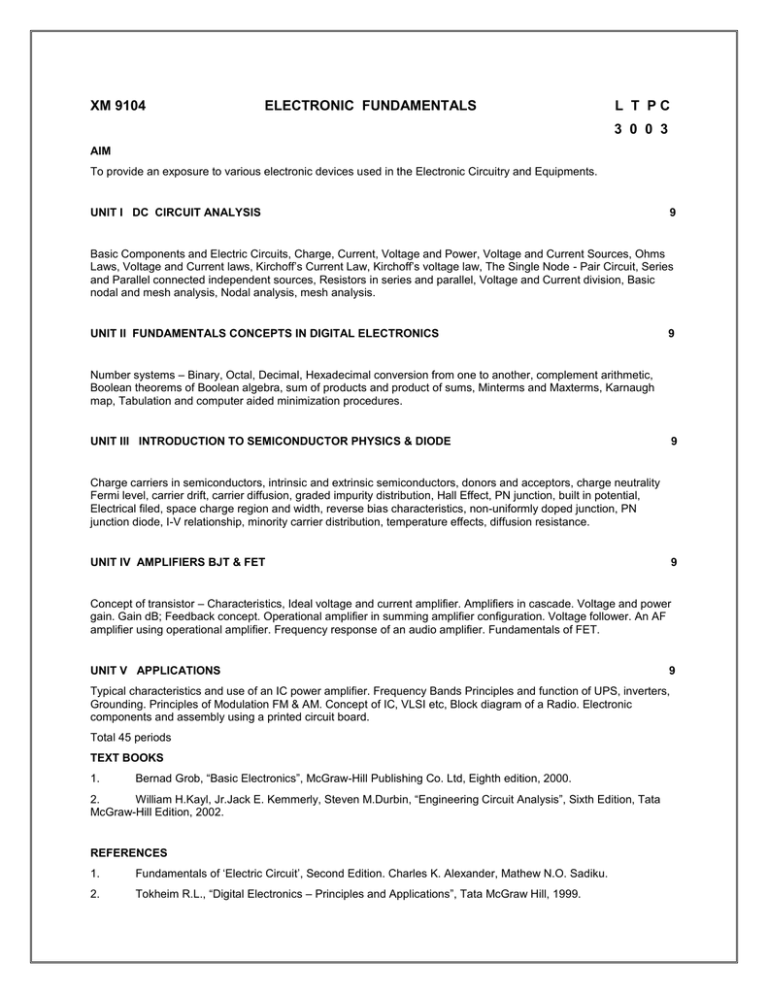 XM 9104
ELECTRONIC FUNDAMENTALS
L T PC
3 0 0 3
AIM
To provide an exposure to various electronic devices used in the Electronic Circuitry and Equipments.
UNIT I DC CIRCUIT ANALYSIS
9
Basic Components and Electric Circuits, Charge, Current, Voltage and Power, Voltage and Current Sources, Ohms
Laws, Voltage and Current laws, Kirchoff"s Current Law, Kirchoff"s voltage law, The Single Node - Pair Circuit, Series
and Parallel connected independent sources, Resistors in series and parallel, Voltage and Current division, Basic
nodal and mesh analysis, Nodal analysis, mesh analysis.
UNIT II FUNDAMENTALS CONCEPTS IN DIGITAL ELECTRONICS
9
Number systems – Binary, Octal, Decimal, Hexadecimal conversion from one to another, complement arithmetic,
Boolean theorems of Boolean algebra, sum of products and product of sums, Minterms and Maxterms, Karnaugh
map, Tabulation and computer aided minimization procedures.
UNIT III INTRODUCTION TO SEMICONDUCTOR PHYSICS & DIODE
9
Charge carriers in semiconductors, intrinsic and extrinsic semiconductors, donors and acceptors, charge neutrality
Fermi level, carrier drift, carrier diffusion, graded impurity distribution, Hall Effect, PN junction, built in potential,
Electrical filed, space charge region and width, reverse bias characteristics, non-uniformly doped junction, PN
junction diode, I-V relationship, minority carrier distribution, temperature effects, diffusion resistance.
UNIT IV AMPLIFIERS BJT & FET
9
Concept of transistor – Characteristics, Ideal voltage and current amplifier. Amplifiers in cascade. Voltage and power
gain. Gain dB; Feedback concept. Operational amplifier in summing amplifier configuration. Voltage follower. An AF
amplifier using operational amplifier. Frequency response of an audio amplifier. Fundamentals of FET.
UNIT V APPLICATIONS
9
Typical characteristics and use of an IC power amplifier. Frequency Bands Principles and function of UPS, inverters,
Grounding. Principles of Modulation FM & AM. Concept of IC, VLSI etc, Block diagram of a Radio. Electronic
components and assembly using a printed circuit board.
Total 45 periods
TEXT BOOKS
1.
Bernad Grob, "Basic Electronics", McGraw-Hill Publishing Co. Ltd, Eighth edition, 2000.
2.
William H.Kayl, Jr.Jack E. Kemmerly, Steven M.Durbin, "Engineering Circuit Analysis", Sixth Edition, Tata
McGraw-Hill Edition, 2002.
REFERENCES
1.
Fundamentals of "Electric Circuit", Second Edition. Charles K. Alexander, Mathew N.O. Sadiku.
2.
Tokheim R.L., "Digital Electronics – Principles and Applications", Tata McGraw Hill, 1999.