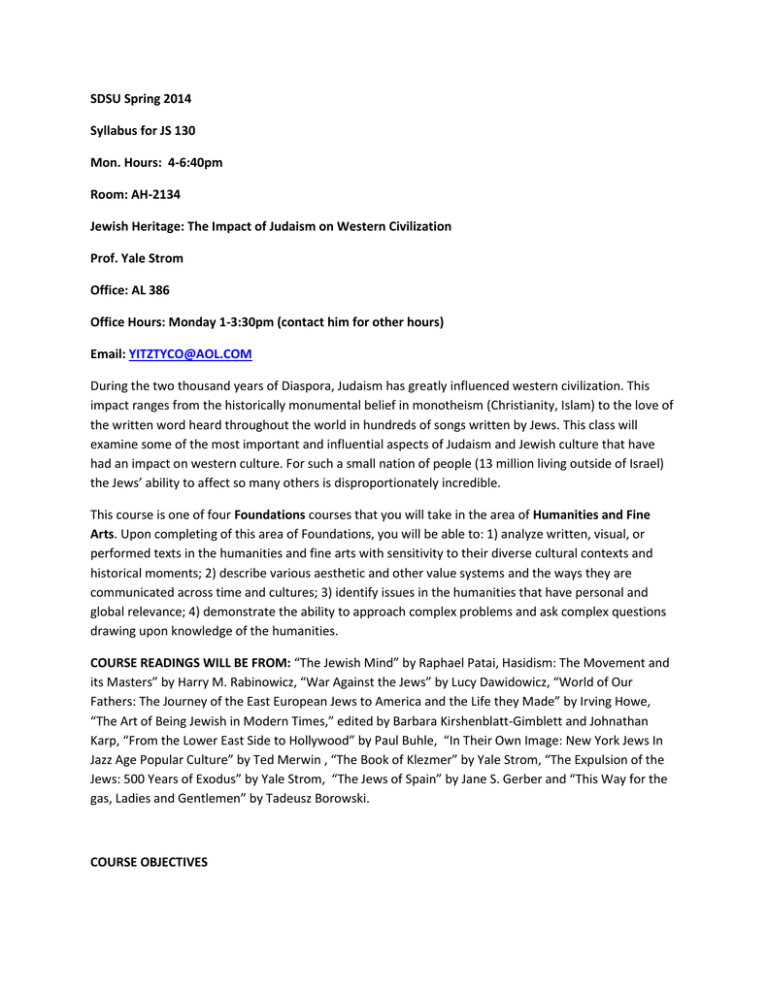 SDSU Spring 2014
Syllabus for JS 130
Mon. Hours: 4-6:40pm
Room: AH-2134
Jewish Heritage: The Impact of Judaism on Western Civilization
Prof. Yale Strom
Office: AL 386
Office Hours: Monday 1-3:30pm (contact him for other hours)
Email: [email protected]
During the two thousand years of Diaspora, Judaism has greatly influenced western civilization. This
impact ranges from the historically monumental belief in monotheism (Christianity, Islam) to the love of
the written word heard throughout the world in hundreds of songs written by Jews. This class will
examine some of the most important and influential aspects of Judaism and Jewish culture that have
had an impact on western culture. For such a small nation of people (13 million living outside of Israel)
the Jews' ability to affect so many others is disproportionately incredible.
This course is one of four Foundations courses that you will take in the area of Humanities and Fine
Arts. Upon completing of this area of Foundations, you will be able to: 1) analyze written, visual, or
performed texts in the humanities and fine arts with sensitivity to their diverse cultural contexts and
historical moments; 2) describe various aesthetic and other value systems and the ways they are
communicated across time and cultures; 3) identify issues in the humanities that have personal and
global relevance; 4) demonstrate the ability to approach complex problems and ask complex questions
drawing upon knowledge of the humanities.
COURSE READINGS WILL BE FROM: "The Jewish Mind" by Raphael Patai, Hasidism: The Movement and
its Masters" by Harry M. Rabinowicz, "War Against the Jews" by Lucy Dawidowicz, "World of Our
Fathers: The Journey of the East European Jews to America and the Life they Made" by Irving Howe,
"The Art of Being Jewish in Modern Times," edited by Barbara Kirshenblatt-Gimblett and Johnathan
Karp, "From the Lower East Side to Hollywood" by Paul Buhle, "In Their Own Image: New York Jews In
Jazz Age Popular Culture" by Ted Merwin , "The Book of Klezmer" by Yale Strom, "The Expulsion of the
Jews: 500 Years of Exodus" by Yale Strom, "The Jews of Spain" by Jane S. Gerber and "This Way for the
gas, Ladies and Gentlemen" by Tadeusz Borowski.
COURSE OBJECTIVES
1. To develop intellectual skills of reading, analyzing and discussing key facts about Jewish history
and culture that have had major influences on many aspects of Western culture and history.
2. To introduce students to a variety of learning processes—inductive and deductive-- and to assist
students in developing facility in using these processes.
3. To introduce students to the mediums of literature, music and film and how all are essential in
helping to decipher some of the key points in the 5000 years of Jewish heritage.
4. To acquaint students with the beliefs, practices and cultural influences of Judaism and how they
coincide or enlighten the students about their own beliefs and cultural history.
5. If you are a student with a disability and believe you will need accommodations for this class, it
is your responsibility to contact Student Disability Services at (619) 594-6473 or 594-6473. To
avoid any delay in the receipt of your accommodations, you should contact Student Disability
Services as soon as possible. Please note that accommodations are not retroactive, and that I
cannot provide accommodations based upon disability until I have received an
accommodation letter from Student Disability Services. Your cooperation is appreciated.
YOUR GRADE
Your final grade will be calculated as follows:
Quizzes
25%
Mid-term Exam
25%
Class Participation
20%
Final Exam
30%
MORE THAN 2 ABSENCES WITHOUT AN EXCUSE OR DISCUSSING IT WITH ME WILL BE AN AUTOMATIC
DECREASE OF A GRADE, FOR EXAMPLE FROM a "B" to a "B -." If a mid-term of final is a day late the
grade will automatically be reduced by half.
CLASSROOM ETIQUETTE
*Turn off your cell phones BEFORE you enter class.
* There is NO TEXTING in class.
*Arrive on time and don't leave early unless absolutely necessary.
*Be respectful of your colleagues and don't get in the way of people who want to learn.
*Resist the temptation to do something other than giving the class your full attention.
*Inform me about any consistently aggravating classroom disruptions.
* Use of laptops ONLY if you are taking notes.
Jan. 27: The Covenant as a Model for Western Governance. (Reading from Patai)
Feb. 3: Israel and Canaan/Jews and Hellenes (Reading from Patai)
Feb. 10: Kabbalah and Its Influence on Western New Age Philosophies. (Reading from Patai)
Feb. 17: Sephardic History and Culture in the Golden Age of Spain. (Readings from Patai and Gerber)
Feb. 24: QUIZ 1 in class. Jewish Dionysians: The Khasidim (Readings from Patai, Rabinowicz)
March 3: Jewish Dionysians: The Khasidim (Readings from Patai, Rabinowicz)
March 5 Extra Credit: Concert in Smith Hall at 7pm "Jews and Jazz" featuring Yale Strom & Hot Pstromi
March 10: The Holocaust (film screening) (Reading the entire book by Borowski)
March 17: The Impact of the Holocaust on the World's View of Genocide (Readings from Borowski , Strom)
(MID-TERM DUE) The mid-term will be an 8 page (this includes the bibliography) double-spaced research
paper that examines one of the topics we have covered already in class but more in depth. Please email the
paper to me in WORD DOCUMENT to my email address.
March 24: QUIZ 2 in class. Jewish Radicalism (The Bund, Socialist Zionism, etc.) and its Influence on the
Development of Socialism in Europe and America and on the Labor Movement (unions) in the United States.
(Reading from Howe)
April 7: The Influence of Jewish Comedians on Television and Film. (Marx Brothers, Milton Berle, Jack Benny, Fanny
Brice, Woody Allen, et al) A film will be screened. (Readings from Buhel and Merwin)
April 14: VETERANS DAY NO CLASS
April 21: The Interplay of Jewish Culture in the Development of Musical Theatre in America (Bernstein, Gershwin,
Hammerstein, Sondheim, et al). (Readings from Buhel, Merwin, Kirchenblatt-Gimblett, Strom)
April 28: The Interplay between Jewish Klezmer Musicians (Ziggy Elman, Nat Farber, Sam Muziker, Dave Tarras
etc.) and Their Swing/Jazz Counterparts and the Influence on American Jazz (Sidney Bechet, Cab Calloway, etc.)
(Reading from Strom)
May 5: Portrait of the Artist as Jew. Jewish artists (Marc Chagall, Maurycy Gottlieb, Amedeo Modigliani, Felix
Nussbaum, Camille Pissaro, Charlotte Salomon, Ben Shahn, Raphael Soyer) and their influence on painting styles
and history. (Reading from Kirshenblatt-Gimblett)
May 12: Quiz 3 in class. FINAL PAPER DUE. The final will be a 10 page (this includes the bibliography)
double-spaced research paper that examines one of the topics we have covered already in class since the
mid-term, but more in depth. Please email the paper to me in WORD DOCUMENT form to my email address.
ALL MID-TERMS AND FINALS SHOULD BE SENT TO ME VIA THE INTERNET. WORD DOC . OR IN THE BODY
OF YOUR EMAIL TO ME.