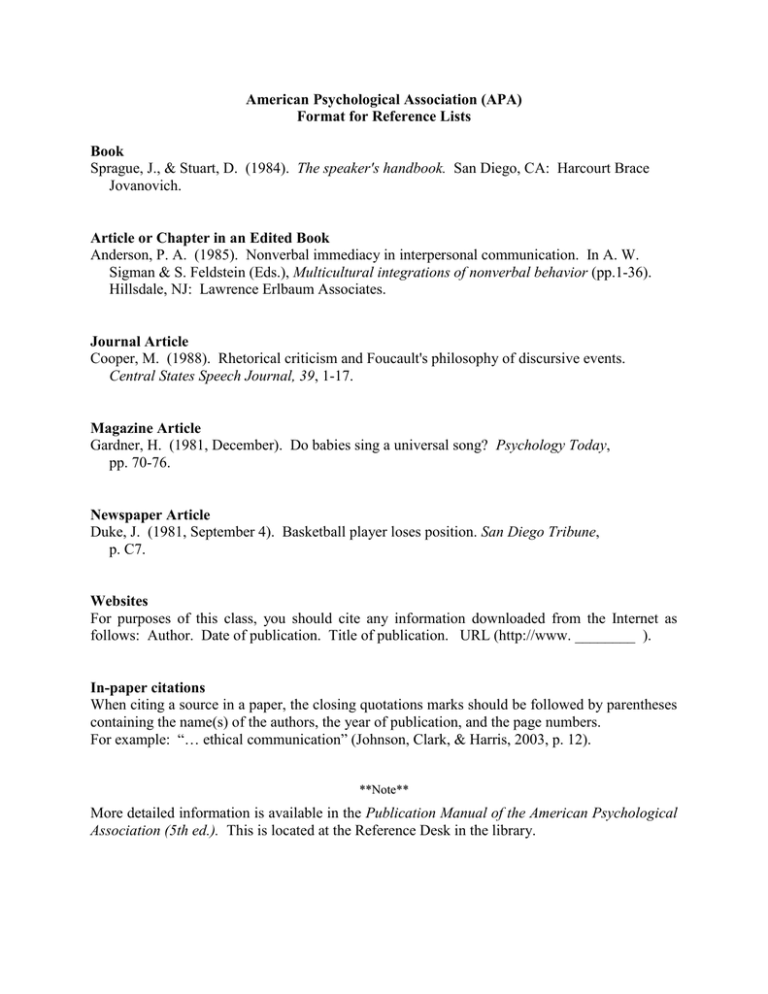 American Psychological Association (APA)
Format for Reference Lists
Book
Sprague, J., & Stuart, D. (1984). The speaker's handbook. San Diego, CA: Harcourt Brace
Jovanovich.
Article or Chapter in an Edited Book
Anderson, P. A. (1985). Nonverbal immediacy in interpersonal communication. In A. W.
Sigman & S. Feldstein (Eds.), Multicultural integrations of nonverbal behavior (pp.1-36).
Hillsdale, NJ: Lawrence Erlbaum Associates.
Journal Article
Cooper, M. (1988). Rhetorical criticism and Foucault's philosophy of discursive events.
Central States Speech Journal, 39, 1-17.
Magazine Article
Gardner, H. (1981, December). Do babies sing a universal song? Psychology Today,
pp. 70-76.
Newspaper Article
Duke, J. (1981, September 4). Basketball player loses position. San Diego Tribune,
p. C7.
Websites
For purposes of this class, you should cite any information downloaded from the Internet as
follows: Author. Date of publication. Title of publication. URL (http://www. ________ ).
In-paper citations
When citing a source in a paper, the closing quotations marks should be followed by parentheses
containing the name(s) of the authors, the year of publication, and the page numbers.
For example: "… ethical communication" (Johnson, Clark, & Harris, 2003, p. 12).
**Note**
More detailed information is available in the Publication Manual of the American Psychological
Association (5th ed.). This is located at the Reference Desk in the library.