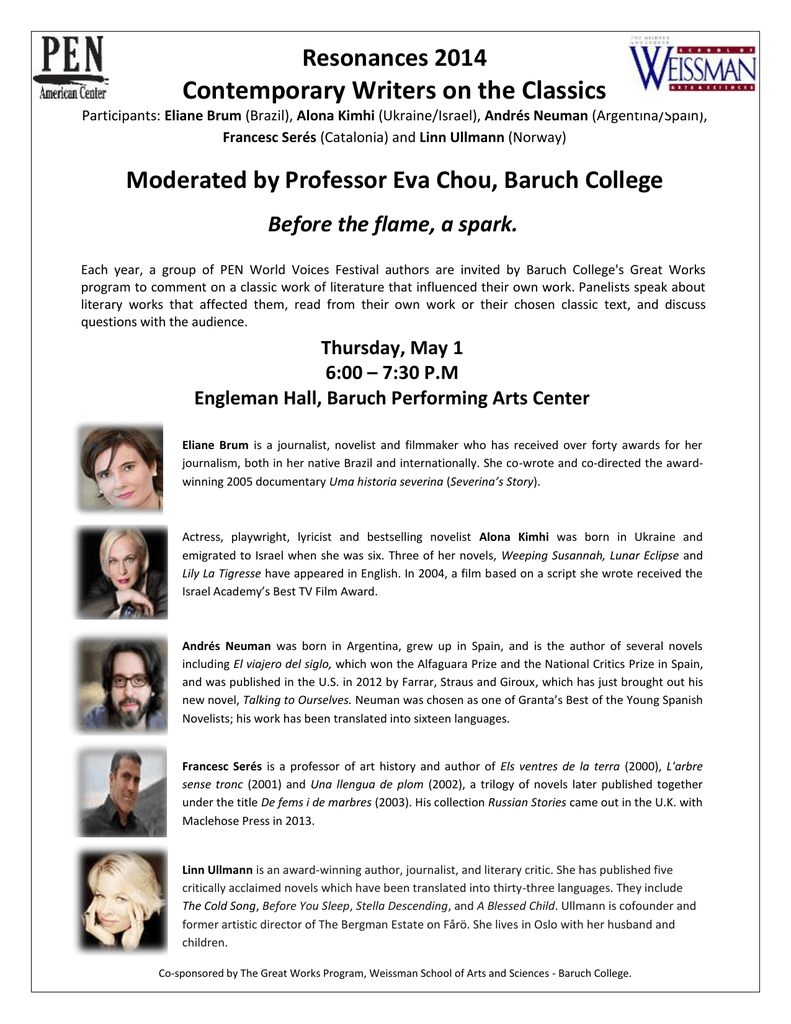 Resonances 2014
Contemporary Writers on the Classics
Participants: Eliane Brum (Brazil), Alona Kimhi (Ukraine/Israel), Andrés Neuman (Argentina/Spain),
Francesc Serés (Catalonia) and Linn Ullmann (Norway)
Moderated by Professor Eva Chou, Baruch College
Before the flame, a spark.
Each year, a group of PEN World Voices Festival authors are invited by Baruch College's Great Works
program to comment on a classic work of literature that influenced their own work. Panelists speak about
literary works that affected them, read from their own work or their chosen classic text, and discuss
questions with the audience.
Thursday, May 1
6:00 – 7:30 P.M
Engleman Hall, Baruch Performing Arts Center
Eliane Brum is a journalist, novelist and filmmaker who has received over forty awards for her
journalism, both in her native Brazil and internationally. She co-wrote and co-directed the awardwinning 2005 documentary Uma historia severina (Severina's Story).
Actress, playwright, lyricist and bestselling novelist Alona Kimhi was born in Ukraine and
emigrated to Israel when she was six. Three of her novels, Weeping Susannah, Lunar Eclipse and
Lily La Tigresse have appeared in English. In 2004, a film based on a script she wrote received the
Israel Academy's Best TV Film Award.
Andrés Neuman was born in Argentina, grew up in Spain, and is the author of several novels
including El viajero del siglo, which won the Alfaguara Prize and the National Critics Prize in Spain,
and was published in the U.S. in 2012 by Farrar, Straus and Giroux, which has just brought out his
new novel, Talking to Ourselves. Neuman was chosen as one of Granta's Best of the Young Spanish
Novelists; his work has been translated into sixteen languages.
Francesc Serés is a professor of art history and author of Els ventres de la terra (2000), L'arbre
sense tronc (2001) and Una llengua de plom (2002), a trilogy of novels later published together
under the title De fems i de marbres (2003). His collection Russian Stories came out in the U.K. with
Maclehose Press in 2013.
Linn Ullmann is an award-winning author, journalist, and literary critic. She has published five
critically acclaimed novels which have been translated into thirty-three languages. They include
The Cold Song, Before You Sleep, Stella Descending, and A Blessed Child. Ullmann is cofounder and
former artistic director of The Bergman Estate on Fårö. She lives in Oslo with her husband and
children.
Co-sponsored by The Great Works Program, Weissman School of Arts and Sciences - Baruch College.