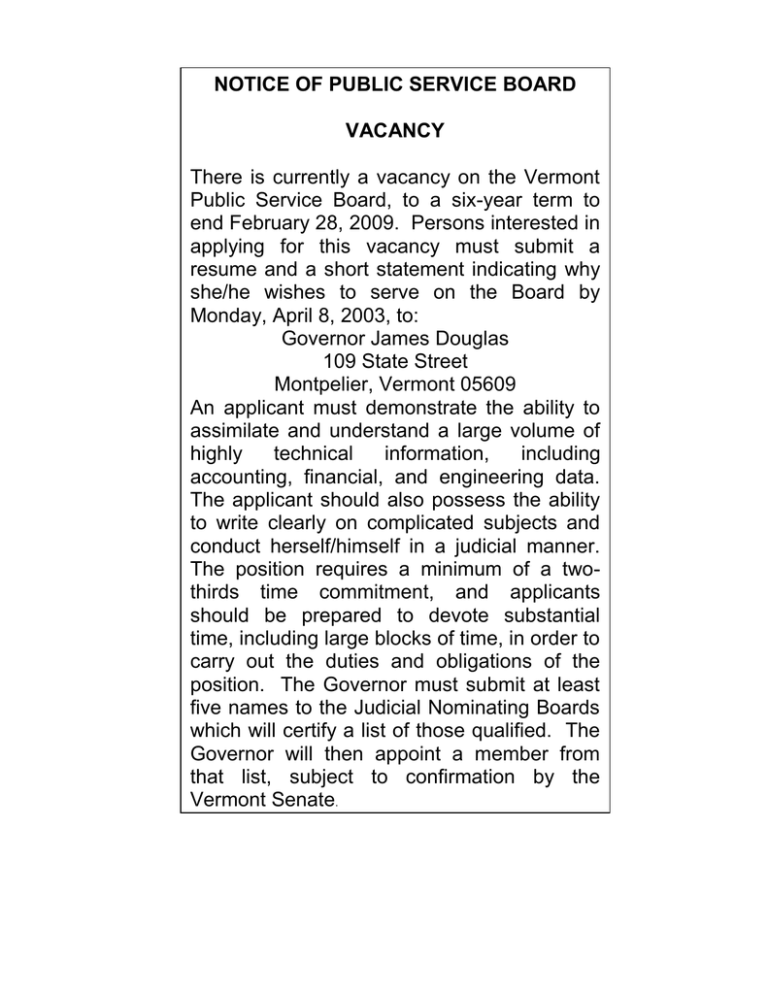 NOTICE OF PUBLIC SERVICE BOARD
VACANCY
There is currently a vacancy on the Vermont
Public Service Board, to a six-year term to
end February 28, 2009. Persons interested in
applying for this vacancy must submit a
resume and a short statement indicating why
she/he wishes to serve on the Board by
Monday, April 8, 2003, to:
Governor James Douglas
109 State Street
Montpelier, Vermont 05609
An applicant must demonstrate the ability to
assimilate and understand a large volume of
highly
technical
information,
including
accounting, financial, and engineering data.
The applicant should also possess the ability
to write clearly on complicated subjects and
conduct herself/himself in a judicial manner.
The position requires a minimum of a twothirds time commitment, and applicants
should be prepared to devote substantial
time, including large blocks of time, in order to
carry out the duties and obligations of the
position. The Governor must submit at least
five names to the Judicial Nominating Boards
which will certify a list of those qualified. The
Governor will then appoint a member from
that list, subject to confirmation by the
Vermont Senate.