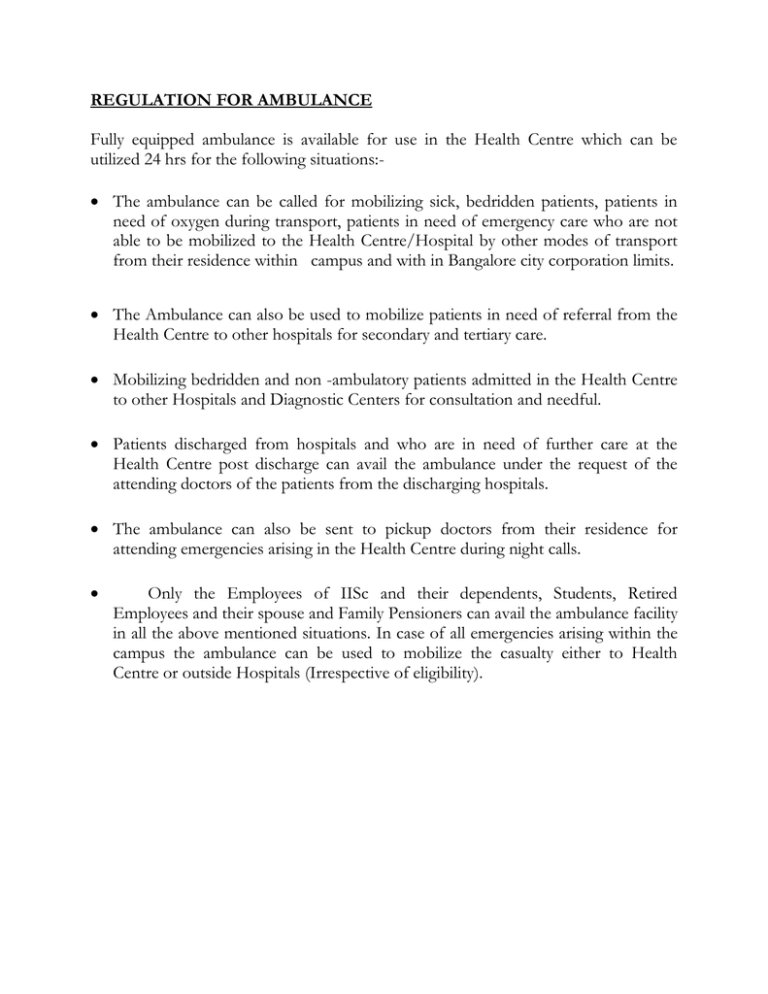 REGULATION FOR AMBULANCE
Fully equipped ambulance is available for use in the Health Centre which can be
utilized 24 hrs for the following situations: The ambulance can be called for mobilizing sick, bedridden patients, patients in
need of oxygen during transport, patients in need of emergency care who are not
able to be mobilized to the Health Centre/Hospital by other modes of transport
from their residence within campus and with in Bangalore city corporation limits.
 The Ambulance can also be used to mobilize patients in need of referral from the
Health Centre to other hospitals for secondary and tertiary care.
 Mobilizing bedridden and non -ambulatory patients admitted in the Health Centre
to other Hospitals and Diagnostic Centers for consultation and needful.
 Patients discharged from hospitals and who are in need of further care at the
Health Centre post discharge can avail the ambulance under the request of the
attending doctors of the patients from the discharging hospitals.
 The ambulance can also be sent to pickup doctors from their residence for
attending emergencies arising in the Health Centre during night calls.

Only the Employees of IISc and their dependents, Students, Retired
Employees and their spouse and Family Pensioners can avail the ambulance facility
in all the above mentioned situations. In case of all emergencies arising within the
campus the ambulance can be used to mobilize the casualty either to Health
Centre or outside Hospitals (Irrespective of eligibility).