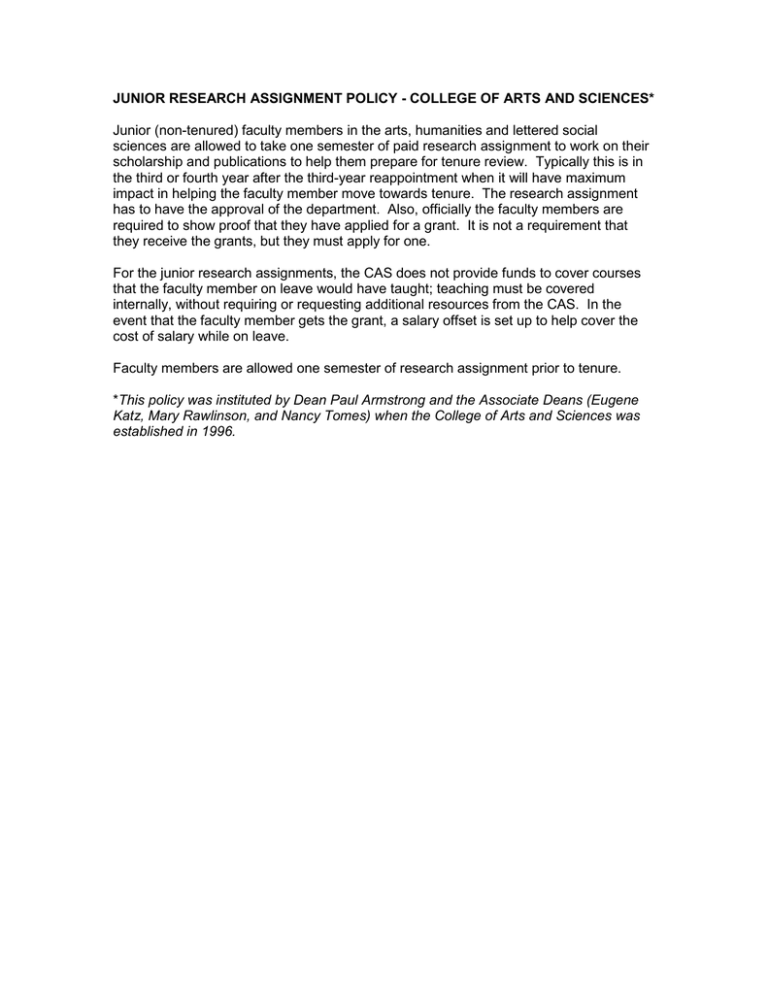 JUNIOR RESEARCH ASSIGNMENT POLICY - COLLEGE OF ARTS AND SCIENCES*
Junior (non-tenured) faculty members in the arts, humanities and lettered social
sciences are allowed to take one semester of paid research assignment to work on their
scholarship and publications to help them prepare for tenure review. Typically this is in
the third or fourth year after the third-year reappointment when it will have maximum
impact in helping the faculty member move towards tenure. The research assignment
has to have the approval of the department. Also, officially the faculty members are
required to show proof that they have applied for a grant. It is not a requirement that
they receive the grants, but they must apply for one.
For the junior research assignments, the CAS does not provide funds to cover courses
that the faculty member on leave would have taught; teaching must be covered
internally, without requiring or requesting additional resources from the CAS. In the
event that the faculty member gets the grant, a salary offset is set up to help cover the
cost of salary while on leave.
Faculty members are allowed one semester of research assignment prior to tenure.
*This policy was instituted by Dean Paul Armstrong and the Associate Deans (Eugene
Katz, Mary Rawlinson, and Nancy Tomes) when the College of Arts and Sciences was
established in 1996.