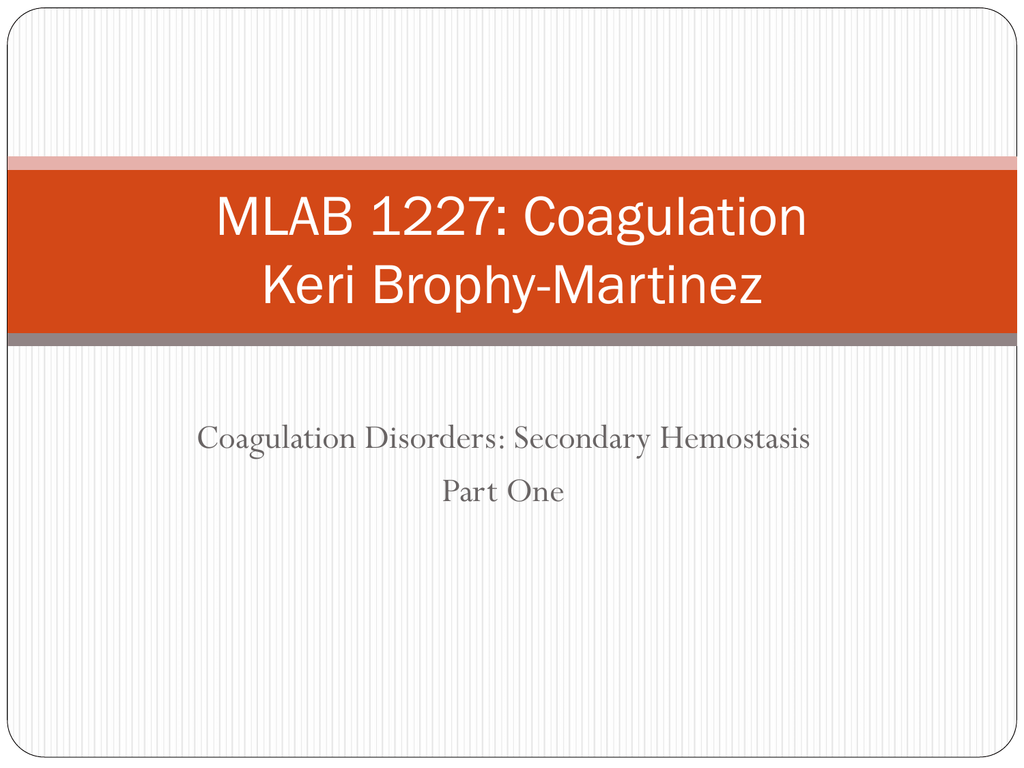 MLAB 1227: Coagulation
Keri Brophy-Martinez
Coagulation Disorders: Secondary Hemostasis
Part One
Disorders of the Proteins of Fibrin
Formation
 Fibrin formation ineffective and slowed so patient
presents with abnormal bleeding
 Two categories
 Inheritance of a defective gene
 Failure of synthesis of a hemostatic protein
 Malfunction or impaired molecule
 Acquired
 Acquisition of a deficiency secondary to another
condition
Terms
 Quantitative: absence of a coagulation protein
 Qualitative: Present in plasma but functionally defective
General Lab Features Lab
 PT prolonged
 aPTT prolonged
 Platelet count normal
Clinical Findings
Coagulation Factor
Disorders
 Bleed from ruptured





arterioles
Deep muscular & joint
bleeding
Delayed bleeding
Ecchymoses
Hematuria
No petechiae
Platelet Disorders
 Bleed from capillaries
 Superficial bleeding
 Acute bleeding
 Ecchymoses
 Hematuria
 Petechiae
Hereditary Disorders of Secondary
Hemostasis
 Involve a single factor
 Bleeding originates from one site
Factor VIII Deficiency
 Von Willebrand's Disease – lack of or defective
VIII:vWF
 Autosomal dominant – seen in both males and females
 Most common inherited blood disorder
 Platelet abnormalities – adhesiveness and aggregation,
bleeding times
Von Willebrand's Disease
Clinical Features
Lab Findings
 Mild bleeding in mucosal &
 PTT normal or increased
cutaneous tissues
 Easy bruising
 Hallmark is variability of
symptoms
 PT normal
 Platelet count normal
 BT/ PFA abnormal
Factor VIII Deficiency
 Hemophilia A – classical hemophilia
 Sex-linked recessive
 carried by female, manifested in the male
 Accounts for 80% of all hemophiliacs
 Deficiency of factor VIII portion of VIII/vWf complex
 Patient has normal circulating vWf
 Abnormal bleeding
 Caused by delayed and inadequate fibrin formation
 Caused by failure to form a stable plug at a damaged site
 Caused by a secondary increase in fibrinolysis
 Failure of TAFI
Factor VIII Therapy
 Replace clotting factors to achieve hemostasis
 DDAVP (desamino-D-vasopressin)
 Stimulates storage cells to release VIII and vWF into plasma.
 Disadvantage is not all patients can take it
Factor IX Deficiency – Hemophilia B,
Christmas Disease
 <20% of all hemophiliacs
 Sex-linked recessive
 No Factor IX function
 Clinically indistinguishable from hemophilia A, so we see the
same disease course
Clinical Findings of Hemophilias
 Bleeding occurs with NO trauma or trivial injury
 Hemarthrosis
 Spontaneous bleeding into joints, causes extreme pain and
destroys cartilage of knees, elbows, ankles
 Deep tissue hemorrhage – internally
 Hematuria
 CNS bleeding
Factor XI Deficiency – Rosenthal's
Disease or Hemophilia C
 <5% of all hemophiliacs
 Autosomal recessive
 Highest incidence in Jewish persons of Russian decent
 Prolonged PTT, normal PT
 Requires therapy only following childbirth or surgery
Lab Features: Comparison
vWD
Factor VIII
Deficiency
Factor IX
Deficiency
Platelet count
Normal
Normal
Normal
Bleeding Time
Normal-increased
Normal
Normal
Platelet Function
Assay
Normal-increased
Normal
Normal
PT
Normal
Normal
Normal
PTT
Normal-increased
Increased
Increased
Factor VIII Assay
Normal-decreased
Decreased
Normal
Factor IX Assay
Normal
Normal
Decreased
vWF: Ag Assay
Decreased
Normal
Normal
Congenital Disorders of the Other
Factors
 The following factors are rarely deficient or defective to the
extent that coagulation is slowed – I, II, V, VII, X, XIII
 Severity of bleeding dependent upon concentration of factor
present
 PK and HMWK disorders do exist but patients do not have
bleeding tendencies.
References
 McKenzie, Shirlyn B., and J. Lynne. Williams. "Chapter
32." Clinical Laboratory Hematology. Boston: Pearson, 2010.
Print.