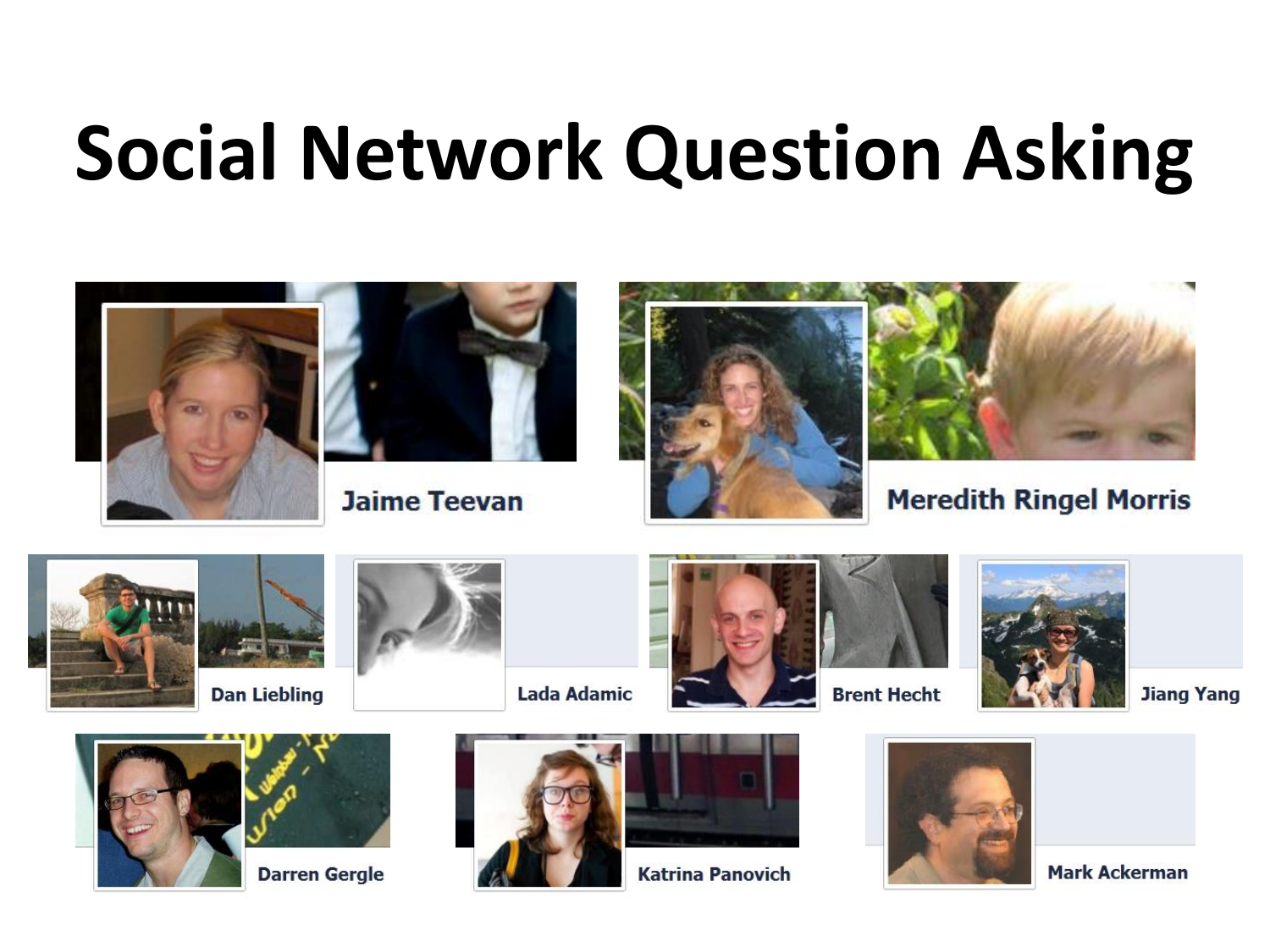 Social Network Question Asking
Sheila Brown Does anyone know if
Keanu Reeves was born in Hawaii?
Mon at 5:23pm ∙ Comment ∙ Like
Method
Tool
Use
Asker
Asked
Speed
Bing, Google,
Baidu
Search
Anon
One
Instant
Community Quora, Yahoo
Q&A
Answers
Search
Anon
Many
Wait
Talk
Known
One
Instant
Search
Anon
One
Instant
Talk
Known
Many
Wait
Search
Directed Face-to-face,
question asking
IM, email
Expert
Aardvark,
identification IM-an-Expert
Social network
question asking
Facebook,
Twitter
any tips for tiling a kitchen
backsplash?
kitchen re-tiling tips
backsplash re-tiling
kitchen remodel DIY
Lauren's going away for a month, anyone
know any good vegetarian recipes?
Anyone know how to stop an in-car nav
system from constantly rebooting???? Ugh
is looking for recommendations
(restaurants and activities) in Cancun
• Benefits of searching
– Immediate answers
– Ability to refine query
– Content "objective and unbiased"
• Benefits of asking
– Social benefits (awareness, connections)
– Highly personalized answers
– Responses not found through search
– Validate search engine findings
Topic
%
Example
Technology
29%
Anyone know if WOW works on Windows 7?
Entertainment
17%
Was seeing Up in the theater worth the money?
Home & Family
12%
So what's the going rate for the tooth fairy?
Professional
11%
Which university is better for Masters? CMU or MIT?
Places
8%
Planning trip to Whistler... What sites to see?
Restaurants
6%
Hanging in Ballard tonight. Dinner recs?
Current events
5%
What is your opinion on the recent CA proposition?
Shopping
5%
What's a good Mother's Day gift?
Philosophy
2%
What would you do if you had a week to live?
Type
%
Example
Recommend
29%
Building a playlist –ideas for good running songs?
Opinion
22%
Wondering if I should buy the Kitchen-Aid ice maker?
Factual
17%
Anyone know a way to put Excel charts into LaTeX?
Rhetorical
14%
Why are men so stupid?
Invitation
9%
Who wants to go to Navya Lounge this evening?
Favor
4%
Need a babysitter in a big way tonight… anyone??
Connection
3%
My team's hiring. Know anyone who'd be interested?
Offer
1%
Could any of my friends use boys size 4 jeans?
Type
Topic
Recommend
Technology
Opinion
Entertainment
Factual
Home & Family
Rhetorical
Professional
Invitation
Places
Favor
Restaurants
Connection
Current events
Offer
Shopping
Philosophy
Should I watch E.T.?
Does anyone think I
Should
I
watch
E.T.?
should watch E.T.?
Should I watch E.T.?
Does anyone think I
Should
I watch E.T.?
should watch E.T.?
Mary Ko Taking it easy. I wonder
Doesif anyone thinks I
should watch E.T.?
Tue at 9:19am ∙ Comment ∙ Like
Sarah Ripley Definitely E.T. (as long as it's not the
"Entertainment Tonight" one :P )
Tue at 11:09am ∙ Like
Stanley Conner as long as it's not the "special
edition" where Spielberg digitally replaced all the
guns with walkie talkies.
Tue at 11:45am ∙ Like
Matt Brooks aahhhhoooouuuch. *grin* (I just like
saying that)
Tue at 1:16pm ∙ Like
Write a comment…
M. R. Morris, J. Teevan, and K. Panovich. What Do People Ask Their Social Networks,
and Why? A Survey Study of Status Message Q&A Behavior. CHI 2010.
J. Yang, M. R. Morris, J. Teevan, L. Adamic, and M. Ackerman. Culture Matters: A
Survey Study of Social Q&A Behavior. ICWSM 2011.
J. Teevan, M. R. Morris, and K. Panovich. Factors Affecting Response Quantity,
Quality and Speed in Questions Asked via Online Social Networks. ICWSM 2011.
M. R. Morris, J. Teevan, and K. Panovich. A Comparison of Information Seeking
Using Search Engines and Social Networks. ICWSM 2011.
B. Hecht, J. Teevan, M. R. Morris, and D. L. Liebling. SearchBuddies: Brining Search
Engines into the Conversation. ICSWM 2012.