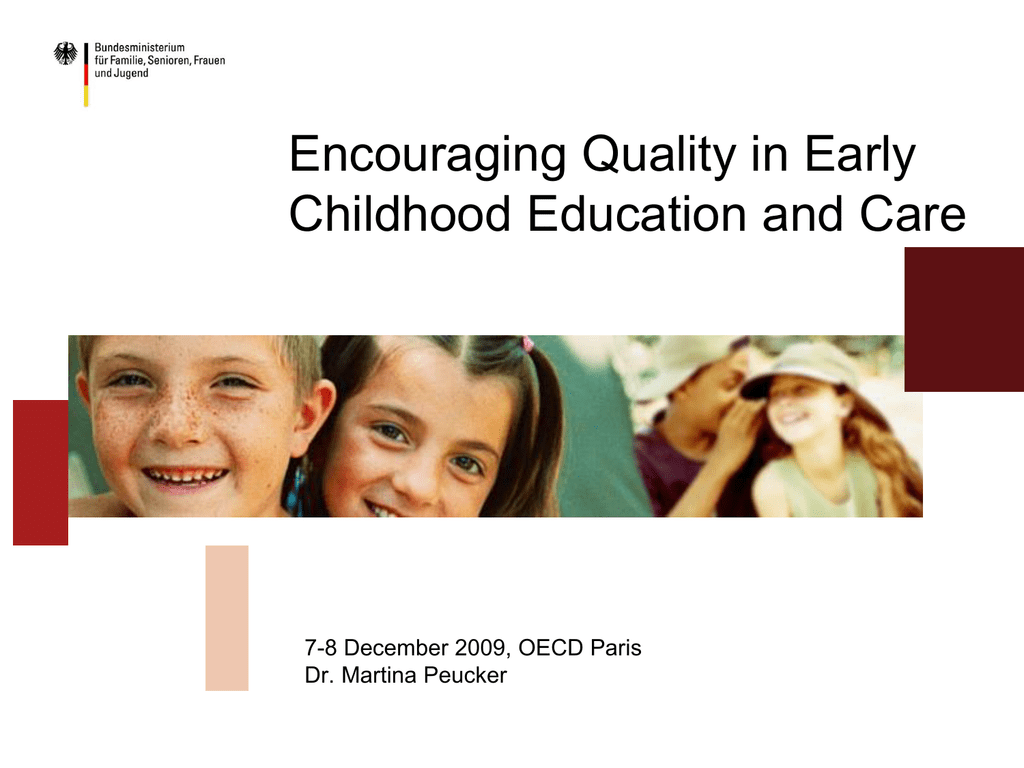 Encouraging Quality in Early
Childhood Education and Care
7-8 December 2009, OECD Paris
Dr. Martina Peucker
Kinder und Jugend
Child and Youth Policy in Germany - The
Federal Order
I Federal Republic of Germany is formed by the Federation
itself and 16 Federal States.
I Division of responsibilities between the Federation and the
Federal States.
I Local self-government in cities, municipalities and counties,
which have the right to act in full self-determination and
govern the affairs of their local communities in the framework
of existing legislation.
ECEC policies are designed and promoted at the Federal, Federal States
and municipal levels.
Kinder und Jugend
ECEC - a challenge which all societal groups
and protagonists need to face
I Governmental policy anchored in the Federal Ministry for
Family Affairs, Senior Citizens, Women and Youth.
I Predominant part of the education system and cultural policy
falls to the Federal States as an object of the legislation.
I Entire responsibility for child and youth welfare remains at a
municipal level and non-profit agencies - direct and socially
concrete relationship to ECEC services.
Kinder und Jugend
ECEC Development in Germany today
I Federal government in cooperation with the Federal States
and local authorities fosters the expansion of day care for
children until age three and made 4 billion Euros available:
I Children's Advancement Act 2008: Day care for children
until age three should be extended by 2013 in order to meet
the actual needs of parents and their children.
I By 2013, every third child under the age of three should be
provided with day care facilities.
I As from 2013, the legal claim to day care facilities for children
from the age of one will be introduced.
I Thirty percent of the new day care places will be provided at
family day care.
Kinder und Jugend
Current policies on Quality in ECEC in Germany
I To create equal chances, quality of ECEC should be
ensured by:
•
Comprehensive evaluation of ECEC, based on
annual statistics and surveys.
•
Action program "Family Day Care" fosters
qualification of family day care staff.
•
Measures in order to reach an consensus on
prospective standards for quality in ECEC .
Kinder und Jugend
Key Policy Challenges with regard to OECD
policy priorities
I To improve working conditions and qualification of
ECEC staff
I To develop broad guidelines and curricular
standards with all stakeholders, in particular with
regard to language promotion
I To encourage family involvement
Kinder und Jugend
Expected benefits from the ECEC-Project
I Exchange of views on indicators for quality in the
international landscape
I Cross-sectoral analysis on ECEC
I Promoting dialogue and building consensus
among all relevant stakeholders
Kinder und Jugend
Thank you for your attention!