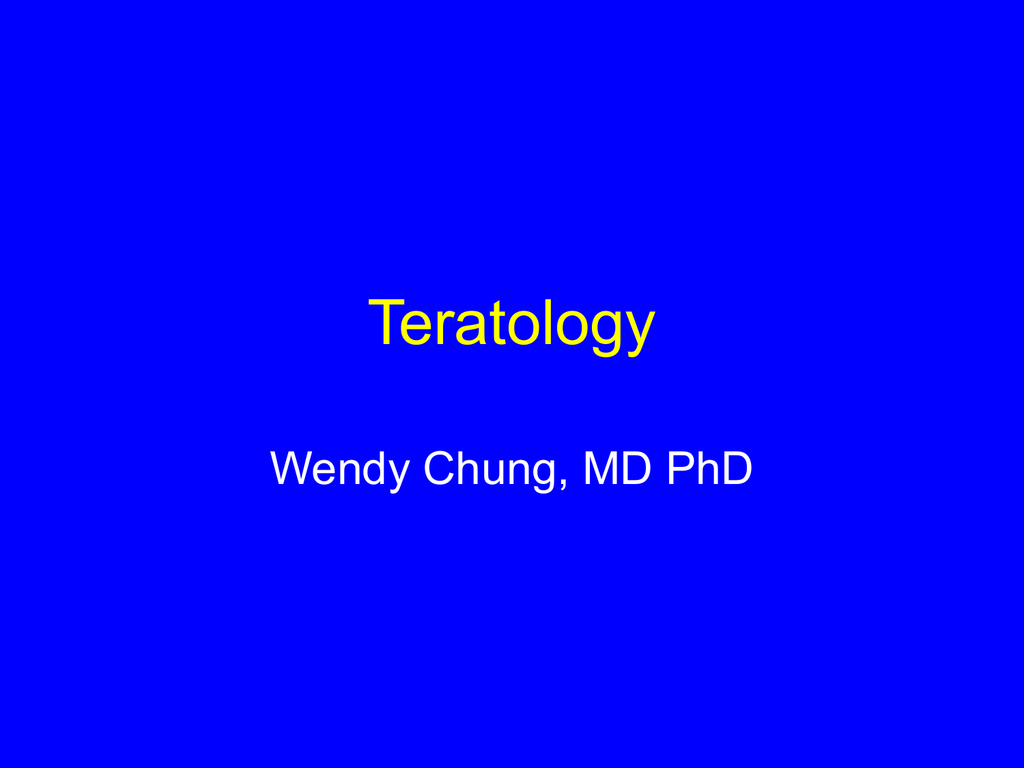 Teratology
Wendy Chung, MD PhD
Mrs. B
• 30 year old woman comes to you because her
20 week prenatal ultrasound showed a hole in
the heart
• Patient and her husband have many questions:
– What caused this birth defect?
– Was it caused by the glass of wine she had before
she found out she was pregnant?
– Will there be other problems for this child?
– If they have other children, what is the risk of
recurrence?
Teratology
• The study of abnormal development in
embryos and the causes of congenital
malformations or birth defects
Birth Defects
•
•
•
•
Observed in 3% of newborns
Observed in another 3% of children later
May or may not be outwardly visible
Etiology: genetic and environmental
Multifactorial or unknown
Genetic
65%-75%
20%-25%
Environmental
Intrauterine infections 3%
Maternal metabolic disorders 4%
Environmental chemicals 4%
Drugs and medications <1%
Ionizing radiation 1%-2%
Major and Minor Anomalies
• Major anomalies: life/health threatening
• Minor anomalies: cosmetic
• The greater the number of minor
anomalies, the greater the likelihood of a
major anomaly
• Certain minor anomalies suggest specific
major anomalies
Down Syndrome
Turner Syndrome
Trisomy 13
•
•
•
•
•
Midline defects (cleft lip and cleft palate)
Central nervous system malformations
Micro-ophthalmia
Congenital heart disease
Poor growth
Trisomy 18
Mrs. B
• Extensive ultrasound examination does
not identify other major anomalies
• Can minor anomalies be excluded?
• An amniocentesis is performed and is
normal
• Are genetic etiologies excluded?
Inborn Errors of Metabolism
Causing Birth Defects
• Smith Lemli Opitz
• Congenital disorders of glycosylation
• Fatty acid oxidation disorders
Single genes cause developmental
disorders
•
•
•
•
•
•
PAX6: aniridia
NEUROD1: pancreatic agenesis
TTF1: thyroid agenesis
NKX2.5: congenital heart disease
ZIC3: holoprosencephaly
Doublecortin: lissencephaly
Achondroplasia
Teratogens
• A chemical, infectious agent, physical
condition, or deficiency that, on fetal
exposure, can alter fetal morphology or
subsequent function
• Teratogenicity depends upon the ability of
the agent to cross the placenta
• The embryo is most susceptible to
teratogenic agents during periods of rapid
differentiation
How are agents determined to be
teratogenic ?
• Anecdotal data in humans
• Data from animal studies
Effect of Exposure Depends on
Timing
• All or none effect early
• Effect of organogenesis during embryonic
development
• Effect on size and function during fetal
development
Nicotine
• IUGR
• Premature delivery
• Neurocognitive development
Fetal Alcohol Syndrome
•
•
•
•
Characteristic facial features
Congenital heart disease
Growth deficiency
Behavioral/neurocognitive deficits
Fetal Alcohol Syndrome
Mrs. B
• Do you believe her fetus' congenital heart
disease was caused by the glass of wine
she drank two weeks after conception?
Tetraclycine
• Yellow/brown teeth
• Decreased bone growth
Fetal Hydantoin Syndrome
•
•
•
•
Intrauterine growth retardation
Microcephaly, mental retardation
Distal phalangeal hypoplasia
Specific facial features
Retinoic acid
•
•
•
•
Craniofacial dysmorphisms
Cleft palate
Thymic aplasia
Neural tube defects
Thalidomide Syndrome
Congenital Rubella
Congenital CMV
•
•
•
•
•
•
Intrauterine growth retardation
Micromelia
Chorioretinitis, blindness
Microcephaly
Cerebral calcifications, mental retardation
Hepatosplenomegaly
Ionizing Radiation
• Affects brain development at 10-18 weeks
of gestation a HIGH dose
• No evidence of effect of exposure
associated with typical diagnostic studies
Maternal Hyperglycemia
• Congenital heart disease
• Renal, gastrointestinal, and central
nervous system malformations such as
neural tube defects
Babies of Mother's with PKU
• Mental retardation
• Low birth weight
• Congenital heart diseas
Threshold Effect-Multifactorial
Mrs. B
• After birth, the newborn examination is
unremarkable
• The baby's congenital heart disease is repaired
• At age three, the child is growing well and has
met all his milestones
• What caused his congenital heart disease?
• What is the risk of recurrence for a future
sibling?