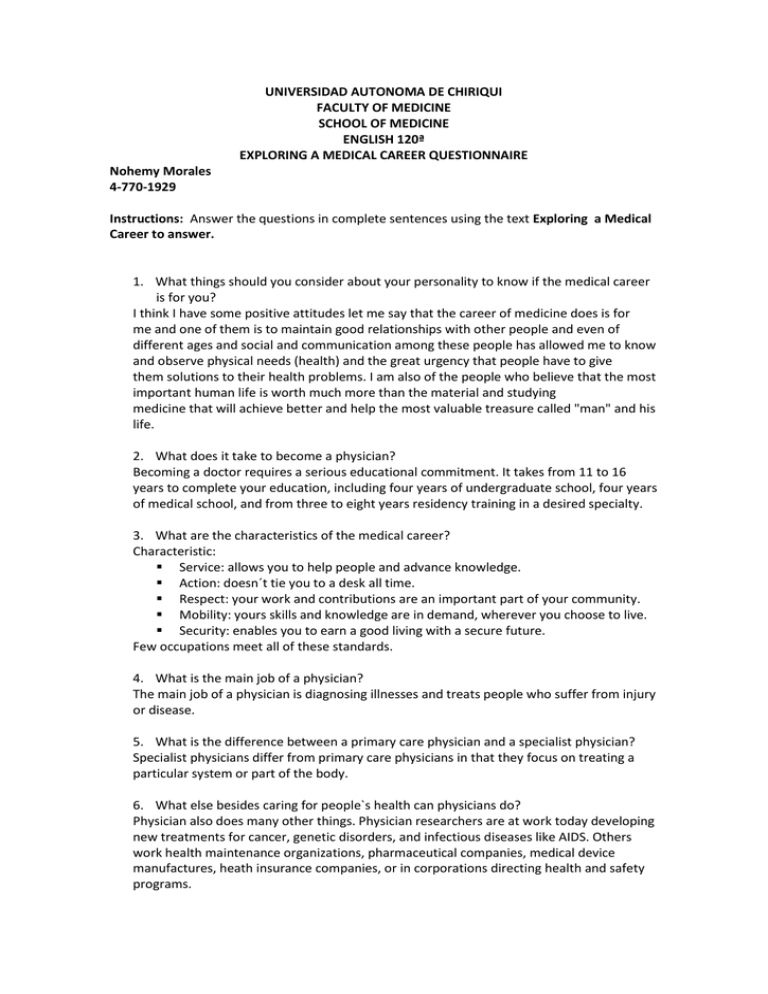 UNIVERSIDAD AUTONOMA DE CHIRIQUI
FACULTY OF MEDICINE
SCHOOL OF MEDICINE
ENGLISH 120ª
EXPLORING A MEDICAL CAREER QUESTIONNAIRE
Nohemy Morales
4-770-1929
Instructions: Answer the questions in complete sentences using the text Exploring a Medical
Career to answer.
1. What things should you consider about your personality to know if the medical career
is for you?
I think I have some positive attitudes let me say that the career of medicine does is for
me and one of them is to maintain good relationships with other people and even of
different ages and social and communication among these people has allowed me to know
and observe physical needs (health) and the great urgency that people have to give
them solutions to their health problems. I am also of the people who believe that the most
important human life is worth much more than the material and studying
medicine that will achieve better and help the most valuable treasure called "man" and his
life.
2. What does it take to become a physician?
Becoming a doctor requires a serious educational commitment. It takes from 11 to 16
years to complete your education, including four years of undergraduate school, four years
of medical school, and from three to eight years residency training in a desired specialty.
3. What are the characteristics of the medical career?
Characteristic:
 Service: allows you to help people and advance knowledge.
 Action: doesn´t tie you to a desk all time.
 Respect: your work and contributions are an important part of your community.
 Mobility: yours skills and knowledge are in demand, wherever you choose to live.
 Security: enables you to earn a good living with a secure future.
Few occupations meet all of these standards.
4. What is the main job of a physician?
The main job of a physician is diagnosing illnesses and treats people who suffer from injury
or disease.
5. What is the difference between a primary care physician and a specialist physician?
Specialist physicians differ from primary care physicians in that they focus on treating a
particular system or part of the body.
6. What else besides caring for people`s health can physicians do?
Physician also does many other things. Physician researchers are at work today developing
new treatments for cancer, genetic disorders, and infectious diseases like AIDS. Others
work health maintenance organizations, pharmaceutical companies, medical device
manufactures, heath insurance companies, or in corporations directing health and safety
programs.
7. What are some of the rewards of being a physician?
Medicine has many rewards-personally, intellectually, and financially.
8. What is the average salary for physicians in the US and what does that salary depend
on?
On average doctors make about $160,000 a year, but this amount can vary depending on
where physicians live and what type of medical specialty they practice.
9. How many hours may physicians work a week?
Many doctors work more than 60 hours a week.
10. Why is medical school a challenge?
Medical school is challenging for reason: if you plan to take responsibility for people ´s
health and well-being you´ve got to be committed to learning.
11. Describe the medical school in the US.
Medical school usually lasts four years. In general during the first two years, you study the
sciences basic to medicine, as behavioral sciences; introductory patient interviewing and
examination techniques; and an introduction to health care. In the third years, you gain
experience with patients in hospital clinic, the fourth year is a mix of required an elective
courses where you again additional educational program.
12. Why is Medical School tough?
Medical school is tough, a lot will be demanded of you both in the volume of information
you will be expected to master and the rate at which you will be expected to learn.